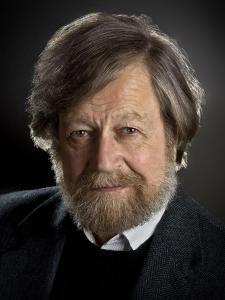 Morten Lauridsen is the first composer to work with Wheaton College as part of the Nelson Center for Sacred Music. His composition, Ave Verum Corpus.
The music of Morten Lauridsen occupies a permanent place in the standard vocal repertoire of the Twenty-First Century. His eight vocal cycles, instrumental works, art songs, and series of motets are performed worldwide and have been recorded on over two hundred CDs, including several that received Grammy nominations. Mr. Lauridsen (b. 1943) served as Composer-in-Residence of the Los Angeles Master Chorale from 1995-2001 and is currently Distinguished Professor of Composition at the University of Southern California Thornton School of Music and Honorary Artistic President of INTERKULTUR/World Choir Games. He has held residencies at over one hundred universities and is the recipient of five honorary doctorates and the ASCAP Foundation "Life in Music" Award.
A prize-winning documentary by Michael Stillwater, Shining Night – A Portrait of Composer Morten Lauridsen, was released in 2012 (songwithoutborders.net). In 2006 Lauridsen was named an "American Choral Master" by the National Endowment for the Arts, and in 2007 he was awarded the National Medal of Arts, the highest artistic award in the United States, by the President in a White House ceremony "for his composition of radiant choral works combining musical beauty, power, and spiritual depth that have thrilled audiences worldwide."
A native of Portland, Oregon, Morten Lauridsen worked as a Forest Service firefighter and lookout on a remote tower near Mt. St. Helens before attending Whitman College and USC. He now divides his time between Los Angeles and the San Juan Islands of Washington State. More information is at mortenlauridsen.net.