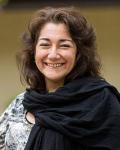 Dr. Balmaceda is a scholar-practitioner whose work focuses on civic leadership formation and the promotion and defense of the fundamental rights of vulnerable populations in Latin America. She is the President and CEO of Peace and Hope International (PHI), a Christian organization dedicated to preventing violence and confronting other forms of injustice in Latin America, mobilizing individuals and communities to foster systemic change for peace and democratic civic engagement. The experience of growing up during the armed conflict between the Shining Path and the government of Peru motivated her interest in the promotion of peace and justice for disadvantaged communities.
A former Fulbright scholar, she earned a Law degree from the Pontifical Catholic University's School of Law in Lima, Peru, and master's degrees in International Peace Studies, and in Government and International Studies, and a Ph.D. in Political Science from the University of Notre Dame du Lac.
Dr. Balmaceda served as professor of Political Science and founding director of the Center for Scholarship and Global Engagement (CSGE) at Nyack College, NY, until June 2019. She has been a Visiting Professor of International Human Rights Protection at Handong Law School in Pohang, South Korea, and of Political Science and International Relations at Wheaton College.
Dr. Balmaceda is currently the John Stott Visiting International Scholar in Human Needs and Global Resources. Nina also serves as Governance Chair of the Board of Trustees of the Center for Public Justice (CPJ), a civic organization dedicated to promote principled pluralism in the U.S., and as a Board member of the Association for a More Just Society (AJS), an organization dedicated to fighting corruption in Honduras.
This event is free and open to the public and will take place in Meyer Science Center, Room 145 Buyse Lecture Hall, located at 430 Howard St. in Wheaton.