From the President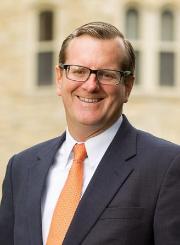 Dear Parents,

Several weeks ago we welcomed 658 new freshmen and transfers representing 37 nations, alongside many of their parents. For the first time, Wheaton College offered programming during Orientation Weekend for students who are the first in their families to go to college. A group photo of these trailblazers will be pictured in Wheaton magazine.

I shared with these first generation students that the one thing we expect them all to do during their time at Wheaton is graduate. Nearly 100 percent of our new students will graduate from Wheaton, and we are committed to giving each of them the support they need to do so.

Some new parents have asked for access to comments I made during Orientation about Wheaton's commitment to Christ-centered higher education and living well in diversity. We are happy to share them here, and look forward to supporting your student throughout the coming semester.

In Christ's service,

Philip G. Ryken
President
Family Weekend
We in Parent Engagement, together with the Parent Council, look forward to welcoming ALL families back to campus November 9-10 for Family Weekend!

Visit our Family Weekend webpages for a list of weekend events and links to area activities and hotels. Register now and plan to join us for this exciting family event.
Michael W. Smith Concert
The Wheaton College Conservatory of Music presents a Michael W. Smith Concert in support of the construction of the Armerding Center for Music and the Arts at 7:30 p.m. on Thursday, October 18. The concert also features Nashville songwriter/composer/arranger/conductor David Hamilton '86, with the Wheaton College Symphony Orchestra, Concert Choir, Men's Glee Club, and Women's Chorale.

The concert will be held in Edman Memorial Chapel, located at the northeast corner of Washington and Franklin streets in Wheaton. For more information and to purchase tickets, visit wheaton.edu/mwsconcert.
Chapel
The chapel program at Wheaton seeks to nurture the spiritual life of students in an academic environment. As such, we continue moving forward with our chapel curriculum, following the liturgical rhythm of reading the gospel of Luke on Mondays, a story from the Old Testament on Wednesdays, and a Psalm on Fridays. The chapel curriculum exposes students to nearly the entire Bible over their four years at Wheaton. Parents are invited to watch Chapel services live every Monday, Wednesday, and Friday at 10:40 a.m. CST.
This year, the College's year verse is Luke 12:32 - "Fear not, little flock, for it is your Father's good pleasure to give you the Kingdom." Chaplain Blackmon shared a special message based on this passage of scripture with parents during the Closing Program of Parent Orientation.
The College seeks to create a comprehensive framework for spiritual formation across campus. Chaplain Blackmon is co-leading a task force to create this program, and will be looking to hire a Ministry Associate for Worship in the coming months. Please join us in praying for this important work and for each member of the Wheaton College community to grow in their faith, hope and love.
Canvas: Framing Your Vocation and Career — For Sophomores
Each student will develop their very own blueprint as they look toward the future. One of the best ways to begin this process for the class of 2021 is to attend Canvas: Framing Your Vocation and Career, a five-part series designed just for sophomore students. Research shows that sophomore year is the very best time for students to begin thinking about their future. The transition to college is well underway, and there is still enough time for students to develop skills, explore plans, and learn to tell their stories as they prepare for life after Wheaton.

If you are a parent of a sophomore, encourage them to attend the opening night of Canvas on Wednesday, September 19 at 5:30pm in Coray Alumni Gymnasium. Students can reserve their spot at Canvas: Opening Night on Handshake.
Student Health Services
Student Health Services is a full-service primary health care clinic with two licensed medical doctors, a certified nurse practitioner, and a staff of nurses and administrators who all have a heart to care well for the medical needs of Wheaton students. We encourage students to make appointments by phone, through walking in to our clinic, or scheduling online through MyChart. Along with appointments for sick and well care, we have a lab for blood work and testing, a pharmacy containing many prescription and over-the-counter medications, and services such as administering allergy desensitization injections or massage therapy. We would like to thank you for your efforts this year in completing the incoming student health requirements needed by the State of Illinois.

While Student Health Services does not directly bill insurance, we offer reduced office fees to care for the medical needs of the Wheaton students. Many insurance companies will reimburse services provided at SHS if the bill is submitted by the student or parent. We encourage you to secure insurance coverage for your student for the time he or she is at Wheaton College but do not currently offer a plan, except to a portion of our international students. For any questions related to insurance, please email health.insurance@wheaton.edu.
Flu shots have arrived!
Please encourage your student to walk in to get their shot any time at SHS or to attend one of our Flu Clinics to avoid contracting influenza and potentially missing a week of classes. The cost of the vaccine is $30 billed to the student's account.

Upcoming Flu Clinic Dates:
September 20 | 5-8 p.m., lower Beamer
September 22 | 9 a.m. -1 p.m., lower Beamer
October 11 | 11:30 a.m. - 2 p.m. Billy Graham Center lobby
October 13 | 9 a.m. - 1 p. m., lower Beamer
October 30 | 3-6 p. m. lower Beamer
Accelerated Masters Program
Your son or daughter can earn a master's degree in just one additional year and save more than $12,000 by taking up to 16 graduate credits during his/her senior year at no additional cost.

If you have a freshman, sophomore, or junior and would like to learn more about our Accelerated Master's Degree Program, please join the Wheaton College Facebook Live Q&A session on Tuesday, October 9 at 7 p.m. You will get to talk with a Graduate Admissions representative and a faculty member to learn about key benefits of the program.

Degrees include:
Biblical Exegesis, Evangelism and Leadership, Higher Education and Student Development, History of Christianity, Humanitarian and Disaster Leadership, Intercultural Studies, Old Testament Archaeology, Outdoor and Adventure Leadership, Teaching, TESOL and Intercultural Studies, and Theology. For more information, please contact graduate.admissions@wheaton.edu.
Undergraduate Admissions — Refer a Student Program
The Admissions office extends a warm welcome to first-year and transfer parents who are new to the Wheaton parent community! It was a pleasure to work with your students this past recruitment season. Soon enough, you'll begin to see the many ways that Wheaton prepares your sons and daughters for Kingdom service as they grow in wisdom and in stature, in critical thinking, writing, leadership, and cross-cultural understanding.

Parents have an opportunity to help identify future generations of students whom God will call to Wheaton. We value your opinion and invite you to join us in the recruitment process by referring prospective students at wheaton.edu/refer. When you do, an Admissions representative will connect with your referral and let them know of your recommendation (unless you share in the comment box that you wish to remain anonymous) and, we'll send you a thank you gift for the referral!
Student Financial Services
Fall 2018 Tuition
Wheaton College offers convenient, interest-free payment plans to help budget semester charges. Plan enrollment is completed online in the Billing and Payment Gateway. Parents will need to make sure that their student(s) have set them up as authorized users in their profile. The four month payment plan is still open for enrollment. There is a $25 application fee and semester charges will be spread into four installments. Parents that have been granted access as authorized users can log in and enroll.

If additional funding is needed, information on Federal Parent PLUS loans is available at https://studentloans.gov. These are loans in a parent's name offered by the Department of Education to be used to pay for a dependents education costs.

Not getting the monthly e-bill notices? Students need to grant parent access to information related to their student accounts in their Student Billing and Payment Gateway Profile under Authorized Users. Students will enter a parent's email address for authorization. Parents will receive two automated emails with login information which will allow parents access to account activity, online payments, and payment plans.
Financial Aid
2019/20 FAFSA filing begins October 1! Illinois residents, please make sure that you file early to be considered for the Illinois State MAP Grant.
Global and Experiential Programs
Please join us in prayer for the 92 Wheaton students studying and interning around the globe this semester! 24 students are six-month international interns through the Human Needs & Global Resources (HNGR) program; six are student teaching at international locations; and 48 are studying at approved study abroad locations. In addition, 14 students are engaging the city through the study and internships of Wheaton in Chicago.

Global and experiential programs can complement any major at Wheaton and are offered fall, spring, and summer! Students are invited to explore all of the opportunities at the Study Abroad Fair on Tuesday, September 18 from 2:30-5 p.m. in Coray Alumni Gymnasium. Applications for spring 2019 Study Abroad are due October 15 and applications to be part of the fall 2020 cohort of HNGR are due November 26.
The Wheaton Fund: Invest in Affordability and Excellence
Every year, hundreds of parents help make the Wheaton experience possible for their students when they support the Wheaton Fund. Support for the Wheaton Fund is an investment that immediately impacts the affordability and excellence of the Wheaton experience, and we are very grateful!

The Wheaton Fund works to keep the College affordable by funding areas that are not supported by tuition alone, which reduces the overall cost of attending for every student. The Wheaton Fund also fosters excellence in liberal arts instruction and student programming by providing competitive faculty salaries and supporting student development experiences.

Students from Phonathon will be calling parents soon to talk more about what the Wheaton Fund means to them and to invite an investment. Parents can also give online to start supporting the Wheaton experience through the Wheaton Fund today.
Athletics
Thunder sports for 2018-19 had a successful start in the opening weekend (Aug. 31-Sept. 1) as football (1-0), men's soccer (1-0), women's soccer (2-0), volleyball (3-0) and women's tennis (2-0) combined to go 9-0. Football, women's soccer, and women's cross country each earned national rankings in their respective preseason polls.

The Thunder volleyball team opened its season with a 5-0 record for the first time in more than 25 years, winning the Ripon College Quadrangular and its own tri-match. The Thunder football team won its 16th-consecutive season opener on September 1.

For complete information on Wheaton's 21 varsity athletics teams be sure to visit athletics.wheaton.edu for schedules, recaps, videos and much more. Sign up for text alerts from Wheaton Athletics. Be sure to follow Thunder Sports on Facebook, Twitter, or Instagram.

Thunder fans can watch many home events on the Wheaton Thunder Sports Network at http://livestream.com/wheatonthunder or watch by downloading the Livestream app on iTunes, Google Play, or Roku Store.

For information on Wheaton's club sports be sure to visit the club sports website.
How can you pray for Wheaton this month?
Pray for students who may be feeling the loneliness of being away from home and on their own for the first time in their lives. Pray that they will discover the reality and nearness of the Lord's presence, and His understanding and care for them. Pray for the provision of friendship, that they find a balance of work and recreation that will help them to live well.
Pray for President Ryken, members of his Senior Administrative Council, and Chaplain Blackmon, that the Lord will give them wisdom and joy in their work.
Pray for families who enter this school year feeling financially challenged or burdened by concerns of health or relationship. Each student brings their own personal story to campus. Pray that each one will experience the Lord's peace in the midst of those challenges.
With thanks for your involvement and prayers,
The Wheaton College Parent Engagement team