From the President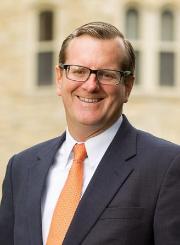 Dear Parents,

There is nothing like a Wheaton Homecoming to energize the campus community. Lisa and I graduated from Wheaton College 30 years ago, and last weekend we enjoyed reconnecting with 1988 classmates amid the excitement of athletic competition and the beauty of symphonic music.
At Homecoming Chapel students heard from Dr. Andrea Scott '93, Dean of the Robert K. Jabs School of Business at California Baptist University and a member of Wheaton's Board of Trustees. Dr. Scott traced the faithfulness of God through her preparation as a bridge-builder, acknowledging as a single woman that she will be pursued for a lifetime as God's beloved.

The College also honored Marjorie Lamp Mead '74 as Alumna of the Year for Distinguished Service to Alma Mater. For 41 years, Marj has served in the Marion E. Wade Center, where the books, papers, and personal effects of C. S. Lewis and six other British writers are stored. Marj's effective stewardship of this world class collection furthers scholarship and education in theological imagination.

We are grateful for the witness of Andrea and Marj, who exemplify the Kingdom values we pray will be developed in all our alumni.

In Christ's service,

Philip Ryken
President
Family Weekend 2018
Just two weeks remain to register for Family Weekend, November 9-10, 2018.

Don't miss this opportunity to enjoy some of Wheaton's most memorable events in the company of your student and his or her friends. Visit the Family Weekend website to preview the weekend schedule and to register. Registration closes Friday, October 26.

Note: Just a few tickets remain for the President's Prayer Breakfast on Saturday, November 10, 9 – 10:30 am. Visit the registration page to purchase your tickets today!
Taco Tuesdays
Doctor. Lawyer. Teacher. Pastor. What they saw on Netflix last night. One of the challenges for our students is knowing what jobs are out there!

The Center for Vocation and Career (CVC) helps students discover how they can serve in God's kingdom in a way that aligns with their unique skills, interests, and values. The CVC has a number of programs that help students explore a wide range of industries and different roles within organizations, where they are introduced to some of the many jobs available to them. One of these is our Taco Tuesday series.

Nearly a dozen Tuesdays throughout the school year, we host a taco dinner with all the toppings for up to 35 students and five or six young alumni. These alumni may be in the room with students or attend virtually on-screen, sharing about the industry or role in which they work. These events are casual, highly-interactive, and give students a chance to explore lots of different careers.

Now in its fourth year, Taco Tuesdays have covered careers or professional roles including:
Consulting
Creative fields
DC jobs
Digital marketing
Finance/Wall Street
Human Resources
Marketing
Non-profit management
Para-church and church ministry
Science
Teaching
Writing careers
Whether your student is laser-focused on a specific career or still exploring his or her options, a Taco Tuesday can be a great venue for them to learn more about the many ways they can serve Christ and His Kingdom.
Alumni Association Student Scholarships
Every year, the Alumni Association Board of Directors awards merit scholarships to a select number of juniors for their senior year. Completed applications must be returned by Monday, October 29, 2018, to the Alumni and Parent Engagement office. Award winners will be announced at spring Convocation. Applicants will be chosen on the basis of academic achievement, campus/community involvement, spiritual growth, understanding of life mission, and future plans. View the scholarship application.
Student Care and Services
At Wheaton College our Student Care and Services team is here for students as they navigate the developmental stages in preparation for a life of Kingdom service. The Student Care and Services team consists of Student Care, Academic and Disability Services, Counseling Center, and Student Health Services. Through coordinated efforts, we effectively attend to the holistic needs of all students. Practically, this means providing proactive and responsive care to help each student thrive, as well as inform them about available campus and community resources, offer comfort and guidance during difficult times, ultimately connecting them to Christ.

For more information about our services, please click the links above or call 630.752.5941.
FAFSA — Student Financial Services
The 2019-20 Free Application for Federal Student Aid (FAFSA) is now available. Parents and students will be providing 2017 income tax information. Wheaton College recommends using the IRS Data Retrieval Tool when completing the FAFSA which transfers tax data directly from the IRS. Go to https://studentaid.ed.gov to file. Please note that the site has a new look this year.

Illinois residents: Submit the FAFSA by November 15 to be considered for the Illinois Monetary Award Program (MAP) Grant.

Review your students account.

2019 Spring Registration starts early in November and account balances must be paid or covered through a payment plan to avoid a registration hold. Please make sure that all expected financial aid has disbursed and payment plan participants should confirm that balances will be paid by the remaining scheduled plan installments. If expected aid has not paid (shows as Estimated Aid), have your student check for any outstanding financial aid requirements in their student portal.

Not getting the monthly eBill notices? Students need to grant parent access to information related to their student accounts in their Student Billing and Payment Gateway Profile under Authorized Users. Students will enter a parent's email address for authorization. Parents will receive two automated emails with login information which will allow parents access to account activity, online payments and payment plans. It is recommend that parents and students log in to the Billing and Payment Gateway at least once each month when the eBill notices are sent to review their accounts. Authorized Users log in here.

Please direct questions to Student Financial Services at sfs@wheaton.edu or 630.752.5700.
How can you pray for Wheaton this month?
Give thanks for the Lord's grace and faithfulness in seeing us through the first quarter of the school year.
Pray for our athletic teams and for students in Performing Arts during this busy season. Pray that these students will remain healthy, that they will find fun and encouragement with peers, and that the exercise of their gifts will bring great joy.
Pray for preparations underway for Family Weekend on November 9-10. Pray for safe travel and encouraging connections for all parents, students, and family members.
With thanks for your involvement and prayers,
The Wheaton College Parent Engagement team