From the President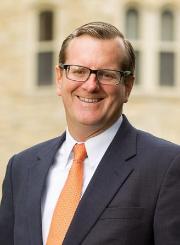 Dear Parents,

It was a joy last weekend to welcome 1,400 student family members to campus. They cheered at athletic competitions, enjoyed a concert or a play, attended the talent show, and took a closer look at Wheaton as a future place of study for younger siblings.
I was encouraged Saturday morning by a record number of parents at the prayer breakfast that was led by members of the Parent Council and Chaplain Blackmon. Arena Theater students presented Psalm 107, which I later taught as a prayer for thankful pilgrims that recounts the salvation of God's people from exile.

Like William Bradford and the small company of pilgrims who arrived in Plymouth Bay in December of 1620, the first and best response to our being rescued from all kinds of distress is to praise the Lord: "Whoever is wise…let them consider the steadfast love of the Lord" (Ps. 107:43).

With thanksgiving,

Philip Ryken
President
Family Weekend
Thank you to the parents, siblings, grandparents, and friends who joined us on campus for Family Weekend. If you're an early planner, please mark your calendars now for Family Weekend 2019: November 8–9.

To keep in touch with campus events throughout the year, check out these opportunities:
Chapel. Chapel services are live-streamed every Monday, Wednesday, and Friday at 10:40am CST.
Athletics events. Home athletic events are available as well.

Lastly, if you have questions or would like to talk through an issue with a fellow Wheaton parent, consider getting in touch with a member of Wheaton's Parent Council. This group of volunteer parents serves as a resource on issues unique to current parents.
2018-2019 Parent Council
---
Important note about final exams
The campus calendar is on a late start this year which pushes Fall semester finals to December 18-20. Final exams are part of course instruction so students are expected to attend their final class. They are not allowed to take their finals at an earlier date. Thank you for your understanding as you work with your student on scheduling his or her return home.
---
Campus Housing during Holiday Breaks
Thanksgiving Housing: College housing and meal service remain open during the Thanksgiving holiday weekend.

Christmas Housing: College housing closes at noon on Friday, December 21 and reopens at 3pm on Saturday, January 12. The regular meal plan ends with dinner on Thursday, December 20 and resumes with dinner on Saturday, January 12. During Christmas break the residence halls (Fischer, Smith-Traber and Upperclass Halls) are closed and no student is allowed to stay there for any reason.

Even though housing is closed for Christmas break, there are students who need to stay on campus. With permission through the Residence Life office, students may stay as guests in a campus apartment or house during Christmas break for the following reasons:
athletics
students who live internationally
campus employment
class participation
Information on the approval process, deadlines and fees may be found on the housing website. As you plan future arrival and departure dates, please reference the housing calendar.
Wheaton in Network
You're invited to join Wheaton in Network, an online tool giving alumni and parents the opportunity to share their expertise and stories with the Wheaton community. Students can access and learn from Wheaton alumni and parents around the world; encourage your student(s) to use the platform for anything from informational interviews to life advice. As a parent, you can sign up for an alumni or partner account at win.wheaton.edu and share your wealth of experiences with students.
Externship Day
In February, over 100 Wheaton students will spend the day shadowing more than 80 alumni in a wide range of careers. Externship Day, sponsored by the CVC and the Alumni team, is an opportunity for your student to explore possibilities and ways their skills and interests might align with a particular career. Applications for Externship Day open after Thanksgiving and are due prior to returning to school in January. Your student will receive information via email or can visit the CVC.

For parents of seniors who haven't started thinking about life post-graduation, please encourage your student to attend Senior Exit Strategy on Thursday, November 29. This event will feature a host of interactive activities designed to jump-start your student's plan to leave Wheaton well. Students will build their resume and LinkedIn profile, prepare to ace interviews, and learn how to navigate networking. They'll leave with tangible next steps to think through and complete before they don their cap and gown in May.
How did you hear about Wheaton?
"Friends of my parents, through church." (student from Florida)
"My neighbors down the street." (student from North Carolina)
"Other missionary families, of course! Every missionary kid grows up knowing about Wheaton from other families in the missionary community." (MK student from Rwanda)

These are some of the responses we hear from students when we ask, "How did you hear about Wheaton?"

Wheaton parents are an important part of the global Wheaton family. We know that a word-of-mouth recommendation from a trusted source is carries weight and helps promote the value of a Wheaton education to prospective students and families. Whether sharing about Wheaton with a student down the street, at your place of worship, or around the world, your endorsement can have a real impact on future students, both in applying, and ultimately enrolling at Wheaton College.
Do you know someone who would thrive in Wheaton's Christ-centered academic environment? Please let our Admissions team know at wheaton.edu/refer. Thank you for your partnership and helping build the next generation of Wheaton students.
How can you pray for Wheaton this month?
Pray for our students who will be traveling over Thanksgiving break, and that time spent with family, friends, or in service will encourage and refresh them and those they encounter.
Pray for families who struggle with physical, relational, or financial challenges. Pray that the Lord will sustain and encourage each one.
Pray for President Ryken, members of his Senior Administrative Cabinet, and Chaplain Blackmon, that the Lord will give them joy and refreshment in the midst of their work.
Pray for the Wheaton College community, that the Lord will continue to strengthen the bond that we share as brothers and sisters in Christ Jesus.
With thanks for your involvement and prayers,
The Wheaton College Parent Engagement team