From the President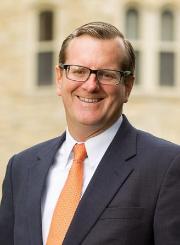 Dear Parents,

As many of you know, Wheaton students and alumni around the world faithfully prayed for Andrew '88 and Norine Steiner Brunson '89 during Andrew's two-year imprisonment in Turkey, which ended last October and led to their return to the US. Our faith became sight as the Brunsons were with us last week to bring Wheaton's 160th Commencement address, encouraging the Class of 2019 to be ready for a hostile culture by spending time daily with the living Christ.

The College also honored 1969 Wheaton graduate Ruth Frame Van Reken with an honorary doctorate in humane letters for her contribution to higher education in advocating for the needs of "third culture kids." In addition, the College honored 1953 Wheaton graduate Dr. JoAnn Harris Bowlsbey—pioneer in the field of career development in the US and globally—as Alumna of the Year for Distinguished Service to Society.

We pray that like the Brunsons, Dr. Van Reken, Dr. Bowlsbey, and many other Wheaton alumni who have lived faithfully for Christ and His Kingdom, our newest graduates will follow Jesus with confidence in God's provision as they start a new chapter in their spiritual journey, heading out for new jobs, internships, or further education.

In Christ's service,
Philip Ryken
President
From the CVC
School may be out, but the CVC is still in session! Career coaches are available all summer to meet with your student for career conversations, whether it be in person, over the phone, or video call. Students can make an appointment with their coach via Handshake. Check out other helpful resources below:

For students interested in exploring careers:
For students ready to prepare for the next step:
Learn new skills with Lynda.com. From Excel to negotiation to understanding body language, Lynda.com is your student's one-stop-shop for summer learning.
Polish that resume! Our Resume Guide is on Handshake and we will be reviewing resumes all summer. Your student can upload a resume to their Handshake profile for review.
Develop interviewing skills using Big Interview, our online interview prep tool.
Travel the World with Wheaton
This is your chance! Pack your bags, board the plane, and begin an adventure with Wheaton College Travel. Traveling with Wheaton offers unique opportunities to travel with like-minded Wheaton community members and explore the history and culture of destinations around the World.
Join us on one of these epic voyages.

The Wonder of Peru
February 20-March 2, 2020

Seasides and Isles of Greece
September 16-28, 2020

Antarctica
January 17-30, 2021
Hosted by President and Lisa Ryken
Global & Experiential Learning
Congratulations to the Class of 2019! Over 400 students of the graduating class participated in 695 programs or trips through the Center for Global & Experiential Learning. May the Lord continue to guide and direct the paths of the entire senior class.

This summer, over 360 students faculty and staff will engage in academics or service around the globe. One hundred thirty-eight of those students will participate in college-sponsored academic international programs:
Iron Sharpens Iron
Printing, Propaganda & Progress
Wheaton in Costa Rica
This summer many students also prepare for fall semesters away from campus: 20 Human Needs & Global Resources interns will embark on their six month experiences this summer and fall, 47 study abroad, and 7 international student teachers.
Honors Convocation
Numerous students and faculty were honored at this year's Honors Convocation Chapel. This special spring session is a time to recognize the achievements of students who have distinguished themselves academically, honor retiring faculty, and celebrate those who earned promotion or tenure, or received faculty awards.
News from the Registrar - Important Dates for New Students
End of May — Registration material will be sent via email to transfer students
June 10-July 5 — Online registration for Fall 2019 opens for transfer students
Early June — Registration questionnaires will be sent via email to first-year students
End of June — Registration packets will be mailed to the home addresses of all first-year students and posted on our webpage
July 8-26 — Online registration opens for first-year students.
From the Office of Christian Outreach
As an office with a rich legacy of gospel-driven service and ministry, we have designed a newsletter to provide a glimpse into our commitment to continue building on the foundation of those who have come before us. One of our goals is to build a communication bridge to parents so that we can collectively worship God through stories of transformation.

We invite you to join us prayerfully and financially to help provide life-changing service and ministry opportunities for all students at Wheaton College. Check out the the OCO newsletter and learn how God is working through the lives of our students.


How can you pray for Wheaton this month?
Praise God for the 40th anniversary of the Honduras Project, a student-led organization that supplies needy communities with gravity-fed water installations.
Pray for our newest alumni, the undergraduate and graduate school classes of 2019. Pray that they will continue to trust God's goodness as they look to the Lord for all that lies ahead, and to trust His loving plans and purposes for them.
Pray for students and faculty who are spending the summer months studying and/or serving throughout the world this summer.
Pray for those on the Women's Chorale team who will be traveling and performing across Austria and Hungary, May 13-22. Pray for safety and health as they journey and for the light of Christ to shine through their music.
With thanks for your involvement and prayers,
The Wheaton College Parent Engagement team