May 2018
From the President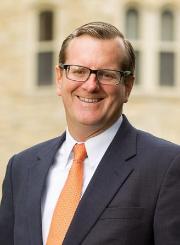 Dear Parents,

At Wheaton's 159th Commencement last weekend I had the privilege of giving diplomas to 688 graduate and undergraduate students, including our daughter Kirsten. Wheaton dad Gary Haugen, founder and CEO of International Justice Mission, charged the new graduates to "pick up the smooth stone of holy joy, and slay the giant of fear." We pray our newest alumni from the Class of 2018 will experience God's rich blessing as they head out for new jobs, internships, or further education.

The College honored 1960 Wheaton graduate C. William Pollard with an honorary doctorate in education for his contributions to higher education in the US and globally. The College also honored 1963 Wheaton graduate Dr. Will Norton, Jr., one of the nation's longest–serving media education deans, whose global impact for excellence in journalism pairs with his winsome testimony for Christ.

We pray that like Mr. Pollard, Dr. Norton, and many other Wheaton alumni who have lived faithfully for Christ and His Kingdom, our newest graduates will follow Jesus without fear as they start a new chapter in their spiritual journey.

In Christ's service,

Philip G. Ryken
President
Wheaton College
Commencement Weekend Memories
Congratulations to the parents of our new Class of 2018 alumni! Check out some photo's from this year's graduating class, as well as footage from the Baccalaureate Service. We pray God's richest blessings for you and your student on this occasion.
Honors Convocation
On April 25, numerous students and faculty were honored at the Honors Convocation Chapel. This special spring session is a time to recognize the achievements of students who have distinguished themselves academically, honor retiring faculty, and celebrate those who earned promotion or tenure, or received faculty awards.
Center for Vocation and Career
With hundreds of career coaching appointments and over 50 CVC events for students completed this year, we now look towards supporting your student throughout the summer. Here are some steps your student can take to keep the momentum going!
Log in to Handshake and download the app to submit resumes for review, schedule a virtual career coach appointment, and connect with companies and non-profits.
Work on building a complete profile on Handshake or enhance their existing one. This will set your student apart when they search for internships and jobs. Employers also use Handshake to recruit, so they may even be contacted for future opportunities!
Use our Resume Guide to help them craft a resume for the first time, or update the one they already have.
Visit the newly revamped Big Interview. Forbes named this virtual interview platform "one of the best websites for your career." And it's free for Wheaton students!
Encourage your student to connect with their career coach so they can hit the ground running when they return in the fall. Not sure who your student's coach is? Find out on the career coaches page.
Stay in touch and follow along with us on Instagram this summer! We will be featuring Wheaton interns around the globe every week. Our team can also be reached for questions at cvc@wheaton.edu.
Global Programs and Studies
Congratulations to the Class of 2018! Over 400 students of the graduating class participated in 737 programs or trips through the Center for Global Programs and Studies this year.

We are thankful for the 39 students who completed their spring semester abroad at Wheaton in Mexico and other approved study abroad programs. This summer, over 350 students faculty and staff will engage in academics or service around the globe. One hundred twenty-five of these students will participate in these college-sponsored academic international programs:
In addition, Wheaton in the Northwoods is projected to have 15+ professors teaching 95+ students at HoneyRock, 40 students will be out west at Wheaton in the Black Hills, and 15 students will be studying in the nation's capital with Wheaton in Washington.

In addition, over 40 students are engaging in Student Ministry Partners, Youth Hostel Ministry or Global Urban Perspectives ministries of the Office of Christian Outreach.

This summer many students also prepare for fall semesters away from campus: 26 Human Needs & Global Resources interns will embark on their six month experiences in the majority world this summer and fall, 13 Wheaton in Chicago, 51 study abroad, and 6 international student teachers.
News from Student Financial Services
Please be sure to continue to monitor your student's account as copy/print and other miscellaneous fees may be posted over the next few weeks. Additionally, please have your student set up an Electronic Refund account in the Student Billing and Payment Gateway to expedite refunds of credit balances. The gateway is accessed through their student portal.

Not getting the monthly e-bill notices? Students need to grant parent access to information related to student accounts in their Student Billing and Payment Gateway Profile under Authorized Users. Students will enter a parent's email address for authorization. Parents will receive two automated emails with login information which will allow parents access to account activity, online payments, and payment plans.

Continuing student financial aid awarding for 2018/19 will begin after spring term grades have been posted. It is very important for students to check the portal and complete any outstanding requirements to avoid delays in receiving awards. Our office has recently introduced a new Secure File Transfer tool that should be used for submitting all required documents. Emailing sensitive information is not recommended for security reasons.

Fall 2018 bills will be available online in late July with a due date of August 29, 2018. Fall payment plan enrollment will be opened when bills are issued.
Ways to Pray for Wheaton
Pray for our new faculty and staff who are moving, some with their families, to Wheaton over the summer months. Pray that they will be able to settle smoothly into their new home and position.
Pray for students and faculty who are spending the summer months studying and/or serving throughout the world this summer.
Pray for our newest alumni, the undergraduate and graduate school classes of 2018. Pray that they will continue to trust God's goodness as they look to the Lord for all that lies ahead, and to trust His loving plans and purposes for them.
With thanks for your involvement and prayers!
The Wheaton College Parent Engagement team