From the President

Dear Parents,
What a joy it has been to adjust our COVID-19 protocols for more normal community life at Wheaton College. While we remain observant of needs of the more vulnerable members of our campus, we have relaxed the mandatory masking policy, and breathed a collective sigh of relief, literally. We love seeing our students' smiles!
My wife Lisa and I returned last week from a 10-day trip with Wheaton alumni and friends to Antarctica, pursuing lifelong learning in geology, oceanography, zoology, and the history of exploration. We will treasure that experience of worshiping God for the indescribable wonders of his creation near the South Pole: seabirds, penguins, whales, seals, and infinite varieties of ice.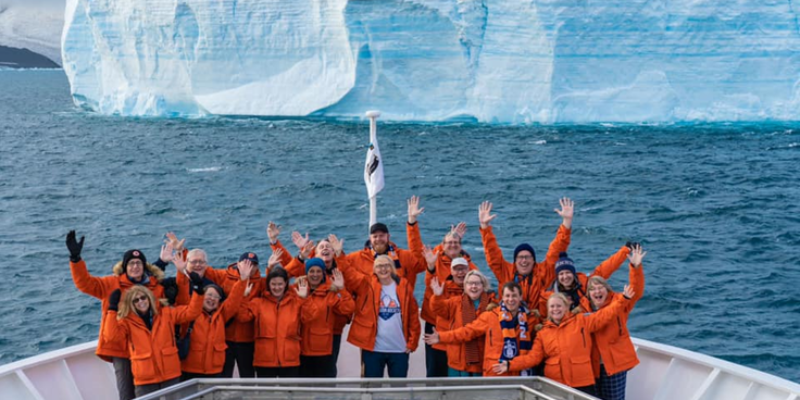 Wheaton's campus took a pause this week for Spring Break as students traveled home, pursued short-term ministry assignments, or enjoyed special places for fun with friends. Next Monday we begin B quad, with seniors on the fast track to Commencement in May. We very much look forward to seeing our parents with their graduates in person and in Edman Chapel for the first time since 2019.
In Christ's service,


Philip Ryken
President
Build the Next Generation of Wheaties
Do you know high school students searching for a college where deep Christian friendship meets formative academics? Let us know! The Admissions Team is ready to welcome them into the college search journey. Submit the form at www.wheaton.edu/refer, and we will send them information. Thank you for your support in helping us build the future classes of Wheaton College!
Commencement Weekend: May 7-8
Congratulations to the parents of soon-to-be alumni from the class of 2022! We are looking forward to welcoming you to campus for this meaningful weekend in your family's life. The Registrar's office has posted important information about Commencement on their website, so be sure to review the Commencement FAQs and read about the Commencement speaker, Dr. Billy Kim.
If you have additional questions, please contact registrar@wheaton.edu or call 630.752.5045.
News From the Campus Store
The Campus Store is now on Instagram! Follow the store to learn about sales, new products, and more. Once logged into Instagram search for "wheatoncollegecampusstore."
If you are the parent of a senior and you are looking for graduation announcements, class rings, and related items, check out what is offered here.
Opportunities in the CVC this Spring
Opportunities abound for your students during spring semester. Here are just a few of the ways students can engage with the Center for Vocation and Career (CVC):
Internship Fair – Wednesday, March 23, 2:00 – 5:00 p.m. If your student is still trying to land that Summer 2022 internship, this is the place to be!
Senior Series:

Lessons from the Class of 2021 – Monday, April 4 @ 5:30-6:30 p.m. Where to live. Finding a church. Preparing for the first day of work. These are just a few of the topics we'll cover during this session with our most recent graduates.
Nothing Bundt Budgeting – Tuesday, April 5 @ 10:30 a.m. – What happened to my paycheck? Netflix costs how much? What is FICA? Pay off student debt or invest in my 401(k)? These and other questions will be explored. And every student will have a chance to create their own budget spreadsheet.
Job Fair – Thursday, April 7 @ 2:00 – 5:00 p.m. 80% of students land their jobs in the late Spring. If your student is still looking, this could be their chance!
Celebration – Friday, April 8 @ 1:00 – 4:00 p.m. We want to celebrate your student's success with some special treats just for them!

Internship Scholarships – March 18 is the deadline for students to apply for scholarships to cover expenses they may incur related to unpaid or underpaid internships. With $70,000 to disburse, we are eager to help students have a meaningful internship experience, with awards typically ranging from $1,000-$5,000. Your student has received an email on this opportunity and there are posters across campus for them to access the application.

WheatonGives 2022
On Wednesday, April 6, 2022, Wheaton will host WheatonGives, our fourth annual 24-hour giving day. For One Day, Wheaties from across the globe will once again come together for One Goal – to support transformational Christian higher education. When you give to the Wheaton Fund through WheatonGives, you make a vital investment in tomorrow's Christian servant leaders.
Parents of seniors, make an early gift for your chance to win extra graduation tickets.
Your gift, no matter the size, will have a direct impact on the excellence and affordability of the Wheaton experience for every Wheaton student. Learn more about this year's prizes and challenges and more at givingday.wheaton.edu.
Student Financial Services
Registration for Summer 2022 and Fall 2022 begins in March. Before students can register for future semesters, student account balances must be paid down below $1000 or covered by a Wheaton payment plan. Please review your student's account (Authorized User login) and make sure their balance is covered. If there is still Estimated Financial Aid that has not disbursed, there may be outstanding requirements that need to be completed. Students should check their student portal for instructions and contact the Student Financial Services office (sfs@wheaton.edu) if they have questions.
If you are unable to pay the account down before your student's assigned registration date, consider signing up for a payment plan, applying for a Federal Parent PLUS Loan (studentaid.gov), or securing a private student loan with your student. Payment plans are still open for enrollment which is completed online in the Student Billing and Payment Gateway. Any missed installments will be due when you sign up.
2022/2023 Financial Aid Awards
Continuing student financial aid awarding for next year will begin after spring term grades have been posted. It is very important for students to check their student portal and complete any outstanding financial aid requirements to avoid delays in receiving awards. All required documents or forms that are not submitted online should be scanned and uploaded using our Secure File Transfer. Emailing sensitive information is not recommended for security reasons.
Please encourage your student to monitor their Wheaton email account over the summer. This is our main method of communication regarding any missing or incomplete items that are needed to complete their award. An email will be sent to the student once their award is ready to view and accept in their student portal.
Not receiving monthly e-bill notices? Students need to grant parent access to the Student Billing and Payment Gateway under their profile for Authorized Users. Students log in through their student portal. Once authorized, parents will receive two automated emails with login credentials which will allow access to account activity, on-line payments, and payment plans. This also gives our office permission to speak with parents about their student's accounts. We recommend that parents and students log in to the Billing and Payment Gateway at least once each month when the eBill notices are sent to review their accounts. Authorized Users log in here.
How to Pray for Wheaton in March
For encouragement for students who have been faithfully praying for revival and for an outpouring of the Holy Spirit on our campus.
For a relaxing, restful, and rejuvenating last few days of spring break.
For the student leader recruitment process for next year's open positions.
That God would bring comfort and peace to those who have family and friends living in, or fleeing, Ukraine.
With thanks for your involvement and prayers,
The Wheaton College Parent Engagement Team