From the President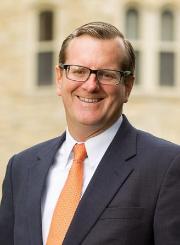 Dear Parents,

Students have departed from campus for their summer break—work, internships, and summer ministry or recreational travel. Our events team has a very busy summer welcoming conferences to campus, and the Operations and Facilities teams are hard at work on the new concert hall, renovated classrooms, new homes for the Center for Vocation & Career and the Bookstore, and other projects to prepare for the FY19-20 school year.

My summer will include a 3-day retreat next week with Wheaton Trustees in Chicago visiting our academic and ministry partners on the South and West sides as we consider God's vision for the City. Then I head to the Philippines for Lausanne's Global Workplace Forum in Manila with Christian marketplace leaders from many nations. Later this summer I will address the Gideons International Conference in Atlanta.

Then there is the family front, with two graduations, a wedding, and a new Wheaton student to launch in August. Lisa and I are looking forward as well to our time with student leaders and incoming students at HoneyRock in August.

Summer is busy! Whatever your plans may be, I wish you and your student refreshment this summer, and I look forward to seeing many of you again next fall.

In Christ's service,



Philip Ryken
President
Welcome New Parents!
The Parent Engagement office at Wheaton College looks forward to welcoming you and your student to campus this August. All New Parent Orientation information will be sent electronically this year as we are going paperless, so keep an eye on your email inbox in the coming weeks. In the email, you will find answers to many of the questions you might be asking about New Parent Orientation, August 23-24, 2019. You can also access information about Student Orientation, preview a schedule of events, and find tips to assist your student's move to Wheaton on the Student Orientation website.

Throughout the year, the Parent Engagement office is here to support you as you get to know Wheaton's campus and launch your son or daughter into student life. We encourage you to spend some time on Wheaton's parent website: wheaton.edu/parents. Here you'll find information relevant to you as a Wheaton parent, including references to several of the topics that will be discussed at Orientation, the academic calendar, and contact information for offices across campus.

If you're active on social media, consider joining our Wheaton Parent Facebook group. This group is exclusive to current parents of full time or part time undergraduate students. Many find this group a great place to connect with other parents, to ask questions about student life, and to exchange useful tips and advice. To join, log onto your regular Facebook account, type "Wheaton College (IL) Parents 2019-20" in the search bar, click on the "group" tab at the top of the page and from there find the 2019-20 group and request to join.
In past years, an academic calendar magnet was available to parents. In our continued effort to go paperless, the calendar magnet will not be printed this year. Don't worry though, the most accurate, and up-to-date academic calendar information is readily available online.
Finally, mark your calendars for Family Weekend on November 8-9, 2019. Family Weekend offers a great opportunity for you to meet your son's or daughter's friends and to experience a little bit of student life at Wheaton. We're looking forward to seeing you and your Wheaton student soon!
Help us reach our goal for Wheaton students!
Wheaton College ends its fiscal year on June 30th, and with that comes the close of another year of faithful support for the Wheaton Fund from alumni, friends, and parents like you.

Thank you to all who gave to the Wheaton Fund this year. Your support on our first-ever giving day, WheatonGives, and generosity throughout the year, has an immediate impact on the excellence and affordability of each student's experience.

If you haven't yet had a chance to give to the Wheaton Fund (or if you'd like to give again), there's still time! Make a gift by June 30th and help meet our remaining need for the year.
News from Student Financial Services
Please encourage your students to continue to monitor their Wheaton email account throughout the summer for updates and information regarding their Financial Aid status and Student Account. Additional fines or fees may have been added to their account since the last monthly statement was issued.

Students should log in to their student portal and complete any outstanding financial aid requirements to avoid delays in receiving their financial aid offer for next year. Email notices will be sent to students when their aid is ready to review and accept. Fall 2019 bills and payment plan enrollment will be available online in late July with a due date of August 28, 2019.

Not getting the monthly e-bill notices? Students need to grant parent access to information related to their student accounts in their Student Billing and Payment Gateway Profile under Authorized Users. Students will enter a parent's email address for authorization. Parents will receive two automated emails with login information which will allow parents access to account activity, online payments and payment plans.
Athletic Highlights
The Wheaton Athletics Department closed out an impressive 2018-19 school year with a strong spring season. Wheaton finished 22nd in the annual Division III Learfield Directors' Cup standings. This year's effort is the second-highest finish on record for Wheaton.

Wheaton's placement of 22nd, with 530.75 points, is first among College Conference of Illinois and Wisconsin (CCIW) member institutions in the final ranking. Illinois Wesleyan placed 27th with 493 points, North Central scored 456 points in 32nd place, Augustana tallied 276.5 points in 69th place, Carthage finished 71st with 272.75 points, Carroll was 134th with 145.75 points, Millikin tallied 68.25 points in 226th place and Elmhurst finished 277th with 37.5 points.

The Thunder women's track and field program finished sixth at the 2019 NCAA Division III Outdoor Track & Field Championships. The performance marked the highest finish at the National Championships in program history. Junior Favor Ezewuzie, the 2019 CCIW and USTFCCCA Midwest Region Track Athlete of the Year, earned All-American recognition in the 100-meter dash, the 200-meter dash and the 100-meter hurdles. Senior Natasha Brown picked up All-American recognition in the 200-meter dash and fellow senior Aryn Embretson was an All-American in the 10,000-meter run. Ezewuzie and Brown were joined on the All-American 4X400-meter relay team by freshman Sydney Jones and senior Abby Grace McGee.
Senior Leif Van Grinsven and sophomore David Bradley represented the Thunder men's track & field program at the NCAA Division III Outdoor Track & Field Championships in May. Van Grinsven earned All-American recognition in the men's decathlon for the third consecutive year. He placed fourth in the 20-man field at Nationals. Earlier in the spring, Van Grinsven set a new CCIW Championship record in the decathlon with 7,009 points as he earned recognition as the 2019 CCIW Men's Outdoor Track & Field Athlete of the Meet.
The Thunder baseball team returned to the conference tournament in 2019. Wheaton posted a 24-16 record for the season, tying the school record for single-season victories. Seniors Michael McCraith and Ben Brittain were joined on the All-CCIW Baseball Team by freshman Matthias Haggerty. McCraith also earned All-Region honors from the American Baseball Coaches Association (ABCA).
The Wheaton softball team posted a 9-6 record in conference play, qualifying for the four-team CCIW Tournament for the first time since 2016. Seniors Kelly Thornton and Hannah Clark each earned All-Conference recognition; and Thornton was named the CCIW's "Player of the Year. Thornton, a First Team All-Region honoree, established a new school record for career base hits in her final season.
The Thunder men's tennis team placed second in the CCIW this spring. Sophomore Anderson Park was named the CCIW Player of the Year. Park had an outstanding season, posting a 20-1 record at No. 1 singles. He was joined on the All-CCIW Team by teammate Josh Cheng.
Senior Drew Engelking of the Thunder men's golf team was the medalist at the inaugural Wheaton Invitational in March.
For complete information on Wheaton's 21 varsity athletics teams be sure to visit athletics.wheaton.edu for schedules, recaps, videos and much more. Sign up for text alerts from Wheaton Athletics. Be sure to follow Thunder Sports on Facebook (facebook.com/Wheaton Athletics), Twitter (@Wheaton Thunder) or Instagram (@Wheaton_Thunder).
For information on Wheaton's club sports be sure to visit the club sports website.
A Note to New Parents from Admissions
If you're a new Wheaton parent, keep an eye on your mailbox for a mailing from the Admissions office. You will be receiving a helpful checklist to assist new families in keeping track of Orientation timelines, as well as information about Wheaton Passage and Conservatory Ensembles.
How can you pray for Wheaton this month?
Pray for new students and their families as they prepare to join the Wheaton community this fall.
Pray for current students, faculty, and staff, who are spending the summer months studying, working and/or serving throughout the world.
Pray for administrators to find rest and refreshment during these summer months.
Pray for alumni around the world as they seek to live "...for Christ and His Kingdom."
With thanks for your involvement and prayers,
The Wheaton College Parent Engagement team