From the President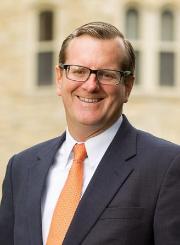 Dear Parents,

With the conclusion of the academic year, we look forward to a summer break that will give us time to catch up on things left undone during the year, and also the renewal that is needed after the rigorous demands of the academic year.

My summer will include a higher ed consultation in New York City hosted by the New York Times, offering the commencement address at Cincinnati Hills Christian High School, and hosting the Lausanne Movement global board meetings at Wheaton. I also hope to finish two book manuscripts. A board meeting for the Coalition of Christian Colleges and Universities will allow me to take a little vacation time in Nashville and Memphis. Our family will also enjoy several weeks at HoneyRock, where there should be plenty of time for reading, canoeing, biking, and golf.

Whatever your plans may be, I wish you and your student refreshment this summer, and I look forward to seeing many of you again next fall.

In Christ's service,

Philip G. Ryken
President
Welcome New Parents!
The Parent Engagement office at Wheaton College looks forward to welcoming you and your student to campus this August. Be watching for an envelope to arrive in your mailbox in the next few weeks. In it you will find answers to many of the questions you might be asking about New Parent Orientation, August 24-25, 2018. You can also access information about Student Orientation, preview a schedule of events, and find tips for assisting your student's move to Wheaton on the Student Orientation website. The Admissions office has sent a helpful checklist to new families to help you keep track of timelines and learn more about Wheaton Passage, so be on the lookout for that as well.

Throughout the year, the Parent Engagement office is here to support you as you get to know Wheaton's campus and launch your son or daughter into student life. We encourage you to spend some time on Wheaton's parent website: wheaton.edu/parents, Here you'll find many tips and information relevant to you as a Wheaton parent, including references to several of the topics that will be discussed at Orientation and contact information for offices across campus.

If you're active on social media, consider joining our Wheaton Parent Facebook group. This group is exclusive to current parents of undergraduate students. Many find this group a great place to connect with other parents, to ask questions about student life, and to exchange useful tips and advice. To join, log on to your regular Facebook account, type "Wheaton College (IL) 2018-19 Parents" in the search bar, and from there request to join.

Finally, mark your calendar for Family Weekend on November 9-10, 2018. Family Weekend offers a great opportunity for you to meet your son's or daughter's friends and to experience a little bit of student life at Wheaton. We're looking forward to seeing you and your Wheaton student soon!
Wheaton Passage for Freshmen and Transfers
The transition to college comes with a myriad of changes for students, parents, and families. Wheaton Passage is a two-credit introductory course that utilizes small group experiences, upperclassman student leaders, and faculty mentors to assist new students in their transition to life at Wheaton College.

Wheaton Passage offers incoming students the opportunity to:
build supportive peer friendships and faculty relationships
establish realistic expectations for their time at Wheaton College
develop a vision for spiritual formation
Here's what one parent had to say about their student's experience: "Sending our child to college was a big deal . . . watching him walk away with a big backpack loaded for Wilderness Passage, knowing we wouldn't be able to talk with him for a few weeks, was also a big deal. In some ways, we needed the transition time provided by Passage as much as he needed it. When we saw him get of that big Passage bus, with the energy level so high among the students and families, it made the adjustment much easier knowing he was ready. It 'broke the ice' for all of us. After Passage, he just seemed so confident and ready for college - and so were we." - Wheaton Parent Michael Mason, father of Grant '20.
Passage has been a part of Wheaton for over 45 years and continues to provide significant experiences for Wheaton College students. Learn more about this unique opportunity and register your student today.
Giving to Wheaton
Help us reach our goal for Wheaton students!

Wheaton College ends its fiscal year on June 30th, and with that comes the close of another year of faithful support for the Wheaton Fund from alumni, friends, and parents like you.

Thank you to all who gave to the Wheaton Fund this year. Your generosity has an immediate impact on the affordability and excellence of each student's experience.

If you haven't yet had a chance to give to the Wheaton Fund (or if you'd like to give again), there's still time! Make a gift by June 30th and help meet our remaining need for the year.
Highlights from Wheaton Athletics
The Wheaton women's track and field team repeated as CCIW Outdoor Track & Field Champions this May, the first back-to-back CCIW Championships in program history. Freshman Hannah Roeske was named the Women's Track Athlete of the Meet at the CCIW Championships. Roeske went on to earn All-America recognition in the women's 3,000-meter steeplechase and 5,000-meter run at the NCAA Division III Outdoor Track & Field Championships. Sophomore Favor Ezewuzie broke a 32-year-old school record in the women's long jump at the National Championships to earn All-American honors in the event. The Thunder women's track and field program finished 16th at the Division III Championships.

Senior Collin Gray and junior Leif Van Grinsven represented the Thunder men's track team at the 2018 NCAA Division III Outdoor Track & Field Championships. Gray concluded his tremendous career in the long jump and Van Grinsven repeated as an All-American in the decathlon.

The Wheaton women's tennis program won its CCIW-best ninth CCIW AQ Tournament championship. The tournament victory earned the Thunder a trip to the NCAA Division III Championship for the 11th time in program history.

Junior Michael McCraith and freshman Joel Pierce earned All-Conference recognition for the Thunder baseball team. Junior Kelly Thornton and Morgan Ryan earned All-Conference in softball and Thornton was a First Team All-Region selection.

Thunder freshman Anderson Park was named the CCIW Newcomer of the Year in men's tennis and was joined on the All-CCIW team by Dane Paulsen and Jeremiah Yi. The Thunder men's golf team finished third in the conference and Paul Craig joined the Thunder Athletics Department as head coach of the Wheaton men's golf program in mid-May.


Katie Park of women's tennis and Leif Van Grinsven of men's track and field earned Google Cloud Academic All-District recognition this spring.

For complete information on Wheaton's 21 varsity athletics teams be sure to visit athletics.wheaton.edu for schedules, recaps, videos and much more. Sign up for text alerts from Wheaton Athletics. Be sure to follow Thunder Sports on Facebook, Twitter (@Wheaton Thunder) or Instagram (@Wheaton_Thunder).

For information on Wheaton's club sports be sure to visit the club sports website.
News from Student Financial Services
Please encourage your students to continue to monitor their Wheaton email account throughout the summer for updates and information regarding Financial Aid and their Student Account.

Fall 2018 bills will be available online in late July with payments due on August 29, 2018. Fall payment plan enrollment will be opened once bills are issued.

Real-Time Payment Plans Starting Fall 2018!
Wheaton will be moving to Real-Time Payment Plans where the installments will automatically recalculate as new charges are added or additional payments are made. More details coming soon.

Not getting the monthly e-bill notices? Students are able to grant parents access to information related to online payment options, financial aid, academics, and student accounts through their portal.wheaton.edu accounts. Students must enter a parent's email address for authorization and select from a list of permission options. Parents will receive two automated emails with login information which will allow access to account activity, on-line payments, and payment plans.
Course Registration for Incoming Students
For Freshmen
The Registrar's office has sent an email to students' personal email accounts regarding an upcoming Freshman Questionnaire. This questionnaire will be used to assign advisors and must be completed prior to registration. In mid-June, students will receive an email with a link to the Freshman Questionnaire at their wheaton.edu account, and registration times will be assigned in the order that the questionnaires are completed.

Later this month, students will receive a packet in the mail containing specific registration information. A Freshman Course Guide, which includes descriptions of majors offered, introductory courses, and a step-by-step guide for walking through the online registration process will be included. Online registration for freshmen will take place July 9-27.

All information that is mailed to freshmen will also be available on the Freshman Advising webpage. Freshmen will gain access to our Degree Works degree audit program in late June.

If you or your student have any questions about registration after reading through the packet, contact Kelly Tuzzolino at 630.752.7373 or Freshman.Advising@wheaton.edu.
For Transfers
Registration for transfer students will begin on June 14. Students are encouraged to complete their registration by July 8 for best class selection. Transfers will receive access to Degree Works in the first week of June and will be sent a suggested schedule before registration begins.
For All Incoming Students
During Orientation, students will have an opportunity to meet with their academic advisors to go over their course selections and to make any necessary changes.

Important: Incoming students have received information from Admissions on setting up a Wheaton email account. Students must set up their accounts promptly, as all future communication regarding registration will be sent to their campus email address.
Wheaton Outside
Are you interested in plugging in with your local Wheaton community this summer? Wheaton Outside events provide a fun and casual way to connect. Take a look to see where events are happening this summer. Don't see anything in your area? Consider hosting an Outside event today by contacting the Alumni and Parent Engagement events team at regional.events@wheaton.edu or 630.752.5737.
How can you pray for Wheaton this month?
Pray for new students and their families as they prepare to join the Wheaton community this fall.
Pray for current students in need of summer work to help finance and continue their time at Wheaton.
Pray for our newest alumni from the Class of 2018 researching job opportunities and seeking to discern the Lord's will for their lives.
Pray for faculty, staff, and students who are spending the summer months studying and/or serving throughout the world.
Pray for administrators to find rest and refreshment during these summer months.
With thanks for your involvement and prayers!
The Wheaton College Parent Engagement team