From the President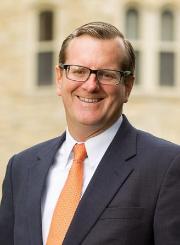 Dear Parents,

I have the privilege to work with the Senior Administrative Cabinet — women and men of great wisdom and integrity who bring needed expertise to the management and leadership of Wheaton College. We will meet for a retreat at HoneyRock in early August as we plan for the new school year.

I have added two positions to the cabinet to help strengthen our Christ-centered higher education. Mr. Silvio Vazquez joined us in January to serve as Wheaton's first Chief Enrollment Manager Officer. He oversees recruitment and financial aid, working in the new Welcome Center we opened last November.

Last month, Dr. Sheila Caldwell joined us to serve as Wheaton's first Chief Intercultural Engagement Officer. She brings broad experience in helping students and faculty of color achieve academic goals. Dr. Caldwell will assist me with community relations and work with Provost Diddams to provide leadership for faculty development.

We thank God for bringing us two new leaders to help us press into serving Christ and his Kingdom. Please join me in praying for Dr. Caldwell and Mr. Vazquez as they and their families become integrated into the Wheaton College community.

In Christ's service,

Philip G. Ryken
President
Resources for Wheaton Parents
Have you joined the Wheaton parent Facebook group? This group is a great place to connect with fellow parents, to ask questions of the Wheaton parent community, and to reach out for advice on anything related to your student's Wheaton experience. To sign up, log on to Facebook and request to join.

Did you also know there's a group of parents who serve the College by serving fellow Wheaton parents? The Parent Council is a group of parents who help with parent events during Orientation and Family Weekend and serve as a resource to the College on issues unique to current parents. Most importantly, the Parent Council is on hand to serve as a resource to you. Visit the Parent Council page to meet this year's members.

Finally, we encourage you to spend some time browsing the Parent Engagement web pages. Here you'll find links to important offices across campus, dates for upcoming events, answers to frequently asked questions, and opportunities to get involved. If you ever have additional questions, please drop us a line at parents@wheaton.edu.

New parents: Please remember to file your parent or guardian contact information.
Campus Housing for Returning Students
Campus housing opens to new students only on Friday, August 24, between 9am-4pm. Continuing students are invited to return to campus starting Sunday, August 26 at 2pm through Tuesday, August 28. Consideration for early arrival housing, without charge, is given only to those continuing students who are sponsored by a faculty or staff member as a required participant in activities which necessitate being on campus prior to Sunday, August 26. Examples of this are fall athletes, student teachers, on-campus employees, and members of student leadership teams. All other early arrival requests will be subject to denial or a nightly charge. Approval will be considered, with a nightly charge, for students meeting these criteria:
Students arriving early to begin a for-credit internship
International students arriving directly from an international country
Travel hardship
Siblings of new students or student leaders (charge waived)
Students must submit requests through the Residence Life early arrival request form; questions may be directed to reslife@wheaton.edu.
Student Health Services
Student Health Services is a full-service primary care clinic staffed by registered nurses, medical doctors, and a nurse practitioner. Students may make appointments Monday through Friday by walking in, telephone, or online through MyChart. In addition to provider visits, we offer lab services, stocked over-the-counter and prescription medications, allergy injections, massage therapy, and a travel clinic. We look forward to serving your student with evidence-based medicine and compassionate care.

While we do not bill insurance, we encourage you to submit any SHS charges to your insurance company. Our charge for a sick visit is $45 for the new patient and $30 for each subsequent visit. We currently do not offer an ACA compliant student health insurance plan. We highly recommend securing health insurance for your student with coverage in the state of Illinois. For F1 Visa-holding students and other qualifying international students, the College has changed to a new accident and illness insurance plan this year through LewerMark, with many upgraded benefits from previous years. Please feel free to email health.insurance@wheaton.edu for general insurance related questions.

We strive to maintain the safety of every student by addressing specific health conditions or concerns as well as ensuring that incoming students are free from and protected against communicable disease while living in our community. Student Health Services thanks you for your diligence in helping to complete your student's incoming medical entrance requirements this summer. If you are not aware of these entrance requirements or are not sure if they are complete, please call us at 630.752.5072.
Freshmen Parents — A note from the Registrar's office
The transition from high school to college is an adjustment for both parents and students. Many parents are accustomed to school portals that let them track their student's daily assignments and grades and find the college shift in responsibility to their student a stretching experience.
Guidelines about student records
FERPA (the Federal Education Records Privacy Act) limits what information the College can share with the parents of an enrolled student. The College cannot share grades, attendance or progress, change a student's schedule or give registration information to parents without the student's express written permission. This permission is set-up through an Authorization for Release of Information Form. Parents and students will get information about this form and its use during New Student Orientation.
We strive to be as helpful as we can when parents call with questions, but beginning August 29, we will be unable to share specific information about your student's record without your student's written permission.
Students may invite their parents to access certain portions of their record (final grades, transcript, financial aid award, etc.) by completing the Proxy process in the Student Portal Banner Self-Service menu. The instructions for setting up proxy rights will be sent to new students in early August via their my.wheaton.edu email address.
Registration update: The majority of new freshmen have registered for their fall classes and each schedule has been reviewed by the Freshman Advising team. Freshmen will have until July 27 to register or make changes to their schedule and then access will be frozen until the last day of New Student Orientation.

As a reminder, all incoming freshmen must submit their final high school transcript showing their graduation date. These are requested to be submitted by August 10 and should be sent to the Undergraduate Admissions Office.
Fall Textbooks
Your student can now place their textbook orders (Easy Books) for fall classes at wheatonbooks.com. Textbook orders will be picked, processed, bagged and ready for your student when they arrive on campus.

Our online textbook ordering system includes:
Rentals - The majority of Wheaton's textbooks can be rented directly from the Bookstore.
Used text books - Hundreds of money-saving used text books are available.
Competitive prices - Price comparisons between the Bookstore and other popular online stores are available on the web site. Our site links users directly to the correct title if they decide to purchase a textbook elsewhere.
Easy purchases - Use Financial Aid credits or Campus Store gift cards to pay for your purchases.
Why pack it when you can get it here?
The Bookstore offers competitive pricing on computer and phone accessories, class and dorm supplies, headphones and more.
Our Wheaton gear includes Camelbak water bottles, lanyards, Champion hoodies, and team sport tee shirts.
The Bookstore is owned by Wheaton College, with all proceeds going to support Wheaton's operations, facilities and programs. We look forward to seeing you in our store!
Visiting the Center for Vocation and Career
Today's job market doesn't look much like the one most of us experienced in the 80s. It's fluid, ever-changing, and right now, ripe with opportunities. The Center for Vocation and Career (CVC) is here to ensure every student takes advantage of those opportunities.

MarketWatch reported in May of 2017 that "The unemployment rate for young college graduates was 5.6% on average between March 2016 and February 2017 compared to 5.5% in 2007, according to a report by the Economic Policy Institute." This is good news as our students are now looking at a job market that has achieved pre-2008 levels of unemployment for college graduates.

In today's active job market, there are two kinds of hiring:
"Class hiring" typically happens in the fall, and accounts for approximately 20% of the hiring of college graduates.
"Just-in-time hiring" happens as positions open, and covers the other 80% of how students will be hired. Most of this hiring occurs in the spring.
What does this mean for your student? What if they aren't sure which kind of hiring applies to him or her? Our team of coaching professionals in the CVC can help. Encourage your student to schedule an appointment when he or she returns to campus so together they can develop a customized vocational plan that aligns with your student's skills, values, and interests.

Whether your student is looking for a job or an internship, connecting them with their coach is right any time!
Athletics
The start of 2018-19 varsity athletic seasons will soon be here. All students planning to participate in a varsity sport are required to submit proof of primary insurance prior to the first practice. Additionally, incoming freshmen student-athletes need to have a physical completed and returned prior to the first practice. Please visit the Wheaton Sports Medicine site for student-athlete insurance information and other important forms for the upcoming season.
Watch Wheaton games
Thunder fans can watch many home events live in high definition on the Wheaton Thunder Sports Network (WTSN). In 2017-18, a record 49,370 viewers watched live WTSN broadcasts of Thunder sports. Broadcasts can be seen live on Livestream or on Facebook. You can also watch live by downloading the Livestream app on iTunes, Google Play or Roku Store. Archived broadcasts are available on Livestream and YouTube.
How can you pray for Wheaton this month?
Pray for new students preparing for life at Wheaton. Pray for the students who will begin Wheaton Passage between August 8-23. Pray that international students will quickly meet new friends who connect with their experience. Pray for our student leaders including Residence Life Staff, Student Orientation Committee, Student Athletes, and Student Government as they prepare for their role in welcoming new students.
Pray for our new faculty and staff who are moving, some with their families, to Wheaton. Pray that they will be able to settle smoothly into their new home and position.
Pray for our families who enter the school year feeling financially challenged or burdened by concerns of health or relationship. We are mindful of the personal story each of our students brings to campus, and lift these needs to Christ.
With thanks for your involvement and prayers!
The Wheaton College Parent Engagement team