From the President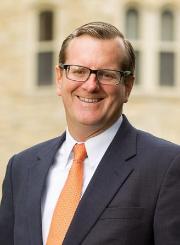 Dear Parents,
As the new year begins, Wheaton College is grieving the loss of Rodney Sisco '84, who died on December 30 after a six-month fight with cancer. Rodney's ministry spanning more than three decades in leadership of the Office of Multicultural Development not only has resulted in increasing numbers of students, faculty, and leaders of color belonging at Wheaton, but also shows what a big impact staff mentors play in our students' lives.
Wheaton alumni from the last 30 years testify to life lessons learned from time spent with Rodney, who said, "Part of being the body of Christ is that we understand what grace is…to be patient with one another…We're preparing young men and women to know how to…be people who are able to engage with difference and conflict in a way that still says we're doing it as men and women of God." Christ is honored through Rodney Sisco's life and legacy.
Campus life resumes on Monday as 49 students return after spending the fall semester in programs abroad, and 16 new freshmen and transfer students begin. These new and returning students come to Wheaton to experience college life in Christian community, pursuing a Christ-centered education as their lives are deeply influenced by mentors—people like Rodney Sisco.
In Christ's service,
Philip Ryken
President
Welcome New Parents!
Wheaton College offers a number of resources to support students. Residence Directors (live-in professional staff) and Resident Assistants (student leaders on each floor) are eager to support and care for your student. If your student mentions any concerns with roommates, academics, emotional care, or simply adjusting to living with a large group of new people, please don't hesitate to have them connect directly with their residence life staff member for encouragement and assistance.
Here are some links to helpful resources for your student:
Parents in Prayer
Praying parents are one of Wheaton College's most valuable resources. Parents from around the world will be joining together to pray for Wheaton on February 28, 2019. Check out the Collegiate Day of Prayer for more information. How can you pray? Consider using the Parent Prayer Card 2019 as a guide.
Student Health Services
Welcome to all incoming spring semester students from Student Health Services! By way of reminder, the deadline to submit all required medical paperwork for new students is Thursday, January 17. These entrance requirements ensure that Student Health Services can address any specific health needs or concerns of your student as well as protect our community from any communicable diseases as required by the State of Illinois. If you are not aware of these entrance requirements or are not sure if they are complete, please call SHS at 630.752.5072.

Any F1 Visa holding student or other eligible international student enrolled in the LewerMark insurance through Wheaton College who knows that they will not be returning this spring semester must notify Student Health Services as soon as possible to avoid the spring semester charge for coverage.

This spring, Student Health Services is launching Come Alive!, an eight-session small group study that focuses on fostering a more abundant spiritual and physical life. Students will join together in small groups to discuss methods to incorporate daily rhythms that lead to wellness in all aspects of their lives. If the "resolution" to live more abundantly is something your student is seeking, check out our website and learn more.
Influenza cases are starting to increase throughout the United States, but it is not too late for your student to come to Student Health Services for a flu vaccine. Every year this virus costs some students a whole week out of class, as well as the potential for secondary infections. The cost of the vaccine is $30, billed to the student's account, and walk-ins are encouraged.
Center for Vocation and Career
For many students, the decision of a major is a significant milestone. We will celebrate this important step with the Class of 2021 at the Declaration Dinner on January 24, 2019. Students will join faculty and alumni for a formal dinner where they'll have the chance to learn from those who have gone before them. Our keynote speaker, Dr. Kirk Farney, Wheaton's Vice President for Advancement, Vocation, and Alumni Engagement, will share an inspiring message about making the most of their liberal arts education. It is a special evening for our sophomore students, and we hope you'll encourage your son or daughter to attend.
For our upperclass students, exploring the wide range of careers available to them is key to their decision-making regarding life after graduation. On February 20, juniors and seniors will have an opportunity to network with young alumni from a wide range of careers. Networking Night is your student's chance to discover the many ways they can serve in God's kingdom!
Top Magazine Stories from 2018
View 2018's top 10 most viewed stories from Wheaton magazine
Parents Go Back To School!
As parents of college students, have you ever considered going back to school yourselves? Many of our parents have. More than half of our Graduate School programs offer classes in a flexible learning format, giving you access to the world-class education of Wheaton College while allowing you to remain in your current setting. To learn more about some of these programs, the School of Mission, Ministry, and Leadership is hosting an event on February 4 that you can attend in person or virtually. Dr. Ed Stetzer will be speaking about "Leading as Christians in a Divided World," with a brief overview of each program in the school.
M.A. in Evangelism and Leadership
M.A. in Higher Education and Student Development
M.A. in Humanitarian and Disaster Leadership
M.A. in Missional Church Movements
M.A. in Outdoor and Adventure Leadership
To register for the event or learn more about the programs, please contact graduate.admissions@wheaton.edu.
Wheaton Near You
Did you know that throughout the year Wheaton sends faculty and staff on the road to meet and talk with parents and alumni? Take a look at the cities we'll be visiting this spring! View upcoming events.
Office of Christian Outreach Student Leaders
The Office of Christian Outreach is currently recruiting student leaders interested in serving on a cabinet position for one of seven different student groups in the 2019-2020 school year. These groups include Breakaway Ministry (spring break service-learning trips), Christian Service Council (school-year service programs), Youth Hostel Ministry (hostel evangelism + service-learning), Global Urban Perspectives (urban engagement), Summer Ministry Partners (global service-learning), World Christian Fellowship (global church prayer + awareness), and Zoe's Feet Dance Ministry. Director level positions will be paid. Parents can encourage students to grow their leadership skills through Christ-centered service-learning and community outreach. To apply, students should email Yulee Lee, Director of the Office of Christian Outreach, at yulee.lee@wheaton.edu.
Global & Experiential Learning
Students studying or traveling abroad through Wheaton should think GoGlobal, Wheaton's application and travel registration system for all college-related international travel. Summer international internship applications are due March 15. Proposed locations with heightened risk (State Department Advisory Level 3) require additional committee approval.

Semester Study Abroad: Pray for the eight students participating in Wheaton in Mexico and 35 students who are studying abroad on a partner program. Applications for fall 2019 study abroad are due March 1. Students interested in Wheaton in Mexico (spring semester program) should attend the info session on February 12 at 10:30 a.m.

Summer Wheaton "in" Programs: February 15 is the deadline for students to confirm participation in one of Wheaton's 2019 faculty-led study abroad programs: European Theatre Studies, Iron Sharpens Iron, Pilgrimage to Santiago, Printing, Propaganda & Progress, Tel Shimron Excavation, Western European Philosophies of Education, Wheaton in China, Wheaton in Costa Rica, Wheaton in England, Wheaton in Germany, and Wheaton in the Holy Lands. Note: some programs have earlier deadlines.

The Center for Global Programs and Studies (GPS) sponsors two student summer grants, which are due soon!
1) The Global Scholar Award (up to $5,000) application is due Friday, January 18 and supports undergraduate or graduate students to undertake research or a creative project that deepens awareness and knowledge of an issue facing the global community.
2) The Global and Experiential Learning Internship Travel Awards (up to $1,000) are available to provide partial support to students who wish to undertake internships for their major/minor or graduate degree program in an international or cross-cultural context. The Internship Travel application is due Friday, March 8th. View more details.
For information on any study abroad program or scholarship, students and parents may contact gps@wheaton.edu or 630.752.7309. All applications are available at https://goglobal.wheaton.edu.
How can you pray for Wheaton this month?
Pray for students, faculty, administration, and staff as they begin the spring semester.
Pray for new transfer students and students who spent the last semester away as they adjust to life on campus. Pray that all will be warmly welcomed and enfolded into the community, finding a place of belonging.
Pray for the Wheaton College community that as members of Christ's Body, we will distinguish ourselves from the prevailing culture as true followers of Jesus.
Wishing you a Happy New Year!
The Wheaton College Parent Engagement team