From the President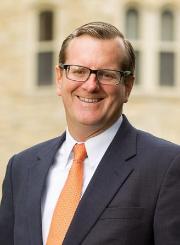 Dear Parents,
As students met one last time in chapel today before the Christmas break, we acknowledged Seniors who will graduate in December. The ceremony enabled fellow students to remember the brevity of the college experience as they prepare for all God has for them in the future.
The 2018 Christmas Festival last weekend featured over 200 student musicians with three combined choirs and the Symphonic Orchestra, plus 20 dancers from Zoe's Feet. The blessing of the Holy Spirit was evident as the students sang, played, and danced to the glory of Jesus Christ, the Blessed Son of God.
Soon the 2016 and 2017 Christmas Festivals will air on public television across the nation. Check our online listing to learn if the programs are available in your area.
During Advent, through Christmas, and into the New Year the global Wheaton College community will celebrate the Blessed Son of God through devotional readings. We pray you will find encouragement to remain faithful.
We wish you a very Merry Christmas from Wheaton College, as we await the return of Jesus Christ, the Blessed Hope.

Philip Ryken
President
A view of the Christmas Festival
News from the Bookstore
Finals Week:
Looking for a way to encourage your student during finals week? Check out the "care packages" at wheatonbooks.com/gift and order today! All packages will be sent directly to your student's CPO.
BuyBack:
Students can sell back their books during finals week, December 17-21, from 8:30 a.m. – 5:00 p.m. The Bookstore offers competitive prices on hundreds of titles. Students can choose to receive an additional 10% by placing their refund on a gift card that can be used to purchase spring textbooks or to finish up some Christmas shopping. Gift cards may be used in-store or online.
Text Rentals:
Textbooks that have been rented must be returned by Friday, December 21, 2018.
EasyBooks:
The Bookstore's EasyBooks ordering system makes buying textbooks and classroom supplies easy. Students saved thousands of dollars last semester by renting textbooks through EasyBooks. Students can find the textbooks required for each course and purchase or rent via the EasyBooks site. Selecting 'EasyBooks' for your shipping method allows students to pick up their order from the Bookstore upon return to campus in January. Be sure to order early for the greatest selection and savings!
Looking for a gift that will fit perfectly?
Consider shopping at www.wheatonbooks.com. or buy a gift card and let your student pick out something for themselves! Gift cards can be used to purchase textbooks, gift items, apparel, general books, classroom supplies, or food. Select a dollar amount and load it on your student's gift card. Please note: you can continue to load $$$'s to your student's gift card throughout the year!
It's FAFSA time - again!
Christmas break is a great time for parents and students to complete the 2019-20 Free Application for Federal Student Aid (FAFSA)! The priority deadline for non-Illinois residents is March 1, 2019.
Illinois residents: Submit the FAFSA as soon as possible to be considered for the Illinois Monetary Award Program (MAP) Grant. State funding is limited!
Spring 2019 Billing
Students and authorized users will be notified by email on December 17 or 18, when spring semester bills are available for online viewing. The spring due date is January 16, 2019.

Payment plan enrollment will be available when bills are completed. Fall plan participants will not be automatically enrolled for spring plans, so please remember to enroll in a new plan each semester, as needed.

Not getting the monthly eBill notices? Students need to grant parent access to information related to their student accounts in their Student Billing and Payment Gateway Profile under Authorized Users. Students will enter a parent's email address for authorization. Parents will receive two automated emails with login information which will allow parent access to account activity, on-line payments, and payment plans. It is recommended that parents and students log in to the Billing and Payment Gateway at least once each month after eBill notices are sent to review their accounts. Authorized users log in here.

Please direct questions to Student Financial Services at sfs@wheaton.edu or 630.752.5700.
Athletics
The Wheaton football team ended the season 8-2 and was ranked 22nd and 24th in the national polls at the conclusion of the regular season. Thunder linebacker Eric Stevenson was named the CCIW's "Defensive Player of the Year", leading 12 total All-CCIW selections for the program. Seven Wheaton players earned All-North Region recognition from D3football.com. Stevenson was named Wheaton's first recipient of the National Football Foundation's (NFF) Scholar-Athlete award and a finalist for the Campbell Trophy, known as the "Academic Heisman". He also was chosen as a semifinalist for the Gagliardi Trophy, awarded annually to the top student-athlete in Division III football.

The Thunder women's soccer team won its 20th CCIW Championship this season. The Thunder earned an at-large bid to the NCAA Tournament and advanced to the Sectional Championship round of the tournament. Sophomore Sarah Tomich earned All-American honors and was named the CCIW's Defensive Player of the Year, leading the way for four All-CCIW selections.

The Thunder women's cross country program finished 15th at the NCAA Division III Women's Cross Country Championships with Hannah Roeske (14th) and Aryn Embretson (40th) earning All-American recognition. Roeske, the 2018 CCIW Champion, was named the Midwest Region Runner of the Year. The Thunder women's program won its third-consecutive CCIW Championship this fall.

Sophomore Marin Halvoresen became the second Wheaton women's golfer in program history to be the medalist at the CCIW Championship. Women's tennis posted a 9-1 record in its fall season, finishing second at the CCIW Championships and producing three All-CCIW selections.

The Wheaton men's soccer team qualified for the CCIW Tournament this season, placing three players on the All-CCIW Team and two selected to the All-Region Team. Thunder volleyball started the 2018 season with a 7-0 record, the best start for the program in more than 20 years. Senior Jess Bosse and freshman Colleen Smith earned All-CCIW recognition for the Thunder.

For complete information on Wheaton's 21 varsity athletic teams be sure to visit athletics.wheaton.edu for schedules, recaps, videos and much more. Sign up for text alerts from Wheaton Athletics. Be sure to follow Thunder Sports on Facebook (facebook.com/WheatonAthletics), Twitter (@Wheaton Thunder) or Instagram (@Wheaton_Thunder) Thunder fans can watch many home events on the Wheaton Thunder Sports Network at http://livestream.com/wheatonthunder or watch by downloading the Livestream app on iTunes, Google Play or Roku Store.

For information on Wheaton's club sports be sure to visit the club sports website.
Year-end giving

This month, as we reflect on what God has done for us in sending Jesus Christ, we are also reminded of all you do for Wheaton College. When you support the Wheaton Fund, you make an immediate impact and investment in the excellence and affordability of a Wheaton education for every student. Please consider making a gift this month. Your tax-deductible gift to the Wheaton Fund by December 31, 2018 is essential to our mission and truly appreciated. Thank you for remembering Wheaton College in your year-end giving!
How can you pray for Wheaton this month?
Pray for undergraduate and graduate students completing their studies in December. Pray for peace and grace to trust in the Lord as they begin new chapters in their lives.
Pray for safe travels for all students as they journey to their Christmas destinations. Pray that they will enjoy times of relaxation, laughter, and connection with loved ones.
Pray for Wheaton's faculty and staff, that they too will be renewed by the joy of Christmas and a time of rest.
Wishing you a Merry Christmas!
The Wheaton College Parent Engagement team