From the President

On April 1, best-selling Christian author Philip Yancey, MA '72 was presented with Wheaton's Alumnus of the Year Award for Distinguished Service to Society. With over 17 million books sold in English and translated into fifty languages, Philip has explored the basic questions and mysteries of the Christian faith. As a lifelong journalist, Yancey testifies, "pain redeemed impresses me more than pain removed—in my own and in others' lives."
Noting that Wheaton alumni have taught him that "normal, healthy Christians are made larger by their faith, not smaller," Philip thanked Wheaton College for serving as a "pioneer settlement in the kingdom of God," and as a "sign of contradiction, showing a different way to thrive while opposing the false messages of our secular culture."
This extraordinary pilgrim—who has used his own life experiences as a laboratory for God's grace—charged Wheaton to continue "pumping out culture shakers and shapers—in humility." View the presentation of the award and Philip Yancey's remarks.
Some of those future culture shakers and shapers will receive their diplomas a month from now. We look forward to seeing many of you on campus as we celebrate the Commencement of the Class of 2022.
In Christ's service,


Philip Ryken
President
Commencement Schedule and Graduation Yard Signs
Parents of seniors, Commencement 2022 is quickly approaching! Be sure to consult the Commencement Week Event Schedule as you make your plans.
If you want to celebrate your student by placing a "Congratulations" yard sign on your lawn, here is a generic yard sign or a customizable yard sign that you can download and send to your local print shop to be printed.
Campus Housing Information and Dates
Campus housing closes Friday, May 6 at 5:00 p.m. unless your student receives approval from the Housing office to remain on campus. Siblings of May graduating students may remain in housing until 5:00 p.m. on Sunday, May 8, but they must submit a request. All students are required to complete the checkout list, then check out with their residence life staff member before leaving for the summer. Incomplete or improper checkout may result in a fine.
Summer Housing
Housing is available beginning Monday, May 9. Students participating in a college sponsored trip, those from an international country, summer researchers, students working on-campus jobs, or summer school students may apply for summer housing. We are not able to provide housing for students requesting to work off campus, or those whose off-campus lease dates differ from our housing calendar. For housing questions, contact housing.services@wheaton.edu. Summer housing dates are Monday, May 9 through Friday, July 22.

Storage
Wheaton College offers limited space for students to store belongings over the summer in the storage areas where they currently live. Each residential building has slightly different space limitations (see details below), but generally, students may store several boxes, a small refrigerator which counts as one box, and a bicycle. Couches or larger furniture can be stored on campus for a fee and students will receive a campus email about how to do that.
Find general information on storage opportunities in our student handbook. Students are encouraged to store their belongings in plastic tubs to protect from water and mildew. The College is not responsible, and will not be liable for loss, theft, or damage to students' personal belongings, whether by act of God, accident, negligence, or intentional act, so students are strongly encouraged to carry personal property insurance.
Fall Housing
Housing reopens to returning students on Sunday, August 21 at 2:00 p.m. Our Housing Calendar will keep you informed of opening and closing dates throughout the year.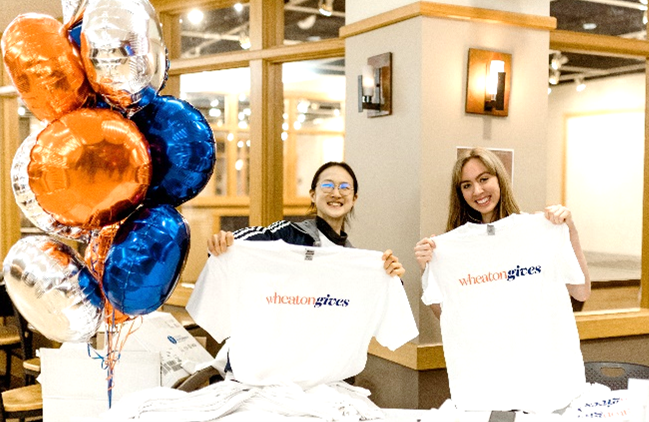 One Day, One Goal
On Wednesday, April 6, Annual Giving hosted WheatonGives, the fourth annual 24-hour giving day for Wheaton College. ­­­­­The Wheaton community of alumni, students, parents, and friends came together on One Day with One Goal and raised more than $850,000 for the Wheaton Fund, and the gifts keep pouring in! If you missed WheatonGives, you can still give online to support the Wheaton experience through the Wheaton Fund today.
Thank you for your continued support of our exceptional students. Your investment in the Wheaton Fund immediately advances the excellence and affordability of the Wheaton experience for every student. We appreciate your prayers as we prepare for the end of the year.
Order a Finals Fruit Basket
Send your student a Finals Fruit Basket to encourage them during finals week! The Fruit Basket will include small gifts, snacks, fruit, and a personal note from you. This fundraising initiative supports Ministry and Evangelism programs on campus, locally, in the US, and around the world. While we do not require a specific amount for the Fruit Basket, we ask that you prayerfully consider a donation. Place your Finals Fruit Basket order here!
The Center for Vocation and Career's mySkills Project
Teamwork. Problem-solving. Analytical skills. Verbal and written communication. According to an April 2021 survey by the National Associate of Colleges and Employers, these are a few of the skills that employers are looking for.
The CVC has curated opportunities for your student to focus on skill development through two partnerships that provide both paid and unpaid opportunities for students to gain today's vital skills:
Parker Dewey connects students with great companies through paid micro-internships. Projects might include data analysis, website development, or report writing, all while connecting to future employers.
Forage helps students build their employability and removes the boundaries that may keep students from experiencing what it's like to work at a world-leading company, from the comfort of their home! By completing a job simulation, students will gain real skills that these top employers are looking for, receive a personalized certificate of completion that they can share on their resume and LinkedIn profile.
Both offerings will give your student a chance to develop or practice a wide range of skills, introduce them to employers in a variety of industries, and give them important feedback on their work.
As always, the CVC is developing creative opportunities for your student to make the very most of their liberal arts education and prepare well for their steps post-graduation.
Campus Store
Announcements, rings, and other graduation accessories can be purchased from our partner Jostens.
The Campus Store is also stocked up on packing tape and moving boxes (school-approved size of 20x20x26) to help meet students' needs when the time comes for summer break departures.
Ways to Pray for Wheaton in the Month of April
For wisdom and discernment for seniors regarding post-graduation plans
For those wrestling with questions about self-worth and identity in Christ
For those finding it difficult to finance their education
For faculty and staff working hard to finish the school year well
With thanks for your involvement and prayers,
The Wheaton College Parent Engagement Team