From the President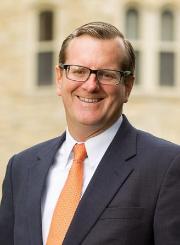 Dear Parents,

Last month our men's basketball team made it to the Final Four. In the sectional finals, we were down by 14 points but came back to win. The winning shot by senior Aston Francis was a fade-away, step-back three-pointer from the corner, falling into our bench. Aston scored a record 62 points in that game.

There's more to the story. Aston's winning shot was basically the same one he had missed earlier in the season against Augustana when we were down by two points. Aston determined that if he was ever in that situation again, he wouldn't miss. That night he went back to the gym and made the shot 100 times.

Aston had some help that night. Teammate Mike Winowiecki was there to gather the rebounds. Although Mike was out of the lineup because of injuries, he was there to help his team get ready to win. As Coach Mike Schauer commented, "Every team has a leading scorer, but not every team has a Mike Winowiecki."

Your student at Wheaton has the privilege of teaming up with some of the finest young Christian leaders anywhere. We are blessed to join you in providing their education.

In Christ's service,
Philip Ryken
President
Congratulations to the parents of graduating seniors!
We're looking forward to welcoming families of graduating seniors to campus to celebrate this milestone in your student's life. The Registrar's office has posted important information about Commencement Weekend, tickets and seating, events, hotel accommodations, and DVD keepsakes on their website.

If you have question about Commencement weekend, contact registrar@wheaton.edu or call 630.752.5045.

Congratulations to the Class of 2019!


Closing of Campus Housing
Summer Housing
Housing closes on Friday, May 10 at 5 p.m. unless your student has been approved to participate in Commencement or has approval from Residence Life to remain on campus. Siblings of May graduating students may remain in housing until 5 p.m. on Sunday, May 12, but they must submit a request. Housing reopens to returning students on Sunday, August 25 at 2 p.m. Students are required to complete the checkout list provided by their residence life member. Failure to complete the checklist, or not checkout properly, could result in a fine. Students must check out of their living space with their residence life staff member before leaving for the summer.

Housing is available from Monday, May 13 through Saturday morning, July 27, 2019, for students who need to remain in the area for reasons such as summer school or on-campus employment. For summer housing questions contact, housing.services@wheaton.edu.
Summer Storage
Wheaton College offers limited space for students to store their belongings over the summer.

For campus storage, students will need to store their belongings in the storage area where they currently live. Generally, students may store several boxes, a fridge (which will count as one box), and a bicycle. Each building has different space limitations.
Find general information on storage opportunities, including furniture storage, in our student handbook. Students are encouraged to store their belongings in plastic tubs to protect their items from a possible summer rainstorm. The College is not responsible, and will not be liable for loss, theft, or damage to students' personal belongings, whether by act of God, accident, negligence, or intentional act. For these reasons, students are strongly encouraged to carry personal property insurance.


Internships
Internships are commonly accepted as the very best path to a job. What is less known is that in a recent study they were also one of the top two factors for admission to grad school. If your student is still considering summer plans, an internship could be the answer! A visit with his or her career coach and taking advantage of CVC resources like Handshake and Vault, can help your student land the right experience.

Once your student has something lined up, it is important to make the most of this learning experience. Engaging in reflective curriculum, also available through the CVC, will enhance their learning by allowing students to process through their internship with meaningful questions and engaging activities.

Finally, the CVC will host Maximizing Your Summer Internship on Tuesday, April 30 for all students engaging in research, an internship, or other summer learning experience. Encourage your student to register for the event on Handshake!


Revitalized M.A.
Do you lead a Bible study, ministry or even a church? Our revitalized M.A. in Biblical Studies offers ways to understand and communicate how God's Word relates to our lives, our church, and the society around us. Now, you can take courses from a distance, as the program offers one class online each semester, in addition to the courses we offer on campus. Please visit the School of Biblical and Theological Studies to learn more.
All In, All Day for Wheaton Students!
On Wednesday, March 20, Annual Giving hosted WheatonGives, the first 24-hour giving day for Wheaton College. Over one thousand alumni, parents, and friends of the College were All In, All Day in support of current students, bringing in over $248,000 for the Wheaton Fund. The schedule included interviews with Dr. Hannah Stolze and the Board of Visitors, alumni challenges, a trivia event, and a visit inside the Blanchard Bell Tower. It was an exciting time connecting with the global Wheaton community. Alumni from 61 countries engaged with us online.

Thank you for your continued support of current students. When you give to the Wheaton Fund, you make an investment that immediately advances the excellence and affordability of the Wheaton experience for every student. We appreciate your prayers as we prepare for the end of the academic year. Parents can continue to get involved by giving online to support the Wheaton experience through the Wheaton Fund today.


Symphony Orchestra Spring Break Tour
The Wheaton College Symphony Orchestra offered performances and outreach to schools, churches, and a correctional institution during their Spring Break tour. On March 9, the orchestra flew from Chicago to North Carolina to prepare for their first performance at Christ Covenant Church in Matthews. Among the churches and schools where the orchestra performed included, First Presbyterian Church in Winston-Salem, North Carolina and Central Presbyterian and Annapolis Christian School in Maryland. Wrapping up the week, the orchestra conducted a final performance at the National Presbyterian Church in Washington, D.C.,where President Ryken offered the message in morning services. In addition to a full tour schedule, students also had the opportunity to visit the Museum of the Bible in our nation's capital and had many teaching and performance opportunities throughout the journey.


Athletics
All seven of Wheaton's winter sports programs participated in NCAA Championships in March as the Wheaton Athletics Department is ranked 17th in the most recent Division III Learfield Directors' Cup standings.

The Thunder men's basketball program won four games this March in the NCAA Division III Tournament, advancing to the final four of the Division III Tournament for the first time in program history. Wheaton's playoff run ended in the National Semifinal against eventual National Champion, UW-Oshkosh. EDITOR'S NOTE: Wheaton advanced to the Final Four in the NAIA Tournament and NCAA College Division (now Division II) tournament in the 1950's.

Senior Aston Francis of the Thunder men's basketball program won the prestigious Josten's Trophy and was named the National Player of the Year by D3hoops.com and D3News. Francis was named the CCIW's "Most Outstanding Player" for the second-consecutive season and was joined on the All-Conference team by Luke Peters.

The Wheaton women's basketball program earned an at-large bid to its 13th NCAA Tournament appearance. Junior Hannah Frazier was named the CCIW's "Most Outstanding Player" and Kent Madsen was named the CCIW Coach of the Year. Frazier, an Academic All-American, earned All-American recognition from the Women's Basketball Coaches Association, D3hoops.com and D3News. She was joined on the CCIW All-Conference team by Jordan Myroth, Devin Kyler and Hannah Williams.

Junior Favor Ezewuzie was named the Track Athlete of the Meet at the 2019 CCIW Indoor Track & Field Championships and she was honored as the USTFCCCA Midwest Region Athlete of the Year. She earned All-American recognition at the D3 Indoor Track Championships in both the 60-meter hurdles and the 60-meter dash. She was joined by sophomore teammate Hannah Roeske as an All-American as Roeske won the honor in the one-mile run. Senior Leif Van Grinsven finished third at the Indoor National Championships in the men's heptathlon as he earned All-American accolades in the multi-event competition.

Brooke Barnes was named the Most Valuable Swimmer at the CCIW Women's Swimming Championships in February and Will Rinne won the award for the men's conference championship. Rinne and Barnes were joined by teammate Chris Szymczak at the Division III Swimming Championships, where Barnes wrapped up her collegiate swimming career with All-American recognition in the 50-yard and 100-yard freestyle.

Senior Grant Miller represented the Thunder wrestling program at the Division III Wrestling Championships in Virginia last month. Miller earned his spot with a third-place finish at the 285-pound weight class at the NCAA Division III Upper Midwest Regional.

For complete information on Wheaton's 21 varsity athletics teams, be sure to visit athletics.wheaton.edu for schedules, recaps, videos and much more. Sign up for text alerts from Wheaton Athletics. Be sure to follow Thunder Sports on Facebook (facebook.com/WheatonAthletics), Twitter (@Wheaton Thunder) or Instagram (@Wheaton_Thunder).

For information on Wheaton's club sports be sure to visit the club sports website.
From the Office of Christian Outreach
The Office of Christian Outreach prepares students to serve off campus through learning experiences that intentionally connect theory and practice. Over the years, students have testified to the power of experiential learning through statements such as:

"It's indescribable. My experience with Summer Ministry Partners altered my course of action moving forward in my life both practically and spiritually. I feel like my exposure to different cultures, the challenge of teamwork, and the intentionality of our host families encouraged me to seek the Kingdom in a different way - a more personal way."

"In medicine, you are constantly serving your patients. This learning through service attitude helps me to understand what I will be doing in the future when I continue my degree in the medical field."

"Learning through service implies the need for submission and humility in order to grow/gain knowledge about God, others, and ourselves. Discussions in the classroom have been the most fruitful when each one submits to one another, listening intently to another's reflections so not to dominate the classroom."
In order to provide transformative learning experiences for all Wheaton students, the OCO fundraises around $300,000 every year. One way money is raised is through the Fruit Basket Fundraiser where parents can participate in OCO's mission by purchasing a Fruit Basket to be delivered to their student during Finals Week. Sign up for the OCO Fruit Basket fundraiser today! A letter will be arriving at your home with the details. If you didn't receive a letter in the mail, please contact .

Starting fall 2019, the OCO will offer a Birthday Basket Fundraiser where parents can celebrate their students' birthdays from afar by delivering a fun and healthy surprise! More details coming soon.
How can you pray for Wheaton this month?
Pray for members of the Class of 2019. Pray that their final weeks at Wheaton will be rich in friendship and learning. Pray for favor in the plans that graduates are making for their first steps after graduation.
Pray for the Lord's peace for students who are feeling weary and stressed in this final stretch of the semester. Pray for focus, stamina, times of recreation, and fruitfulness in their work.
Pray for staff members in Wheaton's Admissions office as they meet with high school seniors and parents making decisions about college attendance next year. Pray that prospective students will sense God's leading and provision for their future.
With thanks for your involvement and prayers,
The Wheaton College Parent Engagement team