Charlie Goeke
Program Manager of the Vanguard Gap Year
B.A. Secondary Education and Social Studies, Wheaton College, 2008
M.A. Intercultural Studies, Wheaton College, 2013
As the Vanguard Program Manager, I am blessed with the opportunity to develop students in a context where they have a year to experience the wonders of Creation, the authenticity of community, and a unlimited service and experiential learning opportunities. I have had similar experiences here at HoneyRock and cannot wait to walk alongside others in their spiritual and developmental journeys.
I grew up in Rochester Minnesota before attending Wheaton College for my undergraduate degree. It was at Wheaton that I learned about HoneyRock. I decided to begin my HoneyRock experience by becoming a Wrangler at the Barn. Seven summers later, I had worked in a variety of roles (Barn, Operations, Activity Staff), met and married my wife Laura (in Chrouser Dining Hall), earned my Masters in Intercultural studies from Wheaton, and learned that working in an outdoor educational environment was the ideal fit for me. After graduating, I spent two years as a Resident Director for the University of Northwestern in the Twin Cities. Most recently, we lived in the Twin Cities where I was a Resident Director for the University of Northwestern.
Today, my wife and I are blessed with two daughters, Greta and Lucie. We love living in small-town Wisconsin, where I happily root for the Vikings, much to the dismay of my neighbors and coworkers.
Maddie Johnston
Program Coordinator of the Vanguard Gap Year
B.A. Art History, Wheaton College. 2014
M.A. Christian Formation and Ministry, Outdoor Adventure Leadership, Wheaton College, anticipated 2019
I grew up in Tennessee (great music, great mountains) and moved to the midwest for college (great people, Great Lakes), which is when I first got acquainted with HoneyRock. I spent two summers working with the
Advance Camp
program while I worked on my art history degree at Wheaton. A few years later, I returned as a Vanguard Assistant for the first ever class of Vanguards. Working with Vanguard was my dream job--I loved living with the students, skiing and camping and climbing (for work!), and building a program as fun and unique as the Vanguards. So after some time working at Rocky Mountain College in Montana and Christian Encounter Ministries in California, I came back to do a Masters in Outdoor Adventure Leadership and help coordinate the Vanguard program.
The most exciting thing about Vanguard Gap Year to me is what happens after it's over: Vanguards leave HoneyRock more hospitable and kind and resilient and brave, and they help form communities marked by those things. They've experienced the richness of abiding with God alongside others, and they walk away looking more like Christ and more like themselves. Vanguard is a chance to get fearless and wrestle with the kinds of things we spend our whole lives exploring, and I can't imagine a more worthwhile way to spend a year.
Vanguard Resident Assistants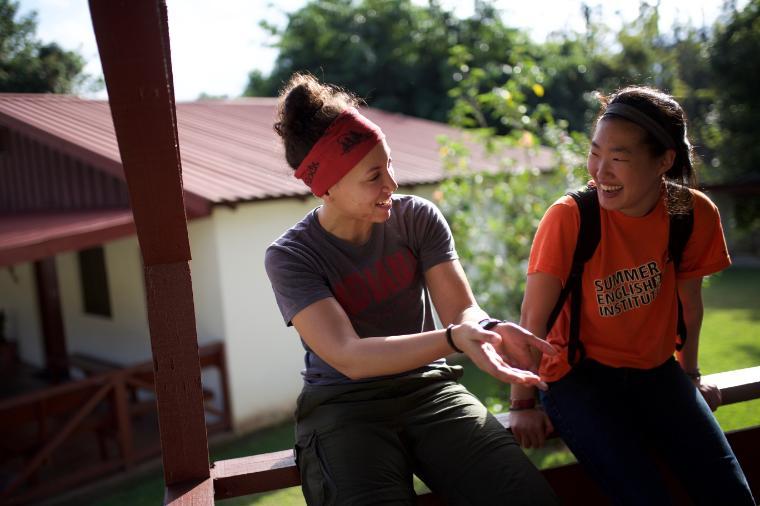 Each year, two recent college graduates join the team as "Vanguard Resident Assistants". Similar to a Resident Assistant at Wheaton College, these mentors guide and disciple Vanguards over the course of the program. They live on the same floor, eat all meals together, plan events, attend seminars and trips, and are a guiding presence in the larger HoneyRock community. In hiring each Vanguard assistant, we look for college graduates who display a depth of character, commitment to the Christian faith, and a desire to get fully involved in day to day life with Vanguards.