Resources for Eating On and Off Campus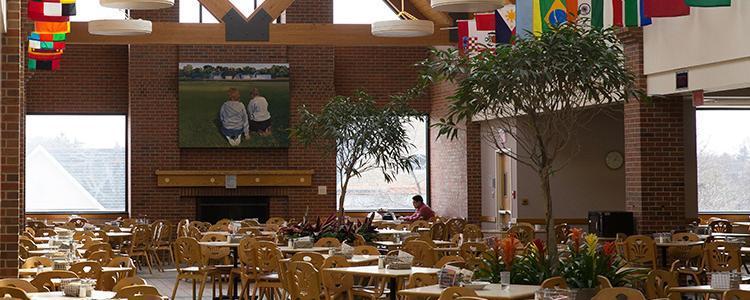 On Campus
**This program is temporarily suspended until Fall 2021 due to COVID-19 precautions.**
The Dine with a Mind (DWAM) program is an opportunity to connect with a Wheaton College faculty member over a meal, covering both you and the faculty member, in Anderson Commons (the college cafeteria) for personal and professional enrichment. This is a privilege that can be used twice each semester by degree seeking graduate students while tickets last.
After making your meal appointment with someone, register for your ticket by completing this survey. The Grad Life office will then contact you once we have received your request.
Anderson Commons is the main campus dining facility. Meal plans are available, although one-time dining is always an option. Bon Appetit, the food service at Wheaton, is consistently ranked among the best in the nation! To find Anderson's hours and menu of the day, go to Bon Appetit's website.
The Stupe is located on campus in lower Beamer and provides options such as burgers, fries, and other items from the grill. It also offers a student bundle which includes a burger (veggie option available) or grilled chicken sandwich, drink, french fries or sweet potato fries, and dessert for only $4.82.
For more information, go to Bon Appetit's website.
Sam's Cafe is the on-campus coffee shop located in lower Beamer. It offers a variety of coffee, smoothies and snacks for students on the go.
Off Campus
Wheaton has a variety of great places to eat within walking distance from campus.
See below for some close grocery store locations.
Aldi, 20 W Loop Rd, Wheaton
Jewel Osco, 2031 N Main St, Wheaton
Mariano's, 625 S Main St, Wheaton
Trader Joe's, 680 Roosevelt Rd, Glen Ellyn
Valli Produce, 155 E North Ave, Glendale Heights
Check out this search engine to find food pantries in the DuPage County area. For students living outside of DuPage County, try this search engine to find some food bank suggestions.
See below for a few of DuPage County's Food Insecurity resources: