About the Speakers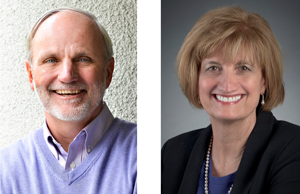 Married since 1989, Dr. Terry Hargrave and Sharon Hargrave LMFT have an authentic style of sharing that is paired with their expert knowledge in faith and psychology. They have two children, and currently reside in California.
Sharon is the Executive Director of the Boone Center for the Family at Pepperdine University. The Boone Center is an organization established by the university in 1996 as a supportive force to help strengthen and promote healthy families. Sharon is also the founder of MarriageStrong, a psychoeducational group to assist couples and families in their relationships. She is also an affiliate faculty member in the Marriage and Family Therapy department at Fuller Theological Seminary.
Terry Hargrave, Ph.D., is the founder of Restoration Therapy, a Marriage and Family Therapeutic model that efficiently identifies a client's identity and safety patterns through using the advantages of Attachment Theory, Emotional Regulation and Mindfulness in an efficient and organized fashion to promote change. Terry is nationally recognized for his pioneering work with aging and intergenerational families, and has been recognized as a Master's Series Therapist by the American Association for Marriage and Family Therapy. He is a professor in the Marriage and Family Therapy program at Fuller Theological Seminary, author of 30 professional publications and thirteen books, and continues to be an active therapist in a private practice setting.
Happening September 21-22, 2018 at the Barrows Auditorium in the Billy Graham Center, this conference will focus on integrating faith and psychology on issues in marriage.
For more information, contact Systemicconference@gmail.com
Two Different Tracks
Happening on Friday, September 21st, 2018 from 6:30-8:00pm, this event welcomes all adults in the community who are wanting to learn more about how to strengthen their relationships.
Our community enrichment on Friday evening consists of an explanation on MarriageStrong, a psychoeducational marriage group experience committed to helping us develop valuable relationship skills that will not only help those who are married, but dramatically change they way we interact with others in our families, friendships, places of work, and within the Body of Christ.
For more information on this event, and to register, contact us at Systemicconference@gmail.com.
On Saturday, September 22nd, 2018 from 9:00am-12:00pm, Dr. Terry and Sharon Hargrave will be speaking about Restoration Therapy and their understanding of how therapy and faith can be integrated to bring about lasting change within couples, families, friendships, places of work, and the body of Christ.
We encourage leaders in the church, pastors, and therapists to come be equipped with practical tools to integrate faith and psychology as they lead others towards healing and wholeness.
For clinicians, CE's are available. Upon registration, please note that you are wanting CE credit.
For more information on this event, and to register, contact us at Systemicconference@gmail.com.