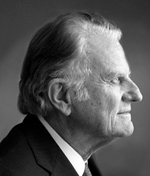 From humble beginnings in North Carolina, William Franklin Graham Jr., widely known as Billy Graham, came onto the national scene in the middle of the 20th century. Through his ministry that has spanned many decades, he went on to become the world's best-known evangelist, leaving an indelible mark on 20th-century Christianity.
It was a responsibility and fame that he always bore with dignity and humility. He traveled often to every part of the world and preached to millions of listeners in meetings, as well as over television and radio, and more recently by means of the Internet.
He authored several popular books about the Christian faith, as well as his published memoirs, Just As I Am (1997). He was the prime mover and sponsor, beginning in 1966, of numerous international and regional congresses on evangelism, the most recent of which was Amsterdam 2000.
And to a multitude of world leaders, entertainers, religious and business figures, educators and laity, he was a counselor and spiritual advisor. His was a unique place in the church in the United States and the world. Rev. Graham often underlined his singular focus on preaching Jesus Christ.
The Billy Graham Center Archives has assembled a representative display of their resources referencing Dr. Graham:
Billy Graham's place at Wheaton is also well-established, spanning his time as an undergraduate student to leading a Wheaton Crusade in 1959 to serving as a board trustee of the College. And he led the initiative to launch the Billy Graham Center that opened on Wheaton's campus in 1980 to:
ensure that personal involvement in evangelism was a part of the experience of Wheaton College students and
serve the worldwide church.
We mourn the passing of Billy Graham, as do his family, friends, co-workers, and fellow believers. We celebrate his joining the Lord he served and his entry into the glories of the eternal life he eagerly prepared for.
"Eyes have not seen or ears heard, nor has entered into the heart of man the things that God has prepared for those who love Him."
1 Corinthians 2:9
We are encouraged and thankful for his example of devotion and obedience to God and enthusiastic witness.
Since its founding, the Billy Graham Center Archives, with the approval of Billy Graham, has been collecting documents that tell some of the history of evangelism and missions. The story of Billy Graham, and the people, events and organizations around him, are a core part of our collection.
There is a biographical sketch in the BGC Archives site.
For more information, please contact us at 630.752.5910 or at bgcarc@wheaton.edu.