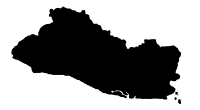 These maps and images may help orient you to the places, people, and scenes in The Weight of All Things.
Maps
Reviewing a map of El Salvador will provide orientation as you encounter new places, towns, and rivers mentioned in The Weight of All Things. Look for the capital of San Salvador, the department of Chalatenango (in and around the city of Tejutla), where most of the story develops, and the Rio Sumpul in the north (along the border with Honduras). Imagine yourself to be a nine-year old who is making his way by bus and by foot across the places you see on the map and read in the story.
Click here to download and zoom.
Images
Contested memories and positions on the Salvadoran Civil War continues to influence current political debates about El Salvador.
Salvadoran photographer Miguel A. Servellon posts photography capturing the people, landscape and religion of El Salvador.
Scott Wallace, a photojournalist who spent time in the 1980s documenting the civil wars in El Salvador, Guatemala, and Nicaragua, offers his reflections on the long-term impact of Cold War tensions and conflict on today's headlines.
Back to the Reading Guide
Forward to Context of the Civil War