We invite you to read with our students, staff, and faculty the novel The Weight of All Things by Sandra Benítez, as part of Wheaton College's Core Book program.

The Weight of All Things
The Core Book program fosters a shared experience across the campus community as we read, reflect upon, and discuss together a significant work that highlights themes of Wheaton's Christ at the Core general education curriculum.
You are invited to join with us as we journey with young Nicolás into a story of deeply held faith in the midst of suffering and loss. Reading The Weight of All Things may lead us to echo Nicolás' question, "Where are you, God, in all of this?" and watch for ways that we may, like Nicolás, live with the "courage of a lion" and the "heart of a lamb." By reading and participating in the Core Book program, you will have the opportunity to enter into our community of learning and experience part of Christ at the Core.
Why The Weight of All Things?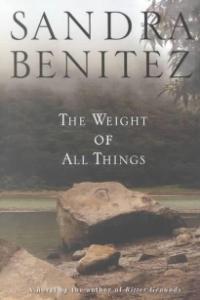 As we read The Weight of All Things, we will face enduring questions about faith in the face of evil, the impact of war and poverty upon ordinary people, and God's providence. Sandra Benítez's novel introduces us to a people and culture characterized by longstanding Catholic traditions and embattled by daily conflict. As we enter into this fictional story, we will also encounter historical events—the Salvadoran civil war and displaced peoples—that challenge us to consider the long-term and unintended consequences of political violence and how we as Christians should respond.
Read: Recommended Books and Articles
The Weight of All Things by Sandra Benítez
Reading Guide
Use these resources to guide your reading and discussion of The Weight of All Things.
Articles and Books for Further Reading
El Salvador
Latin American Christianity
Evangelicals, Catholics, and Mary
Explore: Core Book Events
A Global Faith and People: Reflections on World Christianity
Thursday, September 12 | 7:00 p.m. | Barrows Auditorium (Billy Graham Center)
A symposium featuring glimpses of expressions of Christian faith around the globe, including South Africa, Pakistan, Lebanon, and Latin America. Faculty speakers include (Conservatory), (Anthropology), Dr. Alia Abboud, (John Stott Scholar, Anthropology), and (Biblical & Theological Studies).
Who Bears the Weight of All Things?: A Novel About Ordinary People, War, and Faith
Thursday, October 10 | 7:00 p.m. | Blanchard Hall, Room 339
A liberal arts discussion of the Core Book, The Weight of All Things, through the lens of literature, social sciences, music, and theology, with Carlos Colón (Baylor University), Christine Colón (English), Gerardo Corpeño (Doctoral student, Biblical & Theological Studies), and James Huff (Human Needs and Global Resources).
CANCELED: Song of the Lord in a Strange Land with Carlos Colón
Choral performance with composer talk: "Veo Violencia en la Ciudad" (March 19 | 7:00 p.m.)
Hear the music and personal story of Salvadoran-American composer Carlos Colón as he recounts his own youthful pilgrimage from the civil war of El Salvador to his creative work as composer and liturgist that speaks of hope while calling for justice and peace.
This event has been canceled due to COVID-19 response measures taken by Wheaton College. Please visit COVID-19 for updates and information.
Learn: Additional The Weight of All Things Resources
Go to The Weight of All Things Reading Guide