We invite you to read with our students, staff, and faculty the novel Gilead by Marilynne Robinson, as part of Wheaton College's Core Book program.
A Conversation with Marilynne Robinson and Dr. Philip Ryken
We Consider Gilead
The Core Book program fosters a shared experience across the campus community as we read, reflect upon, and discuss together a significant work that highlights themes of Wheaton's Christ at the Core general education curriculum.
You are invited to join with us in our common intellectual and spiritual experience as we choose to slow down, read, and reflect upon Robinson's novel. Reading Gilead will be for many of us an act of contemplation as we slow to consider and savor the literary and theological themes of this award-winning novel. Throughout the 2017-2018 academic year, there will be various opportunities to engage with Gilead and its themes through events on campus.
Why Gilead?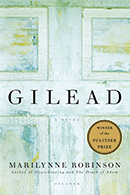 Marilynne Robinson's Gilead explores important themes such as living and dying well, what does it mean to live in community, and how we should engage our daily, ordinary lives with faith and appreciation for the beauty of it all. By reading and participating in the Core Book program, you will have the opportunity to enter into our community of learning and experience part of Christ at the Core.
Read
Gilead by Marilynne Robinson
President Philip Ryken on Gilead
Explore
"I Love the Prairie"
Encounter the environmental context of our Core Book: Gilead and volunteer for prairie conservation work with Cindy Crosby, author of The Tallgrass Prairie.
September 16 & 17, 2017 Morton Arboretum Co-sponsored by Core Studies and Environmental Sciences
Heaven and Earth Exhibit
Reading our Core Book Gilead through the paintings of Joel Sheesley featuring the landscape of the Fox River.
September 30-November 22, 2017 Fireside Room in Beamer Student Center
Co-sponsored by Core Studies and the Art Department
Heaven and Earth Artist Remarks and Opening Reception - Joel Sheesley
Monday, October 2, 2017. Reception hosted in Fireside Room Gallery
Tree of Life Film Viewing
Thursday, January 18, 7:00 PM
Blanchard 339 Lecture Hall
Film viewing of experimental filmmaker Terrance Malick's Tree of Life with remarks from literary scholar Dr. Thomas Gardner (Virginia Tech University). Like Gilead, Tree of Life chronicles the tensions of nature and grace in ordinary family life within a small town.

This event is co-sponsored with Christ at the Core, OPUS the Art of Work and the English Department
Many Ways to Live a Good Life: A Conversation with Marilynne Robinson
The video is now available on the college YouTube channel. Watch video here.
An informal conversation with novelist Marilynne Robinson and President Philip Ryken was held on Wednesday, April 4th in Barrows Auditorium.
For an overview of Fall 2017 Events and links to videos please visit our Fall 2017 Series Page.
Learn
Consider
Use this resource to guide your contemplation or discussion of Gilead.