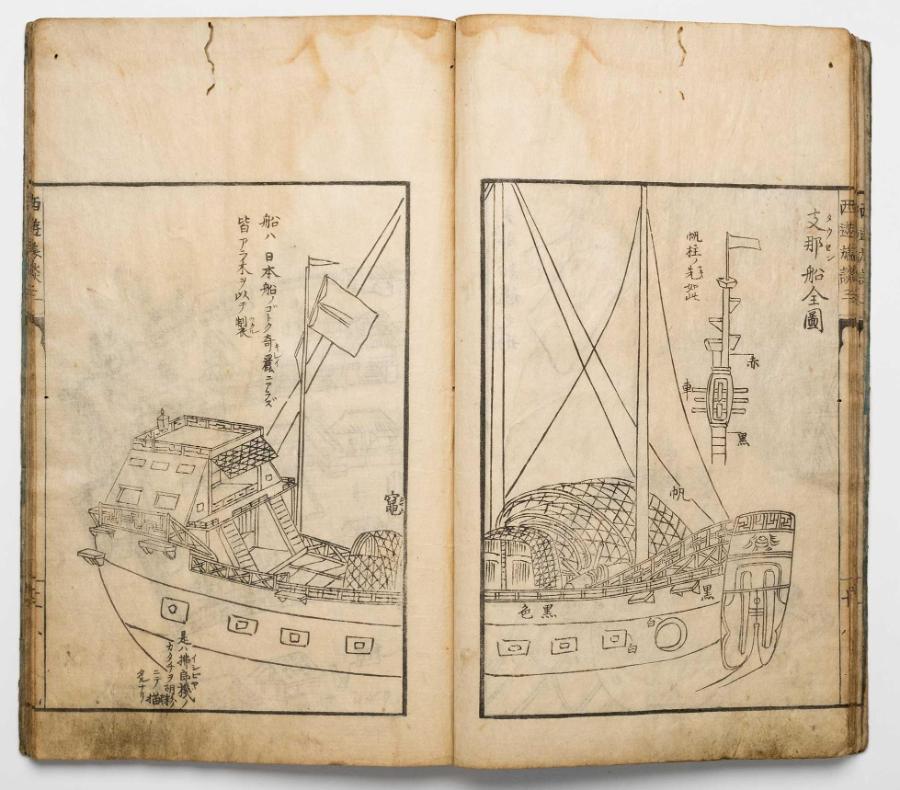 From Saiyū ryodan 西遊旅譚, A Travel Narrative by Shiba Kōkan 司馬江漢
Courtesy of More Partnerships
wood-block-printed ink on paper, c.1790-1803
Extracts from the diary of Jonassen, a clerk at the Dutch firm, Dejima, Nagasaki
July 1644 (June, the First Year of Shoho)
2 August. In the morning started unloading the ship mentioned above and made good progress.
Toward noon the Clerk of the Governor and his Assistants called at my room followed by a group of interpreters, and questioned me for a couple of hours. This was because Sawano Chuan, the apostate, who lives in Nagasaki, and Rodrigues, the Portuguese apostate priest, informed them that the decision was made in Macao to send priests to Japan by Dutch vessels from India. According to Sawano the priests would hide themselves in Japan hereafter, engaged in lowly work of the ship as employees of the Dutch. The Clerk warned us saying that the Firm would fall into grave difficulties if such a thing should happen, and he advised us to be very cautious. If a priest should come to Japan hereafter by our ship, and finding it impossible to smuggle himself into the country because of the strict vigilance, should try to leave by our ship and be caught, it would also be the ruin of the Dutch.
The image comes from an 18th-century travel narrative by Shiba Kōkan 司馬江漢, a Japanese painter and early adopter of Western techniques, which Kōkan partly gathered through this visit to Dejima. The narrative, which, is translated "Account of a Western Visit," includes rich illustrations of Dutch life at the port--even detailed drawings of Christian graves in Buddhist cemeteries. It highlights the ambiguity and ongoing costs of Rodrigues' decision to step on the fumi-e, as well as the persistence of Christian faith despite its forbidden status.
This image of a Dutch ship is from Dejima, for a time the sole conduit of trade between Japan and the outside world. It helps to illustrate that Rodrigues' betrayal of Christ in Silence has high costs. The rest of the novel does not avoid them. Rodrigues is absorbed into Japanese life, living under a new name in Nagasaki. He even works for the Japanese government against Christianity. Despite isolationist policies, the port of Dejima still receives Dutch and Chinese ships. Rodrigues helps identify prosecutable Christian artifacts from among Dutch trade ships' cargo. That work, as the passage shown here demonstrates, threatens all foreigners with persecution. And while Rodrigues still believes, his internal and now private faith is at odds with his public position: he is still, after all, at sea.