Fall Series 2019: Encountering Global Christianity
The Christ at the Core Fall Series features co-curricular events throughout the fall semester that highlight key themes of the core curriculum. These multi-disciplinary events allow Wheaton College to discuss the enduring value and significance of using a Christ-centered approach to study the liberal arts. This fall, the series focuses on the theme of encountering global Christianity.
A Global Faith and People: Reflections on World Christianity
Thursday, September 12 | 7:00 p.m. | Barrows Auditorium (Billy Graham Center)
A symposium featuring glimpses of expressions of Christian faith around the globe, including South Africa, Pakistan, Lebanon, and Latin America. Faculty speakers include Dr. Johann Buis (Conservatory), Dr. Brian Howell (Anthropology), Dr. Alia Abboud, Dr. Yousaf Sadiq (John Stott Scholar, Anthropology), and Dr. Carlos Sosa Siliezar (Biblical & Theological Studies).
Encountering Global Christianity Film Series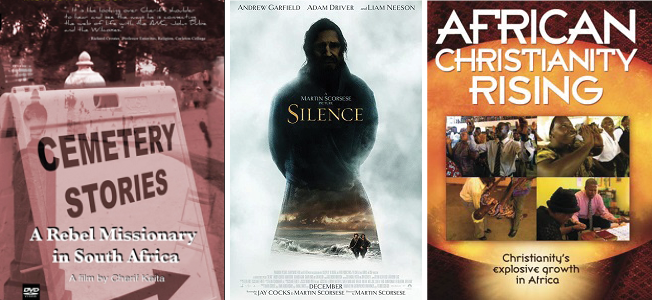 Monday, September 23 | 4:00 p.m. | Blanchard Hall 339
Cemetery Stories: A Rebel Missionary in South Africa, followed by Q&A with filmmaker Dr. Chérif Keïta, Carleton College
Tuesday, October 1 | 6:30 p.m. | Barrows Auditorium (Billy Graham Center)
Silence by Martin Scorsese (Director)
Thursday, October 24 | 4:00 p.m. | Blanchard Hall 339
African Christianity Rising: Christianity's Explosive Growth in Africa by Dr. James Ault (filmmaker)
Blood and Milk Exhibit
October 4 - November 1 | Walford Gallery, Adams Hall
A story of reconciliation in Rwanda told through the series of video portraits captured by Professor Joonhee Park (Art/Communication).
Who Bears The Weight of All Things?: A Novel about Ordinary People, War, and Faith
Thursday, October 10 | 7:00 p.m. | Blanchard Hall 339
A liberal arts discussion of the Core Book, The Weight of All Things, through the lens of literature, social sciences, music, and theology. For more information on this year's Core Book, visit Core Book 2019-2020.
A Global Confession: The Vision and Significance of the Cape Town Commitment, with Douglas Birdsall
Wednesday, October 16 | 7:00 p.m. | Barrows Auditorium (Billy Graham Center)
Honorary Co-Chair of The Lausanne Movement Dr. Douglas Birdsall reflects on the history, purpose, and significance of the Cape Town Commitment: A Confession of Faith and a Call to Action.
Vocation Week Chapel Series
October 28, October 30, and November 1 | 10:40 a.m. | Edman Chapel Auditorium
Annual chapel series exploring questions and themes related to vocation, featuring Rebecca DeYoung (Oct. 28), Jemar Tisby (Oct. 30), and Alan Jacobs (Nov. 1).
Co-sponsored with the Wheaton Center for Faith & Innovation
Enduring Questions, Faithful Answers: What Is Truth?, with Karen Swallow Prior
Thursday, November 7 | 7:00 p.m. | Barrows Auditorium (Billy Graham Center)
Annual symposium examining an enduring question through the lens of the Christian liberal arts, featuring a public lecture by Dr. Karen Swallow Prior, Professor of English at Liberty University and author of On Reading Well: Finding the Good Life through Great Books, Fierce Convictions: The Extraordinary Life of Hannah More—Poet, Reformer, Abolitionist, and Booked: Literature in the Soul of Me.
Co-sponsored with the Center for Applied Christian Ethics