Here is the line-up of speakers for the 2018 Wheaton College Theology Conference
Marilynne Robinson
University of Iowa, Iowa City
Pulitzer Prize-Winning Novelist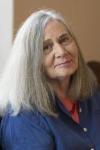 Critically acclaimed author and speaker, Marilynne Robinson is known for her graceful language and studied observations on humankind and religion in works of fiction and nonfiction. Her best-known works include her debut novel, Housekeeping (1980), and the Pulitzer Prize-winning Gilead (2004). Robinson graduated from Brown University, where she studied American literature. She then pursued a Ph.D. in English at the University of Washington, graduating in 1977.
In between writing fiction, Robinson also published collections of essays, frequently and eloquently defending her Christian faith. The subjects of her essays have spanned numerous topics, including the relationship between religion and science, nuclear pollution, John Calvin, and contemporary American politics.
During her writing career Robinson has received numerous awards, including the Pulitzer Prize for Fiction in 2005 and the 2016 Library of Congress Prize for American Fiction. In 2016 Robinson was named in Time Magazine's list of 100 most influential people and in 2012 Robinson was awarded the National Humanities Medal for "her grace and intelligence in writing." Robinson began teaching in the M.F.A. program at the University of Iowa in 1989 and became a member of the faculty of the Writers' Workshop in 1991. After 25 years, she retired as the F. Wendell Miller Professor in 2016, assuming the title of professor emerita.
Rowan Williams
Cambridge University
104th Archbishop of Canterbury
The Right Reverend, Rowan Williams, Baron Williams of Oystermouth, is a Welsh Anglican bishop, theologian and poet. Williams was the 104th Archbishop of Canterbury, Metropolitan of the Province of Canterbury and Primate of All England, offices he held from December 2002 to December 2012. He was previously the Bishop of Monmouth and Archbishop of Wales, making him the first Archbishop of Canterbury in modern times not to be appointed from within the Church of England.
As Archbishop of Canterbury, his principal responsibilities are however pastoral – leading the life and witness of the Church of England in general and his own diocese in particular by his teaching and oversight, and promoting and guiding the communion of the world-wide Anglican Church by the globally recognized ministry of unity that attaches to the office of bishop of the see of Canterbury.
Dr Williams is acknowledged internationally as an outstanding theological writer, scholar and teacher. He has been involved in many theological, ecumenical and educational commissions. He has written extensively across a very wide range of related fields of professional study – philosophy, theology (especially early and patristic Christianity), spirituality and religious aesthetics – as evidenced by his bibliography. He has also written throughout his career on moral, ethical and social topics and, since becoming archbishop, has turned his attention increasingly on contemporary cultural and interfaith issues.
His interests include music, fiction and languages. In 1981 Dr Williams married Jane Paul, a lecturer in theology, whom he met while living and working in Cambridge. They have a daughter and a son.
Timothy George
Beeson Divinity School
Timothy George has been the dean of Beeson Divinity School since its inception in 1988. As founding dean, he has been instrumental in shaping its character and mission. In addition to his administrative responsibilities, George teaches church history and doctrine. He is a life advisory trustee of Wheaton College, is active in Evangelical–Roman Catholic Church dialogue, and has chaired the Doctrine and Christian Unity Commission of the Baptist World Alliance. He serves as senior theological advisor for Christianity Today, and is on the editorial advisory boards of First Things and Books & Culture. George is the general editor of the Reformation Commentary on Scripture, a 28-volume series of sixteenth-century exegetical comment. A prolific author, he has written more than 20 books and regularly contributes to scholarly journals. His recent books include Reading Scripture with the Reformers, The Great Tradition of Christian Thinking: A Student's Guide (with David Dockery), Our Sufficiency Is of God: Essays on Preaching in Honor of Gardner C. Taylor (with James Earl Massey and Robert Smith, Jr.), and Amazing Grace: God's Pursuit, Our Response. His Theology of the Reformers (25th Anniversary ed., 2013) is the standard textbook on Reformation theology in many schools and seminaries and has been translated into multiple languages. An ordained minister in the Southern Baptist Convention, George has served churches in Georgia, Massachusetts, Kentucky and Alabama. He and his wife, Denise, have two adult children.
Keith Johnson
Wheaton College
Dr. Johnson's research focuses on modern and contemporary systematic theology with an emphasis on the work of theologians from the majority world. Other interests include the traditional and contemporary dialogues between Eastern Orthodox, Roman Catholic, and Protestant theologians, recent developments related to the doctrines of the Trinity and Christology, and theological accounts of race. In addition to some edited volumes, he is currently writing a book on Jesus of Nazareth. View Dr. Johnson's profile
Han-luen Kantzer Komline
Western Theological Seminary, Holland, Michigan
Han-luen Kantzer Komline came to Western Theological Seminary as a faculty fellow for the academic year 2014-2015, during which she taught church history while completing her dissertation in the theology department of the University of Notre Dame. Beginning in July of 2015, she began serving as Assistant Professor of Church History and Theology at Western, teaching a combination of church history and systematic theology courses. In the fall of 2015 she also began a two-year appointment as a Postdoctoral Fellow of the Louisville Institute, which aims to equip a generation of theological educators for faithful and integrated service to the church and the academy.
Dr. Kantzer Komline enjoys running in beautiful Holland, reading The New Yorker, listening to classical music and learning foreign languages. Teaching English for a year at Yantai University upon her graduation from Wheaton College gave her an opportunity to reconnect with her Chinese roots. After completing her M.Div. from Princeton Theological Seminary, she studied at the University of Tübingen in Germany on a Fulbright fellowship. In the academic year 2013-2014 she returned to Germany, living in an ecumenical community at the foot of the castle in Heidelberg. She has also lived for short periods in Berlin, Paris and Siena. Intercultural exchange is one of her passions.
Timothy Larsen
Wheaton College
Dr. Larsen's primary intellectual interests are in the areas of historical theology, Christian thought, and intellectual currents and controversies. He also specializes in British history. Another current interest is faith and the academic disciplines, especially anthropology. His research and writing tends to explore theological and intellectual ideas as they were appropriated and wrestled with in specific cultural, social, and historical contexts. View Dr. Larsens' profile
Lauren Winner
Duke Divinity School
Lauren F. Winner writes and lectures widely on Christian practice, the history of Christianity in America, and Jewish-Christian relations. Her books include Girl Meets God, Mudhouse Sabbath, a study of household religious practice in 18th-century Virginia, A Cheerful and Comfortable Faith, Still: Notes on a Mid-Faith Crisis, and, most recently, a book on overlooked biblical tropes for God, Wearing God. She is completing a book called Characteristic Damage, which examines the effects of sin and damage on Christian practice.
Dr. Winner's research has been supported by numerous institutions, including Monticello, the Museum of Early Southern Decorative Arts, the Center for the Study of Religion at Princeton University, and the Institute of Sacred Music at Yale University. She has appeared on PBS's "Religion & Ethics Newsweekly" and has served as a commentator on NPR's "All Things Considered." She has written for The New York Times Book Review, The Washington Post Book World, Publishers Weekly, Books and Culture, and Christianity Today, and her essays have been included in several volumes of The Best Christian Writing.
Patricia Andujo
Azusa Pacific University


Patricia Lynn Andujo, Ph.D., is an associate professor of English at Azusa Pacific University, teaching Freshmen Writing Seminar, Introduction to Literature, Children's Literature, Composition: Theory and Practice, and American Ethnic Literature. She previously taught English courses at the University of Illinois for 10 years, and language arts classes at Amelia Earhart Middle School in Riverside, California, for three years. Andujo's research and teaching interests include African American literature, nineteenth- and twentieth-century American literature, and religious studies and literature. Her dissertation study, Gendering the Pulpit: Religious Discourse and the African American Female Experience, traces the entry of African American women into religious discourse and their continuous appropriation of a literary tradition that grants them voice.
In addition to these speakers, the conference will include musical performances of Spirituals and Hymns arranged by the award-winning composer Shawn E. Okpebholo, Wheaton College.