Although the ROTC program at Wheaton officially started in 1952, the heritage of the Rolling Thunder Battalion reaches back to the 1880s.
ROTC History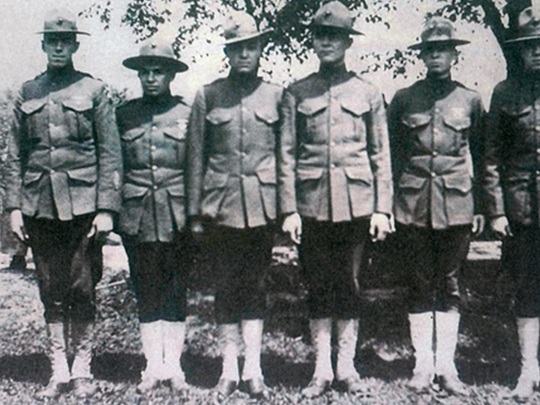 In September of 2011, senior Cadet David Olson was assigned the position of Battalion Historian and was given the task of researching the Battalion's history. Many cadets volunteered to help pour over archives dating as far back as the late 1800s.
"The most interesting thing that I found was the huge support that the college has had over the years for the ROTC program and the military in general all the way back to the Civil War," said Cadet Olson.
In addition to the cancelation of graduation during the Civil War, Wheaton College hosted soldiers on campus during World War I, and had over 1600 former graduates and students join the military during World War II. The Memorial Student Center and Gold Star Chapel were built and dedicated in honor of them.
Cadet Gayle Foote, who led a research group said of her discoveries, "It was really encouraging to see how far back the ROTC program and Wheaton goes and how strongly many of Wheaton College's presidents have supported ROTC. It inspired me to be a better Cadet and future Army Officer."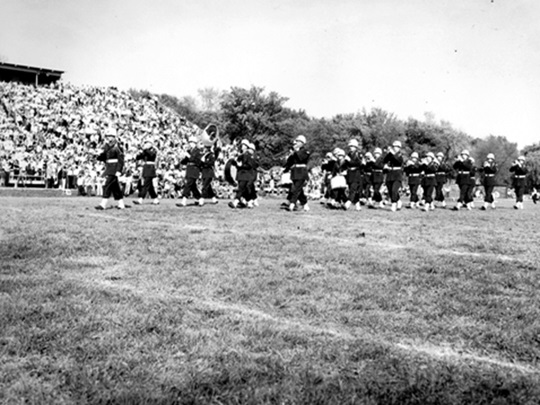 It was in 1952 that ROTC began at Wheaton College, and it was strongly supported by President Edman and President Armerding, both of whom where veterans. It was President Edman who famously said in 1952, "There is a call today for a Joshua, a Gideon, a David, as well as for an Elijah and a Paul. ROTC at Wheaton is the answer." All freshmen and sophomore males were required to participate in ROTC from 1952 to 1969.
After ROTC became fully voluntary in 1975, female cadets were enrolled and the program morphed into what we recognize the program to be today as a more tactical focus was instituted. The Rolling Thunder Battalion's leadership excellence began with the program's birth and has continued through the years as seen through the RTB receiving the General Douglas MacArthur Award in 1991 and 2005 given to the "best overall battalion" in the region and also earning the Order of the Founders and Patriots of America Award in 2005 and 2006 for having excelled in both the military science program and in the academic classroom.
The RTB's success in Ranger Challenge and support of local community projects was also highlighted. The culmination of this project occurred on April 12, 2012 as alumni, cadets, and graduates gathered for an informational brief and subsequent discussion groups with former graduates of the program. From the support shown by former graduate and alumni, it is apparent that the Rolling Thunder Battalion is a program that lives Leadership Excellence.