Cadet Troop Leading Training at Ft. Benning, GA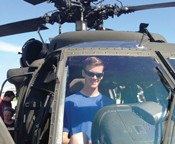 by Cadet Sam Wetlesen, Wheaton '16
At the close of this summer I was given the opportunity to attend CTLT at Fort Benning, GA, with the 3/3 HBCT in a Signal company. I grew up with a father in the Air Force and spent a lot of time around the Air Force life, but never really got a taste of the Army life or work environment. This experience proved to be a great observation and learning time with the 3/3 HBCT.
I was exposed to the day to day operations of the Executive Officer I was assigned to and that of the Company Commander. Both were invaluable experiences as I connected not only with the officers' inter-workings of their positions, but also their personal experiences as officers in the Army. My time there included attending many different meetings and briefs, and being exposed to different parts of Ft. Benning, such as the Malvesti Course, CWSA, and the USAMU.
Running through the Malvesti Course in the darkness of the morning, soaked through and muddy was a great opportunity. I have two older brothers who are graduates of Ranger School and it was amazing to experience only a pinch of what they did here. Even more exciting was completing the CWSA and starting to understand more about the internal leadership development that Ranger School has to offer. What topped off my time at Ft. Benning was the chance to improve my marksmanship with the US Army Marksmanship Unit. Our group of 20 plus Cadets had the whole day to learn about the unit in depth and spend a few hours on the range learning from these very skilled Soldiers.
CTLT proved to be one of the highlights of the summer as I learned more about the US Army and the profession I am about to enter. I am excited to commission in May of 2016 and begin my journey as a US Army officer.
Study Abroad in Jerusalem, Israel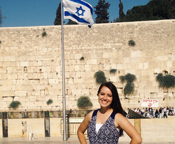 by Cadet Elena Fritz, Wheaton '16
This semester I studied at Jerusalem University College (JUC) in Jerusalem, Israel. JUC is small and intimate. There were only 24 other students on campus and half of them were grad students. I took Modern Middle East with an Israeli professor, Palestinian Society with an Arab professor, Arabic in Bethlehem from a Palestinian Christian and Physical Settings of the Bible with an American. I also interned with the Domari Society of Gypsies in East Jerusalem. Physical Settings was the most demanding.
The point of the class was to know the land of ancient Israel in a way that allows us to understand Biblical text better. It was not necessarily apologetic. The course is in the discipline of historical geography. We drew on philology (study of languages, both spoken and written), toponymy (the study of place names and their preservation over time), archaeology (study of material culture), and physical geography (topographic maps, meteorology, agricultural patterns…). Our commitment was a combination of traditional class time and field studies.
We traveled to almost every region of ancient Israel and multiple areas in Jordan. This experience abroad was incredibly rich. I was immersed in a complex land of intersecting peoples, cultures, and histories. It has taught me the necessity of patience in listening and in engaging with problems across the globe. I believe my heightened sensitivity and broader lens for viewing issues will make me a more in tune and creative leader.
Take a look at our ROTC Newsletter(PDF format).