Past Events
Reaching the Unreached

Dr. Melin shares his experiences with...
Cutting edge dynamics of venous, lymphatic and wound care
Mission fields of healthcare
Participating in wound care in the shanties of Lima and Kampala
Interactions within mission teams of mixed faiths
How to share the Gospel effectively by being properly equipped


Social & Structural Determinants of Health
This event, sponsored by Wheaton's Pre-Health Club, addressed the following topics:
Historical factors that lead to present day health outcomes
Ways health is differentiated by race, class and gender
What structures lead to differential health outcomes
In volunteering in low-resource areas, how should acknowledgement of these factors change our mindset?
As clinicians, how would this change our practice?


Medical Missions Abroad-Lunch with Dr. Kevin Shannon '81
Dr. Shannon shared about his journey from Wheaton to completing his medical degree and Masters of Public Health at University of Illinois, through his time on the medical missions field. Currently, Dr. Shannon is the Program Director of the combined Family Medicine/Preventive Medicine residency program at Loma Linda University.
Ethical Issues within Healthcare-Lunch with Dr. Joshua Williams '08
Dr. Williams is a pediatrician who studies the impact of parents' religious beliefs on their decisions to vaccinate their children. He shared his expertise in pediatric ethical issues and talked about his educational journey since graduating from Wheaton ten years ago.
Coffee & Conversations with Ruth Williams '82, MD
Conversation on the topics of leadership in medicine, prioritizing family and friendships, and the joys and challenges of being a woman in healthcare today.
Dinner with Lauren Cruz '12, Emergency Nurse
Over dinner Lauren shared her experiences as a pre-nursing student at Wheaton, application process to RUSH School of Nursing, and current position as an ER nurse.
Lunch Open House and Conversation with Dr. Robert Hamilton
Pediatrician, Dr. Hamilton, visited Wheaton's campus. Dr. Hamilton is a Wheaton parent and also created the "Hamilton Hold," a proven method to calm fussy newborns.
Health Professions Week
Join students across the country as we celebrate Health Professions Week at Wheaton College, November 5-9, 2018. Special events and giveaways during the week as we learn more about various health careers. For details, visit Explore Health Careers.
Health Professions Open House
Reception at Wheaton's Harbor House to enjoy appetizers and desserts with alumni health professionals celebrating the beginning of Health Professions Week.
Dinner with RUSH Nursing Students
Dinner with RUSH Graduate Entry Master's Wheaton graduates in Chicago. The meal is sponsored by the Health Professions office.
Doctors Without Borders Interactive Exhibit - Chicago, Illinois
A number of pre-health students attended the "Forced from Home" tour guided by experienced Doctors Without Borders aid workers who are committed to bringing quality medical care to people caught in crisis. Designed to convey the challenges facing a person forced to flee, this behind the headlines exhibit detailed the global refugee crisis.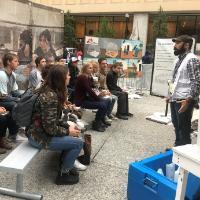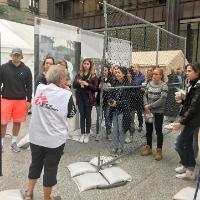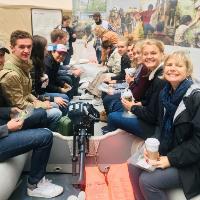 Johns Hopkins University School of Nursing Visits Wheaton College
Informational session with Debbie Driscoll, Senior Admissions Officer. JHU presented their Master's Entry Program for this nursing school located in Baltimore, Maryland. Refreshments provided.
Open House Lunch Meeting with Suzy Huffman Jed '98 MSN, FNP-BC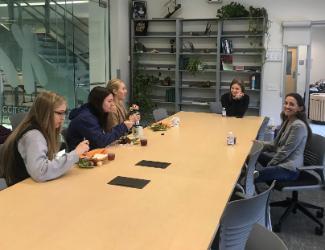 Luncheon "open house style" food and conversation with Suzy Jed. Over her career Suzy has been caring for patients in a variety of settings. Her experience spans areas of family practice, infectious disease, HIV related global programs in Africa and teaching. She recently worked in the Global Division of the U.S. Health Resources and Services Administration (HRSA). Suzy attended Vanderbilt School of Nursing, was a National Health Service Corps Scholar and completed the scholarship requirement at a Federally Qualified Health Center (FQHC) in a rural clinic.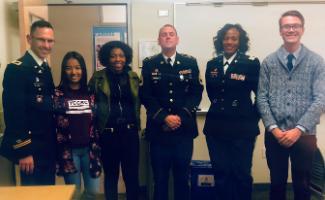 Dinner with Associate Dean of Admissions of Uniformed Services University
Dr. Aaron Saguil shared with students about medicine, military medicine, and maintaining family and fellowship while serving in a health career.
Frances Payne Bolton School of Nursing at Case Western Reserve University Visit to Wheaton College
Presentation about their Graduate Entry Nursing Program for this school located in Cleveland, Ohio.
Mock Interview Event for Pre-Med Students
A group of Wheaton alumni physicians returned to campus to practice interviewing skills and offered feedback to pre-med students.
Sunday Night Dinner with Dr. Dale Robinson
Dr. Robinson is a practicing OB-GYN in Oregon and shared with students about the specialty and the intersections of faith and medicine in primary care practice.
Loma Linda University Informational Session & Pizza
Advice on applying to graduate school and Q & A time. Loma Linda offers the following graduate programs:
Bioethics, MA; Child Life Specialist, MS; Dentistry, DDS; Global Health, MPH; Health Care Administration, MBA; Medicine, MD; Nutrition & Dietetics, MS; Occupational Therapy, MOT; Pharmacy, PharmD; Physical Therapy, DPT; Social Work, MSW; and more!
Sean Gleeson, MD - Physician Conversation & Dinner
Dr. Gleeson visited campus and shared his experiences as a pediatrician and physician leader in the field of pediatrics.
"Bending the Arc" Movie Screening
The extraordinary doctors and activists whose work 30 years ago to save lives in a rural Haitian village grew into a global battle in the halls of power for the right to health for all. Dr. Paul Farmer, Dr. Jim Yong Kim, activist Ophelia Dahl, Todd McCormack, and investor Thomas White began a movement in the 1980s that changed global health forever.
Sunday Night Dinner with Anneliese Petersen '16
Wheaton alum Anneliese Petersen '16 who worked at Lawndale Christian Health Center, shared her gap year experiences with students. She will attend medical school beginning in the fall and went to India during her HNGR experience while at Wheaton.
Sunday Night Dinner with Shelby Patty Edgren '15
Shelby spoke about her experiences at RUSH's College of Nursing and her current job on the Mother & Baby floor at Rush Medical Center.
Catered Lunch with Alyssa Pfister '01, MD
Dr. Pfister attended Quillen College of Medicine in Tennessee. She currently works with Serge Global at Kibuye Hope Hospital in Burundi and is a professor at Hope Africa University.
Sunday Evening Dinner with Wheaton graduates
Current General Master's Entry RUSH College of Nursing Students, Madison Sheafe '16, Lucy Sleigh '16, and Kelly Bradley '17 shared their experiences in the program.
Dr. Arthur Ammann '58 - Biology Alumnus
Dr. Ammann, a physician and clinical professor at the University of California San Francisco Medical Center, spoke on "Why Plagues Don't End: A Tale of Two Epidemics."
Conversation with Dr. Amanda Cuda '97, MD, MPH, FAAFP
Dr. Cuda shared her experiences with a career as a military doctor.
Attended Uniformed Services University of Health Sciences
Currently a family physician in the Seattle, Washington area
Earned a MPH degree in 2013 from the University of Washington
Dinner and Conversation with Dr. Richard Gieser '59
Dr. Gieser invited students to dinner to discuss medical opportunities and experiences abroad with Dr. John Tannous (Wheaton parent).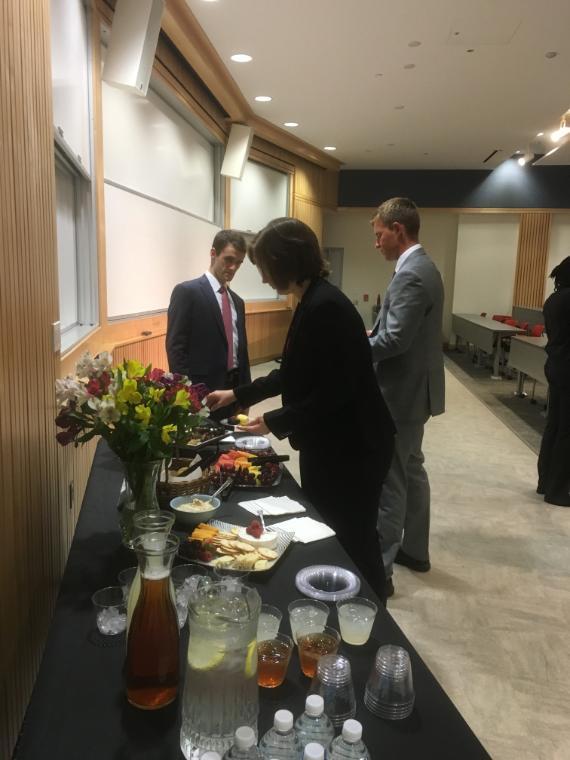 Mock Interview Evening. Students pictured (front to back): Cecily Ober '17 - Chicago Medical School at Rosalind Franklin University; Andrew Schoenbeck '17 - Michigan State University College of Medicine '21; Mitchell McElroy '17 - University of Central Florida College of Medicine '21