Research
The goal of faculty-student collaborative research is to develop mentoring relationships through scholarship. Students will collaborate with faculty members and learn to ask scientific questions, develop hypotheses, and design experiments to test hypotheses. Often, students have the opportunity to communicate results to the scientific community through refereed journal articles or presentations at scientific meetings. Read more >
Internships
There are many opportunities for students interested in a particular career path to experience what is actually involved in the day by day activities of the profession of interest. At an off campus site, students participate in research or service opportunities that provide experience in the professional context. Most return with a clearer vision of what it means to be a health professional, researcher, or a biologist in one of the many ways that a graduate with a degree in Biology can serve Christ and His Kingdom. Read more >>
HNGR (Human Needs and Global Resources)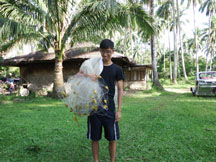 The HNGR Program includes a 6 month experience, usually in a foreign culture, in which the student works with an on-site agency. The student also carries out an individual research project that is mentored by a member of the Biology faculty. The faculty member makes a visit to the student at least once during the period of the HNGR internship. Biology students have done research projects in such places as Honduras, Tanzania, Côte d'Ivoire, Ivory Coast, Ecuador, Peru, and Bolivia. Read more >>
Health Professions
Biology students interested in health professions often take SCI 229 Internship/Seminar in the Health Professions an internship spending time "shadowing" a health professional. This provides insight into what is involved in practicing the day by day aspects of the profession.
Other Off-Campus Experiences
The Biology Department receives information about many off campus internships that provide experiences in many aspects of the professional practices of biologists. Students often spend summers or semesters at off campus sites and experience what is really involved in working in research labs, clinics, environmental agencies or other sites in which a student with a liberal arts degree in biology could serve after graduation. Most return with both confidence that they have been well prepared and a clearer vision of what they can do in the future. Below is a brief list of where our Biology Majors have participated in off campus internships recently.
Medical/molecular
University of Nebraska Medical Center
Harvard
Loyola
University of Chicago
Argonne National Laboratory
Environmental
Morton Arboretum
Smithsonian Environmental Research Center
AuSable
Teaching Assistants
The biology department employs thirty to thirty-five students each semester. Most work as paid teaching assistants, but student employees also manage the greenhouse, care for research organisms and aquarium fish in display tanks, wash glassware, and help with administrative duties in the department. For students with a career interest in teaching biology, working as a teaching assistant can provide them with valuable practical experience. Teaching assistants spend between six and ten hours a week working closely with instructors in introductory and upper level biology courses. Their responsibilities include setting up for lab courses, working closely with professors, helping during classroom instruction, grading assignments, and being available to answer students' questions outside of class.