Students Engaging in Sociology & Anthropology (SESA)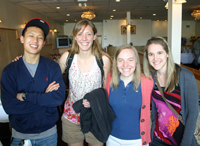 SESA exists to build a biblical foundation for understanding social interaction through a student forum that will provide an environment conducive for engaging in sociological and anthropological thought. By utilizing resources within and available to the department, SESA will seek to serve the students and faculty of the department by planting and harvesting ideals of passion, collaboration, development, and celebration.
Field Trips
Regular field trips have taken students to various Christian and non-Christian religious centers, The Field Museum of Natural History, a variety of urban schools, Amish country, area flea markets, and other sites of cultural interest.
Off-Campus Opportunities
The Wheaton College Sociology and Anthropology Department is privileged to be located near Chicago and to have professors that have made contacts in a variety of fields. There are abundant opportunities with social services and law enforcement agencies locally and in Chicago with whom students can plan internships and independent studies.