Redeeming the Gift of Power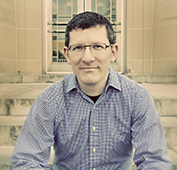 The Department of Sociology and Anthropology along with the Center for Applied Christian Ethics (CACE) hosted Mr. Andy Crouch for the 12th annual Fahs Symposium on Wednesday, October 15th, 2014, where he spoke on "Redeeming the Gift of Power." Mr. Crouch also shared in our undergraduate chapel that morning, reflecting on "Good, Very Good, Glory: Culture and the Divine Image."
Crouch is the author of Playing God: Redeeming the Gift of Power, published in October 2013. His book Culture Making: Recovering Our Creative Calling won Christianity Today's 2009 Book Award for Christianity and Culture and was named one of the best books of 2008 by Publishers Weekly, Relevant, Outreach and Leadership. In December 2012 he became executive editor of Christianity Today, where he is also executive producer of This Is Our City, a multi-year project featuring documentary video, reporting, and essays about Christians seeking the flourishing of their cities.
Crouch serves on the governing boards of Fuller Theological Seminary and Equitas Group, a philanthropic organization focused on ending child exploitation in Haiti and Southeast Asia. He is also a senior fellow of the International Justice Mission's IJM Institute. His writing has appeared in Time, The Wall Street Journal, and several editions of Best Christian Writing and Best Spiritual Writing. He lives with his family in Swarthmore, Pennsylvania.
From 1998 to 2003, Crouch was the editor-in-chief of re:generation quarterly, a magazine for an emerging generation of culturally creative Christians. For ten years he was a campus minister with InterVarsity Christian Fellowship at Harvard University. He studied classics at Cornell University and received an M.Div. summa cum laude from Boston University School of Theology. A classically trained musician who draws on pop, folk, rock, jazz, and gospel, he has led musical worship for congregations of 5 to 20,000.