Honor as a 21st Century Concept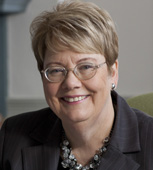 The Sociology and Anthropology Department was honored to host Dr. Teresa Sullivan for the 11th annual Fahs Lecture on Thursday, November 21, 2013. Dr. Sullivan's presentation addressed how having Honor Codes affects the integrity of the students and how this form of accountability has played itself out in several instances.
Dr. Sullivan was elected as the eighth President of the University of Virginia on August 1, 2010. Sullivan is a respected scholar in labor force demography. The author or coauthor of six books and many scholarly articles, her most recent research has focused on measuring productivity in higher education.
President Sullivan is a Fellow of the American Association for the Advancement of Science. She serves as Vice Chair of the Council of Presidents for the Association of Governing Boards of Universities and Colleges, and as a member of the Advisory Board for the Northern Virginia Technology Council, the trade association of the technology industry in Northern Virginia. She serves as the Association of American Universities (AAU) representative on the American Council on Education (ACE) Board of Directors, and as a member of the Higher Education Advisory Committee that provides guidance for implementation of the Virginia Higher Education Opportunity Act of 2011. In 2013, the Governor appointed her to the Innovation and Entrepreneurship Investment Authority.

President Sullivan came to UVa from the University of Michigan, where she was provost and executive vice president for academic affairs. Prior to her work at Michigan, Ms. Sullivan was executive vice chancellor for academic affairs for the University of Texas System, a position she held from 2002 until May 2006. She served as faculty member at the University of Texas at Austin from 1981 to 2006. She is a graduate of Michigan State University's James Madison College, and earned her doctoral degree in sociology from the University of Chicago. She is married to Douglas Laycock, the Robert E. Scott Distinguished Professor of Law at UVa. They have two adult sons.