The Street is My Pulpit: Hip Hop, Youth Culture, and the Gospel in Kenya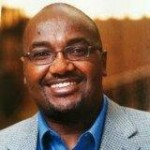 The Sociology and Anthropology Department at Wheaton College hosted its tenth annual Ivan Fahs Memorial Symposium on November 8th, 2012. Calvin College Professor Mwenda Ntarngwi delivered a lecture titled "The Street is My Pulpit: Hip Hop, Youth Culture, and the Gospel in Kenya."
Dr. Ntarngwi is a cultural anthropologist interested in how social justice issues are expressed and experienced through popular culture. He also has an ongoing passion for inter- and cross-cultural learning and teaching and a growing interest in the practice of anthropology and how to use anthropology to understand not only others but ourselves.
Prof. Ntarangwi earned his BEd in language education and MA in Swahili Studies from Kenyatta University, Kenya and MA and PhD in cultural anthropology from the University of Illinois Urbana-Champaign. Mwenda's research is on popular cultural expressions, the practice and history of anthropology, and inter-cultural engagement. He is the author of, among other works, Reversed Gaze: an African Ethnography of American Anthropology (Illinois, 2010), East African Hip Hop: Youth Culture and Globalization (Illinois, 2009), Gender Identity and Performance: Understanding Swahili Cultural Realities Through Song (Africa World Press, 2003), editor of Jesus and Ubuntu: Exploring the Social Impact of Christianity in Africa (Africa World Press, 2011), and co-editor of African Anthropologies: History, Critique and Practice (Zed, 2006). He has held faculty positions at Kenyatta University, Kenya; Egerton University, Kenya; St. Lawrence University in Canton, New York; Augustana College in Rock Island, Illinois; Calvin College in Grand Rapids, Michigan; and Indiana Wesleyan University, Marion, Indiana.