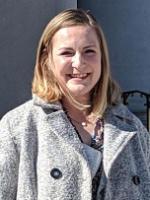 Before I stepped out of the doors of Edman Chapel on graduation day, I had a job lined up in Denver, the exact location I was aiming for, and with the type of people with whom I wanted to work. I started in a leadership position in my first job, which included a salary with benefits.
Less than two years later, I secured a job within an office of the Denver City Council, a dream job that regularly takes me into the courts of one of the most gorgeous and historic buildings in Denver. While both of these jobs searched for a person with a college degree, the soft skills that Wheaton taught me and the desire the Anthropology and Urban Studies departments taught me to listen to and fight on behalf of those who are rarely heard is what presented me with these incredible career opportunities. Not to mention the fact that Wheaton College gave me the gift of bilingualism in Spanish due to the Anthropology requirement to study abroad, which consistently helps me communicate the ideas of people who aren't able to easily speak to people in places of power.
Walking the streets of downtown Denver, I can't help but remember the gift that my Wheaton College education gave me. Even when life becomes a little less magical and I sorely need advice and encouragement, my favorite professors have only been a phone call or email away, ready to pray for me, advise me, and push me. Wheaton College gave me a community of friends on whom I daily rely on for support, even while many of them live in countries all over the world.
Most importantly in all of this, my faith in Christ dramatically pushed and tested me in these last two years and Wheaton provided me myriad resources to come back to rest in the peaceful and grounding arms of Jesus. I am absolutely overwhelmed with how grateful I am to Wheaton College and just wanted to say thank you!"