Liz Bilkert Hadley was a double major in Anthropology and Economics and graduated from Wheaton in 2014.
Liz shared the following in the Sociology and Anthropology department chapel in the final semester of her senior year. We felt that it was beautiful and profound, so with her permission, we are pleased to reprint it here.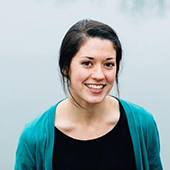 I study anthropology and I also study economics, partly because I think economists are a fascinating group to study as an anthropologist.
I became anthropology major my freshman year, mostly because I thought things and people and accents from other places were cool. For example, in elementary school I bought a boy's t-shirt from Old Navy once because it said "AUSTRALIA" on it and I wore it several times a week. In a middle school program, I was paired up with a college exchange student from Italy named Guiseppe and I thought his accent made him the most beautiful man I'd ever met. I wore a sari to my junior prom to look different from all the other white girls. In high school I told people I loved "ethnic foods," by which I meant curry and Nutella.
I can tell you these things, and we think it's funny, because we all study anthropology or sociology; we understand the problematics and irony of this essentializing view of 'culture.' But after 4 years in this department, my draw to anthropology has been redeemed from this simplistic view of culture. I study anthropology now because of the incarnation, because the Word became flesh and dwelt among us.
It's one overwhelming thought that humankind was created in the image of God, but then to consider that divinity would be pleased to take on the flesh and sinews and capacities of a human, and dwell with us - that brings deep deep meaning to dwelling as a human. And in anthropology, we study what it is to dwell as a human.
I meant to go somewhere else with this thought, but after my night class last night what I intended to say didn't feel right:
Last night, I was in an anthropological writing class with Dr. Folch, and at the start of every class, we go around the circle and say an adjective or adjectival phrase that describes how we're feeling. Part of me thinks she's secretly collecting this data and doing an analysis on us, but it's been interesting to note what words we choose. Aside from the week after Spring Break, all other weeks the majority of us pick words that are rather melancholy, speak to stress and fear and inadequacy, or humorously conjure up an image of slothful stagnation, like Dale's use of "moss" as an adjective.
While maybe this simply reflects what it to be a second semester senior at Wheaton, I think it also reflects that this dwelling thing is hard, showing that there are multiple layers to this essence of dwelling.
When I tell people I study economics, they nod their head in approval, but when I tell them "and anthropology", some people make a comment about Indiana Jones. And by this I mean that people often reduce anthropology to a simple, neat study: They think we look at what an uncle calls his sister's son, or how the patterns on tapa cloths change over the years. And yes, we ask these questions, but we also want to be asking deeper questions. We want to get past the question of 'how do you dwell' to understand the story and experience of dwelling. This is what the incarnation gets at.
We heard a story last night in class about a community in which children were dealing with molestation and rape in their everyday lives, and then in Sunday school, they are learning about not stealing pencils. The disconnect between really knowing how someone dwells is offensive and obvious here, but is this not what we come across often? Especially in Christian culture, especially at Wheaton? The temptation is to be pre-occupied with the wrong thing; we miss the painful (or joyful) experience of dwelling that needs to be heard.
Annie Dillard wrote a poem hinting at this that my friend gave me last year: "There is always the temptation in life to diddle around making itsy-bitsy friends and meals and journeys for years on end. It is all so self conscience, so apparently moral…But I won't have it. The world is wilder than that in all directions, more dangerous and bitter, more extravagant and bright. We are raising tomatoes when we should be raising Cain, or Lazarus."
I think anthropology has a lot to offer us here: we must use these tools to take us past these itsy-bitsy questions, these irrelevant lessons on pencil sharing, to questions and lessons that are actually addressing how people dwell - to the same intimate extent as the incarnation of God that brought Him fully into our experience in all its joy and difficulty, and moss.
We don't do what Indiana Jones did (to begin we don't portray his problematic depiction of masculinity and conquest). We study a discipline that is necessary in the Church if we are to deeply understand needs and journeys as Christ did. I caution you to be wary of pursuing the itsy-bitsy and the pencil lessons that overlook what's actually going on in souls.
As an anthropologist, and (hopefully) as one who knows an incarnate God, ask after the experience of dwelling. These are the stories, the adjectival phrases, which will require you to be mindful and attentive.
I love learning with you all - I'm grateful for your peership.
Immediately after graduation Liz set off to supervise a team with Youth Hostel Ministries in Europe, participating in the dwelling of her peers and future anthropologists. She is currently employed as an employment specialist with World Relief in Seattle.