Walk the streets of Charles Dickens' London and visit Jane Austen's home in this summer study experience that takes you to England to explore the world of noteworthy British authors.
Program Overview
Wheaton in England is an 8-week program that will sharpen your eye for the importance of place in English literature and writing and allow you to immerse yourself in the richness of English culture as we engage with various communities throughout England. Take 8 to 10 credit hours of literature and writing in the tradition-soaked cities of London, Canterbury, Stratford, Oxford, and York; and enjoy the beauties of the English countryside in the lakeside town of Ambleside. Join us to visit historic sites from the ancient Stonehenge to the enchanting homes of writers like Austen, Johnson, the Brontës, Lewis, and Wordsworth. We'll also take in theatre at Shakespeare's Globe in London and the Royal Shakespeare Theatre in Stratford, hike the trails of the Lake District, and worship in cathedrals and small village churches throughout England. We will not only study the English classics and root them in the imaginative soil of place, but we will also engage with contemporary English literature and explore the importance of place and cultural context in our own writing.
Sponsoring Department: English
Program Leaders(s): Professor Nicole Mazzarella and Dr. Jim Beitler
Term: Summer
On-Campus Dates: May 29 - June 10, 2017
Travel Dates: June 10 - July 23, 2017
Estimated Cost: $8,135.00 (includes airfare)
Prerequisites: None
Eligibility: Open to all college students, regardless of their major. Non-Wheaton students who share Wheaton's Christian commitment are welcome to participate.
Highlights: Study English literature and travel writing while being immersed in British culture. Led by full-time Wheaton faculty members, this program highlights Romantic literature, the works of C.S. Lewis and J.R.R. Tolkien, and writing about place.
Course Offerings
The courses offered meet requirements for the English major and minor.
All students will take:
ENGL 433: Literature and Place (2 hours)
(This course fulfills ENG 271 requirement for teaching concentration and elective for other concentrations) Selected topics, studied with a view to giving added breadth and depth to the understanding of special areas of literature.
Students choose six to eight additional hours from the following course offerings:
ENGL 355: The Romantic Period (4 hours)
Major English Romantic writers, 1783-1832, together with a study of the meaning of Romanticism; includes Jane Austen.
ENGL 386: Selected Authors: C.S. Lewis and J.R.R. Tolkien (4 hours)
In-depth study of the works and writings of C.S. Lewis and Tolkien.
ENGW 444: Special Topics: Writing Projects (2 or 4 hours)
Students will complete writing projects in their chosen genre (fiction, poetry, creative nonfiction, or drama) while also considering the influence of place and cultural context in their project.
Program Fees
The estimated program fee of $8,135.00 covers tuition, airfare, lodging, most meals, ground transportation, group admission to literary and historical sites, and plays at the Globe and the Royal Shakespeare Theatre. Students will be responsible for the cost of books, some meals, and personal expenses. Costs will be less for students who do not stay on Wheaton's campus during the first stage of the program.
Learn More
If you have questions or would like to know more about the program, review the English Department's Wheaton in England program details or contact Dr. Jim Beitler or Professor Nicole Mazzarella for further information.
How to Apply
To apply, visit GoGlobal, Wheaton College's registration system for off-campus study and international travel, research, and internships.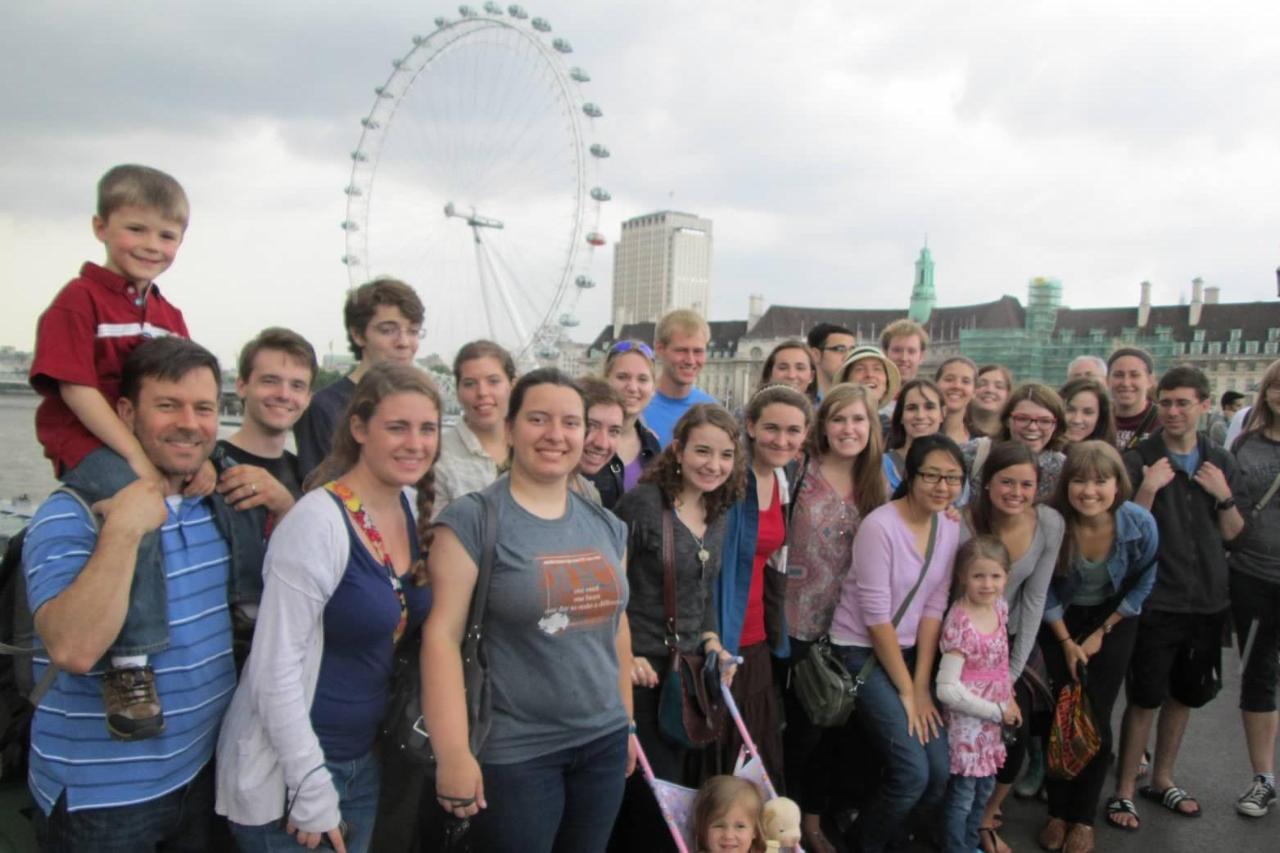 This gallery shows just a few of the amazing experiences you will have as a Wheaton in England student.