E. Floyd Kvamme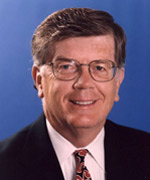 Partner Emeritus, Kleiner Perkins Caufield & Byers
E. Floyd Kvamme is a Partner Emeritus at Kleiner Perkins Caufield & Byers, a high-technology venture capital firm that invests in and nurtures cutting-edge startups. He has been responsible for the development of high technology companies in the areas of semiconductors, communications products and displays, magnetic storage, personal computer and large system software, and solar energy components.
Floyd Kvamme currently serves on the boards of Harmonic, Power Integrations, Silicon Genesis and Gemfire.
From 2001 to 2008, Mr. Kvamme served as Co-Chairman of President Bush's President's Council of Advisors on Science and Technology (PCAST). In this capacity, he counseled the President on technology issues ranging from homeland defense to federal research-and-development spending to energy generation. George W. Bush said of Kvamme, "He is an entrepreneur; he is a risk-taker, he understands risk and reward. He knows the players, the people that can bring good, sound advice to this administration."
He previously served as Chairman of Empower America, a Washington based issue advocacy organization and on the boards of the Markkula Center for Applied Ethics at Santa Clara University, the National Venture Capital Association (NVCA) and on the Executive Committee of The Technology Network (TechNet). In 1998, Kvamme served as Chairman of the Electronic Commerce Advisory Council for the State of California.
Kvamme helped found National Semiconductor in 1967, serving as general manager of Semiconductor Operations and building it into a billion-dollar company. In 1982, he became executive vice president of Sales and Marketing for Apple Computer. While at Apple, his responsibilities included worldwide sales, marketing, distribution and support. His efforts were instrumental in the introduction of the Macintosh in one of the most successful technology product introductions.
Kvamme holds two degrees in Engineering; a BS in Electrical Engineering from the University of California at Berkeley (1959) and an MSE specializing in Semiconductor Electronics from Syracuse University (1962). He lives in California with his wife of 49 years, Jean Kvamme. The Kvammes had their first date at the 1958 Billy Graham crusade in San Francisco.
Jean Kvamme
Jean was born in Sacramento, CA and lived in San Francisco, from the time she was eight years old. She attended public schools graduating from Mission High School in 1954. She worked the 4/4 plan at Metropolitan Life Insurance Company (present location of the San Francisco Ritz Carlton Hotel) her senior year of high school to help pay for her dental bills. After graduating from high school she worked at various executive assistant positions helping to support her mother and brother.
She and Floyd met at a San Francisco church when they were 12 years old and married in June,1959, two weeks after Floyd graduated from UC Berkeley. While Floyd was pursuing his career, Jean was a stay-at-home mom. She was very involved in their son's schools receiving many awards for her service, was a Saratoga Heritage Commissioner and was on various cultural boards. After her youngest son started UC Berkeley, Jean started a home based computer service business with 10 employees. It grew steadily the ten years she owned it from 1987-1997.
In 1997 Jean and Floyd purchased a ranch in Felton, CA to follow her dream of riding and connecting with horses. She has 5 Peruvian Paso horses. She has hosted many clinics for riders and trainers teaching the skills of natural horsemanship that utilize trust and partnership between riders and their horses rather than fear. She will be hosting another clinic in September 2009.
Jean's first love are her four grandchildren. She cares for them at least one day per week in their Saratoga home. She loves surprising them at her home with great activities and fun things to do.
She is President/Director of The Jean and E. Floyd Kvamme Foundation which funds religious organizations (primarily Christian), cultural, educational and medical organizations.