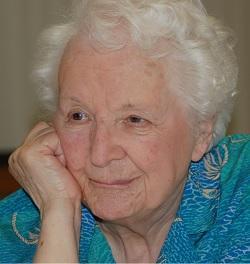 Dr. Barbara Reynolds, an Italian scholar, lexicographer and translator, was a close friend of Dorothy L. Sayers. A graduate of University College, London, Dr. Reynolds was Lecturer in Italian at Cambridge for twenty-two years, and later Reader in Italian Studies at Nottingham. She holds three honorary degrees, and was honored by the republic of Italy for her significant contributions to the field of Italian literature. Her most significant academic achievement may be her general editorship of the Cambridge Italian Dictionary: Vol. 1 (1962) and Vol. 2 (1981).

An internationally recognized Dante scholar, Dr. Reynolds has made significant contributions in this field of studies. She completed Dorothy L. Sayers's translation of Paradiso, the third volume of Dante's Divine Comedy, after Sayers's death in 1957. Dr. Reynolds has also translated Dante's La Vita Nuova, as well as Ariosto's Orlando Furioso, for Penguin Classics. Most recently, she has published a provocative biography, Dante: The Poet, the Political Thinker, the Man.

In addition to her academic work in Italian literature, Dr. Reynolds has written an acclaimed biography of Sayers, Dorothy L. Sayers: Her Life and Soul, and compiled four volumes of Sayers's letters. She also edited a fifth volume in this series which contains two autobiographical fragments by Sayers: My Edwardian Childhood and Cat O'Mary. Her book The Passionate Intellect recounts the intriguing story of Dorothy Sayers's engagement with the writings of Dante.

In November 1974, Barbara Reynolds first became aware of Clyde S. Kilby's newly formed special collection at Wheaton College, when he wrote to ask for her help in obtaining a photograph of Dorothy Sayers. From this initial contact grew a collaborative friendship which resulted in Dr. Reynolds's serving Wheaton College and the Wade Center variously as a frequent lecturer and visiting professor, as well as the co-founder of VII: An Anglo-American Literary Review (now titled VII: Journal of the Marion E. Wade Center) and Managing Editor for its first 20 volumes. From 2004 to 2015, Dr. Reynolds continued to assist with SEVEN in her role as Consulting Editor.

On June 13, 2007, it was the great pleasure of the Wade Center to present Dr. Barbara Reynolds with the first-ever Clyde S. Kilby Lifetime Achievement Award. This recognition is presented on an occasional basis as worthy candidates are identified by the Steering Committee of the Marion E. Wade Center. The purpose of this award is to recognize and honor those rare individuals whose work on one or more of the Wade Center authors is exceptional in quality and has made a lasting and irreplaceable contribution to Wade related scholarship. Dr. Reynolds' contributions have indeed been extensive, and a model to future researchers of Dorothy L. Sayers.
Barbara Reynolds continued to be active in various scholarly pursuits until her death; her final publication was a biography of Petrarch (Petrarch: The Forgotten Genius, 2014). Dr. Reynolds died in her home in Cambridge on April 29, 2015 at age 100.