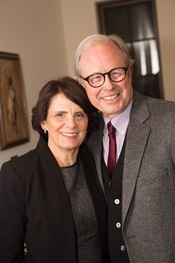 Dr. Walter Hansen '68 is a scholar, pastor, and theologian. He has over 40 years of ministry experience, both in pastoral and academic contexts, including serving abroad in Singapore. His wife Darlene is a gifted artist, specializing in portraits and still life. A 1971 graduate of Moody Bible Institute, Darlene is also an avid reader of the Wade authors and all great literature.
Dr. Hansen graduated with a B.A. in Philosophy from Wheaton College in 1968, and went on to earn an M.Div. from Trinity Evangelical Divinity School in 1972, and a Th.D. from the University of Toronto in 1986. He is Professor Emeritus of New Testament Interpretation at Fuller Theological Seminary; his areas of expertise include Pauline Studies, Luke-Acts, New Testament Ethics, Interpretation of the Bible, Visual Arts, and Theology. His publications of numerous books and articles cover selected subjects of Pauline scholarship; most recently, Galatians (2010), The Letter to the Philippians (2009) in The Pillar New Testament Commentary series, Sacra Coversazione (2009) co-authored with Bruce Herman in the journal Image, and Through Your Eyes: Dialogues on the Paintings of Bruce Herman (2013), also co-authored by Walter and Bruce.
Dr. Hansen served as a former pastor of The Chapel in Cleveland, Ohio for eight years and as a teacher for six years at Trinity Theological College in Singapore, and has been on faculty at Fuller Theological Seminary since 1995. He has served as President of the family foundation The Rivendell Steward's Trust since 1986, and has been on the Wade Board since 2013. The Hansens make their home in Chicago, and have three children: Nathaniel, Johnathan, and Linnea, and seven grandchildren.