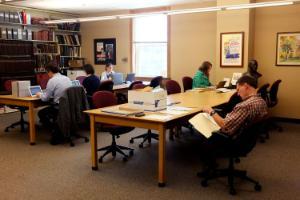 Buswell Memorial Library is the main library for the Wheaton College community. You will find current newspapers and periodicals, internet access, and many Wade author materials available here. Check their website for hours, catalog, and further information.

Wheaton College Archives and Special Collections includes the college archives and collections in all formats related to the life-work of significant adherents to the Christian faith in the modern world.

Billy Graham Center Archives collects materials on the history of North American nondenominational Protestant efforts to spread the Christian Gospel. These resources are especially intended as a resource for the evangelistic mission of the church.

Wheaton Public Library is within walking distance of the Wheaton College campus.