From the Director's Desk
Welcome to our December eJournal. One important thing I have come to learn over the last few years is that repetition is not a bad thing. There's a significant likelihood that during this advent season you will read and hear several familiar phrases ranging from calls to resist the consumerist frenzy to exhortations to remember the true reason for this holy-day.
One challenge of living in a 5000 channel universe is that we can lose the ability to listen well in the midst of a constant stream of messages. The messages that are most familiar can be easily dismissed while we strain to hear something new and exciting, especially in a time when our world is increasingly somber in light of the current economic crisis. I'd like to encourage you (and me) to pause to reflect on the most basic truths about the foundation of our faith and life. The birth of Christ tells us that God is faithful to set things right in this amazing creation and reminds of that we serve and utterly trustworthy Lord. This is at once incredibly basic and incredibly complex. It is also incredibly easy to "know" so well that we can think "well, I've heard that before" and thus its profundity barely registers within us before we turn our attention to the latest and flashiest item which comes across our horizon.
This season, take some time to think about the truths that you have heard over and over again during Christmastime and let yourself be amazed by God's great promise to us in Christ. It's nice to hear about exciting gift ideas and products the emerge from possibilities of our technological age, but our ears should always be ready to hear the repetitive refrain about the God's greatest gift to this world.
Below you will see that we are planning some exciting events for next semester. It will be a great opportunity to join us in the task of Christian moral discernment in 2009. Have a blessed Christmas!
Dr. Vincent Bacote
Director, CACE
---
CACE is on YouTube!
Check out recent events and archived material!
Channel: cacewheatoncollegeil
Videos Include:
"After the Election" with Dr. Litfin and Fuller's Dr. Richard Mouw
Discussions with Former Surgeon General, Dr. C. Everett Koop
---
CACE audio is also up on iTunes U!
Wheaton College is launching their iTunes U site with our CACE audio. You can subscribe to the site and easily receive all of our audio files.
You must have iTunes on your computer to use.
---
Columnist David Brooks
on campus Wednesday, February 18th
CACE is excited to be working with the Provost Office and the Pfund Lectureship in sponsoring Mr. Brooks on campus for our Spring Conference.
---
---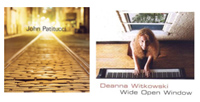 John Patitucci with Jon Cowherd & the Deanna Witkowski Trio
In concert Friday, February 27, 2009
Tickets go on sale January 15.
---
CACE Spring Conference
"Authentic Living In A 5,000 Channel Universe"
Wednesday-Friday February 18-20