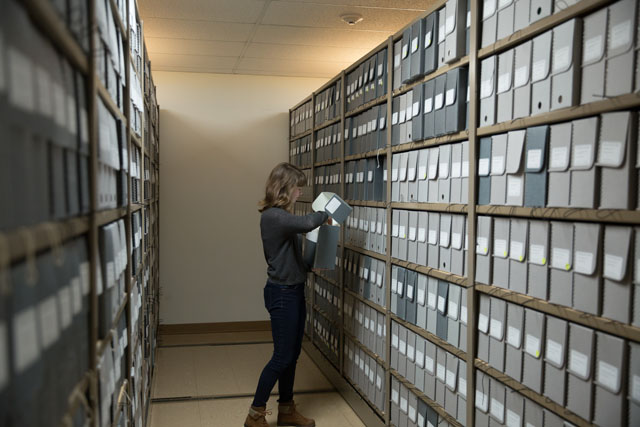 Our Purpose
The Wheaton College Billy Graham Center Archives collects and preserves unpublished materials related to North American nondenominational Protestant evangelistic activities and global missionary efforts, especially focused on the twentieth century. We strive to make these materials available to scholars, students, Christian workers, and the general public through our manuscripts reading room, programming, and outreach efforts.
Read the Archives' Collection Development Policy and learn more about our mission and collecting goals.
In the 1960s, Rev. Billy Graham began to consider establishing an official repository for the Billy Graham Evangelistic Association's records, after receiving invitations from the Library of Congress and other institutions to house the organization's archives. As a result, Graham and the BGEA staff developed a plan to create the Billy Graham Center in collaboration with Wheaton College, which would function both as an institutional archive for the BGEA and as a strategic evangelism institute, comprised of leadership and evangelism training and other specialized programs to support mass evangelism. Together, representatives from the BGEA and Wheaton College approved a collection development policy to guide the Archives' collecting strategies. The final collection development policy approved by Billy Graham Center Committee encompassed not only the records of the BGEA but was broadened to encompass the records of organizations and papers of individuals involved in North American, Protestant, nondenominational efforts to spread the Christian gospel.
With this objective, the Billy Graham Center Archives opened on June 1, 1975 and relocated five years later to the newly completed Billy Graham Center building at Wheaton College, where it remains today. Throughout its history, the Archives has worked in close collaboration with the Wheaton College Billy Graham Center, the Institute for the Study of American Evangelicals (ISAE), and the Billy Graham Museum, whose exhibits and interactive displays narrate the history of American evangelism and its cultural impact.
After the Billy Graham Center underwent a major reorganization in 2014, the Archives moved under the administrative umbrella of the Library and Archives division of Wheaton College. In June 2019, the Billy Graham Evangelistic Association records were transferred at the request of the BGEA from Wheaton College to the Billy Graham Library in Charlotte, North Carolina. In 2020, the Billy Graham Center Archives was renamed Wheaton College Billy Graham Center Archives. Since its founding in 1975, the Wheaton College Billy Graham Center Archives has had three directors, Bob Shuster (1975-2002), Paul Ericksen (2002-2020) and Katherine Graber (2020-).
Visitor Information
Planning a visit to the Wheaton College Billy Graham Center Archives? Find more information about our hours, location, and policies.