While the Archives staff is happy to respond to individual requests for information, we provide answers to our most frequently asked reference questions below.
1. What were the circumstances of Billy Graham's conversion and was it part of a chain of conversions tracing back to D.L. Moody?
Billy Graham was converted as a teenager in 1934 during a series of revival meetings in Charlotte, North Carolina which were led by evangelist Mordecai Ham. Graham describes his conversion in the second chapter of his autobiography, Just As I Am (HarperCollins, 1997).
The Archives is often asked if Graham's conversion can be traced back to D.L. Moody. The most commonly-reported chain of conversion is: Sunday School teacher Edward Kimball helped lead Dwight L. Moody to Christ; Wilbur Chapman was converted at a Dwight L. Moody evangelistic meeting; Billy Sunday was converted at a Chapman meeting; Mordecai Ham was converted at A Billy Sunday meeting; and Billy Graham was converted at a Ham meeting.
However, not all the links in this story are accurate.
Dwight L. Moody did trace the beginning of his Christian life to his conversation with Edward Kimball. For more about Moody, see A Passion for Souls: The Life of Dwight L. Moody by Lyle Dorsett (Moody Press, 1997).
J. Wilbur Chapman was not converted at one of Moody's meetings. However, while a student at Lake Forest College in the late 1870s, he attended a Moody meeting in Chicago and after the service received personal counseling from Moody that helped him to receive certainty of his (Chapman's) salvation. Later Chapman became a friend and co-worker of Moody's. For more on Chapman, see J. Wilbur Chapman: A Biography by Ford C. Ottman (Doubleday, 1920).
Billy Sunday worked for Chapman for a brief time as an assistant, helping to organize his evangelistic meetings, but Sunday himself was converted at a street corner meeting held by the Pacific Garden Mission in Chicago. For more about Billy Sunday, see Billy Sunday and the Redemption of Urban America by Lyle Dorsett (W. B. Eerdmans, 1991).
Mordecai Ham was not converted at a Billy Sunday meeting, However, Sunday had held an evangelistic campaign in Charlotte in 1924 and a men's prayer and fellowship group, originally known as the Billy Sunday Layman's Evangelistic Club and later renamed the Charlotte Businessmen's Club (CBMC), grew out of those meetings. (More information on this group can be found in the Vernon Patterson papers, Collection 5.) This group was later instrumental in inviting Ham to Charlotte for his 1934 meetings. For more about Ham, see 50 Years on the Battlefront with Christ: A Biography of Mordecai F. Ham by Edward E. Ham (Old Kentucky Home Revivalist, 1950).
2. What is the source for the Jim Elliot quote, "He is no fool who gives what he cannot keep to gain that which he cannot lose"?
The best source for quotes by Jim Elliot are two books. The first is his biography by his wife Elisabeth Elliot, The Shadow of the Almighty, published by Harper and Row in 1958. It contains extensive quotes from his personal journals. The second book is a published, abridged version of the journals themselves, The Journals of Jim Elliot, edited by Elisabeth Elliot and published by Fleming H. Revell in 1978.

The Archives holds Jim Elliot's original journals in Collection 277 and they are in fragile condition. Researchers may access a microfilm copy of these journals in the manuscripts reading room. This microfilm may also be borrowed through interlibrary loan.
The quote is located in the October 28, 1949 entry of Jim Elliot's journal (Collection 277, Box 1, Folder 8) pictured below. The underlining, bracket, and asterisk were probably added at a later time after Jim Elliot's death.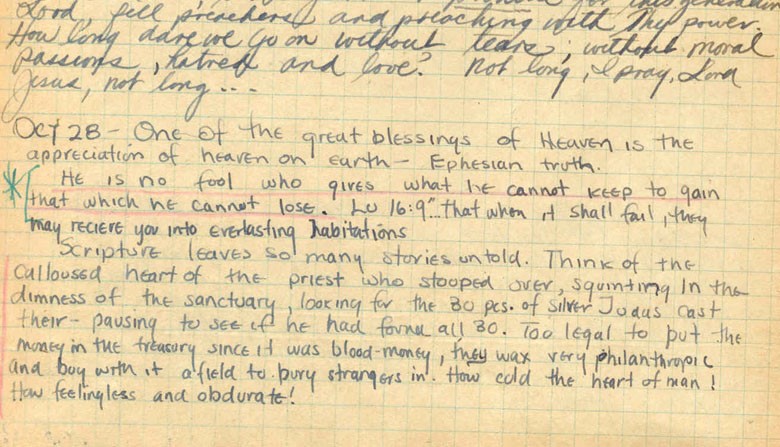 The full journal entry can be found on page 174 (Chapter 4) of the 1978 hardback edition of the The Journals of Jim Elliot and on page 108 (Chapter 11) of the 1958 hardback edition of Shadow of the Almighty. The quote is also used in the prologue of Shadow on page 15.
Philip Henry (1631-1696), father of well-known preacher and Bible commentator Matthew Henry (1662-1714), was credited with a very similar saying. In The Miscellaneous Works of the Rev. Matthew Henry..., published in 1833, is a biography of Philip by Matthew. On page 35 of the volume, Matthew is recalling his father's acts of kindness and charity and how he used to say, "He is no fool who parts with that which he cannot keep, when he is sure to be recompensed with that which he cannot lose."