New and Updated Collections at Buswell Library Archives & Special Collections
The Archives is continually adding items to its holdings—newly discovered letters, a recently donated photo album, transcripts to oral history interviews, an entirely new collection, and much more.
Join our email list to receive updates about new collections and special exhibits.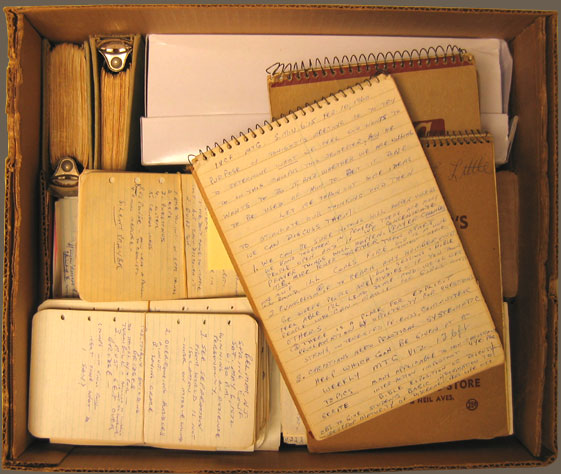 See the descriptions below and follow the links to learn more about new resources now open for research.
New & Updated Collections
Collection 568: Oral History Interviews with Joan M. Wise (NEW)
Oral history interviews with Joni Wise in which she describes her Roman Catholic upbringing, born-again conversion experience as a teenager, involvement in the Jesus People movement, work with Youth with a Mission (YWAM), ministry among Vietnamese refugees in Vietnam, and her work in Vietnam among the Vietnamese as well among the Haroi, Stieng, and Hmong peoples; and the characteristics of the church in Vietnam.
Collection 15: Papers of Billy Graham (UPDATE)
To this existing collection, archivists have added dozens of letters from the evangelist's youth and early ministry (1934-1962) as well as video of his sermon to the nation after the 9/11 terrorist attacks in 2001 and his funeral service in 2018.
Collection 727: Papers of the Vereide Family (NEW)
Papers of the Vereide family relating to the work of International Christian Leadership (ICL, later known as the Fellowship Foundation), mainly the efforts of Abraham Vereide and his daughter Alicia Davison. The collection reflects the activities ICL and its associated group International Council for Christian Leadership (ICCL) in fostering prayer groups, leadership seminars, and informal contacts involving government officials, business people, and civic leaders to promote spiritual unity and better personal relations and as well as strive for conservative and charitable goals.
Collection 712: Oral History Interview with Gaddam Persis Andrews (NEW)
Oral history interviews with Gaddam Persis Andrews. Topics covered include health issues; family life and history; New Delhi (India); gender dynamics in India; early religious experiences; spiritual disciplines; religious life of India (Hinduism, Islam, Buddhism); holistic healing; adolescent insecurity; sociology; Jesus and Mary College; volunteering at Shalom Delhi; work with HIV patients; master's in social work at the Center for Studies in Rural Development, Pune University; specializing in community organization practice; work with at-risk youth; creating module for life skills education; family-based vs. individual identity; place of Christianity in program; care for families living with HIV-AIDS; care for transgender communities; networking with hospitals, churches, and NGOs.
Collection 697: Oral History Interviews with Angkarin Pimpaeng (NEW)
Oral history interviews with Angkarin Pimpaeng in which she discusses her childhood in Thailand, life in rural areas and the city, attendance at Chiang Mai University, conversion while a university student, work with Youth with a Mission (YWAM) in that country, attendance at YWAM's University of the Nations in Hawaii, leading YWAM teams to Bangladesh, returning to Thailand and working with Study Abroad there, the development of her faith over the years, attending a TLC (Assemblies of God) church, Christianity in Thailand, strengths and weaknesses of the church there, her attendance of the Wheaton College Graduate School.
Collection 713: Oral History Interview with Gillian Gathoni Mwaura (NEW)
Oral history interview with Gillian Gathoni Mwaura in which she discusses her family background in Kenya, her conversion in high school, her education at the Co-Operative College of Kenya and Methodist University; work as a student and as a full-time employee with the International Fellowship of Evangelical Students-affiliated ministry FOCUS (Fellowship of Christian Unions) in Kenya and Uganda, cross-cultural training and mission work in Norway; helping to form Global Link Afrika, a Ugandan ministry that is training and sending indigenous missionaries; impressions of the Wheaton Graduate School. The time period covered by the interviews is 1979 to 2019.
Collection 711: Oral History Interview with Tsegaab Tadesse Tantu (NEW)
Oral history interview with Tsegaab Tadesse Tantu in which he discusses his family background in Ethiopia; his father's ministry as an evangelist and church planter; his own education at Jimma and Addis Ababa University; activities as a government health worker; the scourges of trachoma, malaria and HIV/AIDS in Ethiopia; his work with World Vision in children's health; campaign against violence to children and women; his impressions of Christianity in the United States and of the Wheaton College Graduate School; and the development of his Christian faith.
Collection 541: Papers of George Beverly Shea (NEW)
Correspondence, sheet music, business records, phonograph records, programs, songbooks, and other materials from Shea's career as a soloist, radio personality, and composer. Most of the material is from the last decades of his life, especially his work with the Billy Graham Evangelistic Association (BGEA), but the entire range of his life from the 1930s on is covered. Though representing only a fraction of Shea's papers, it includes a rich collection of source material that Shea used in his musical endeavors
Collection 46: Records of the Lausanne Movement (UPDATE)
This newly added subseries contains the records for the planning of the third worldwide Congress of the Lausanne Movement, held in Cape Town, South Africa from October 17 to 24, 2010. It consists mainly of the files of the office that was planning the Congress, headed by Congress director Blair Carlson, including the files of committees of Christian workers around the world that were handling all the direct parts of planning the program, selecting participants, etc., the minutes and other records of the various planning meetings held over two years, and the liaison with the larger Lausanne movement. Also included are audio and video of some of the actual sessions of the Congress, and a small amount of material on the follow-up and response.
Collection 236: Records of Latin American Mission (UPDATE)
New additions include correspondence, manuals, press releases, a journal and research papers, all dealing with aspects of Protestant Evangelical ministry and Chritian education in Latin America in the second half of the twentieth century, especially in Costa Rica. There is a significant amount of material on the development of the Evangelism in Depth program to train lay people to evangelize.
Collection 701: Papers of Olive Fleming Field (UPDATE)
Three audio recordings added to the collection. Olive was the widow of one of the five missionaries killed by the Waorani indians in Euador in 1956. All the tapes are related to this incident, including Olive's appaearance on the Dave Garroway radio program in 1959.
New Oral History Transcripts
Since the early 1980s, members of the Archives staff have conducted over 800 hours of oral history interviews with more than 275 individuals involved in mass evangelism, global missions, Christian education, community development, medical work, and Bible translation. These figures include well-known names such as Cliff Barrows, Elisabeth Elliot, David Howard, John Huffman, William Pannell, John Perkins, and many more. To date, the Archives staff have completed over 430 transcripts to these interviews. Follow the links below to read our latest oral history transcripts.
Please note: Oral history interview transcripts are not available online during the interviewee's lifetime.
Collection 484: Oral History Interviews with David M. Howard, Sr. Transcript for Tape 7, 8, 9, 10 & 11 (Added June, July, October 2022)
Collection 490: Oral History Interview with James MacKnight. Transcript for Tape 1 (Added September 2022)
Collection 461: Oral History Interviews with John D. Ellison. Transcript for Tape 1, 2, 3 & 4 (Added May and June 2022)
Collection 443: Oral History Interview with William L. Simmer. Transcript for Tape 1, 2, 3 (Added January 2022)
Collection 467: Oral History Interviews with Doris Schneider. Transcript for Tape 2, 3, 4 (Added October and November 2021)
Collection 164: Oral History Interview with Elizabeth Stair Small. Transcript for Tape 1 (added August 2021)
Collection 465: Oral History Interview with Merry E. Long. Transcript for Tape 2 (added May 2021)