Mission
Wheaton College serves Jesus Christ and advances His Kingdom through excellence in liberal arts and graduate programs that educate the whole person to build the church and benefit society worldwide.
Educational Purpose
Established in 1860 to educate men and women from diverse ethnic backgrounds in the United States and abroad, Wheaton is a private, residential, and interdenominational Christian liberal arts college. Committed to the principle that truth is revealed by God through Jesus Christ, "in whom are hid all the treasures of wisdom and knowledge" (Colossians 2:3). Wheaton College seeks to relate Christian liberal arts education to contemporary society. The curricular approach integrates faith, learning, and life to produce the biblical perspective needed to relate Christian experience to global needs.
The founders of the College and their successors have consistently maintained that academic excellence and evangelical Christian faith and practice are essential to the high purpose of doing everything for Christ and His Kingdom.
Status and Accreditation
A residential, coeducational, Christian liberal arts college, Wheaton is owned and operated by a self-perpetuating board incorporated in the State of Illinois as "The Trustees of Wheaton College."
Wheaton College is known for its Christ-centered academic rigor, commitment to the liberal arts, and students who are motivated to work with world-renowned professors and similarly minded classmates. The average ACT score is 29 and SAT score is 1320. The freshman-sophomore retention rate is above 92% and the 6-year graduation rate ranges from 88-90%. Wheaton ranks 12th overall in doctoral degrees attained by graduates in the latest National Science Foundation survey and is ranked 61st by US News & World Report out of more than 225 liberal arts colleges. Wheaton offers over 40 undergraduate majors, 15 master degrees and two doctoral degrees. As a residential college, the majority of undergraduate students are involved in a wide variety of co-curricular activities with over 20% of students engaged in intercollegiate athletics and 800 students participating in Conservatory ensembles and other musical programs.
Evangelical in outlook and nondenominational in ecclesiology, the student body consists of approximately 2,400 undergraduates and 550 graduate students representing all 50 states, over 50 countries, and more than 30 church denominations. More than 10% of our graduate enrollment is comprised of international students. Nearly 80% of undergraduate students come from outside of Illinois. As stated in our strategic priorities, Wheaton College is committed to increasing the enrollment of international students as well as students of color. For our undergraduate enrollment, typically 5% are international students (F-1 visa) and 10% are missionary kids (MKs) or third culture kids (TCKs). Students of color from the United States represent 32% of the undergraduate student body. We strive for equal enrollment of men and women.
The Wheaton faculty, comprised of over 200 full-time members with 93% percent having earned doctorates, comes from a variety of top universities both in the United States and abroad. As active Christians and committed local church members, they are personally invested in the spiritual as well as the intellectual development of their students.
Wheaton offers undergraduate programs leading to the Bachelor of Arts, Bachelor of Science, Bachelor of Music, and Bachelor of Music Education degrees. Graduate degree programs are offered leading to Master of Arts in Bible, Theology and Church History, Master of Arts in Clinical Psychology, Master of Arts in Teaching, Doctor of Philosophy (Ph.D.), and Doctor of Psychology (Psy.D.). The College is accredited by The Higher Learning Commission of the North Central Association of Colleges and Schools, as well as by the Council for Accreditation of Counseling and Related Educational Programs (CACREP) and the Commission on Accreditation for Marriage and Family Therapy Education (COAMFTE); the Doctor of Psychology program is accredited by the Committee on Accreditation of the American Psychological Association. The College is also a member of the National Association of Schools of Music (NASM) and a leader in the Christian College Consortium (CCC) and Council of Christian Colleges and Universities (CCCU).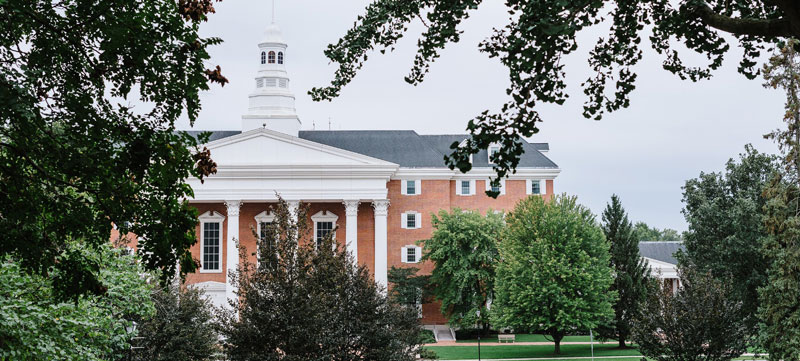 The Opportunity
Wheaton College seeks an exceptional individual to serve as its next Chief Intercultural Engagement Officer (CIEO).
This leader will play a central role alongside the President in fostering and sustaining a compelling vision for biblical diversity and embrace the challenge of deepening ethnic diversity, promoting racial unity, and advancing intercultural understanding in the pursuit of campus-wide excellence. An experienced educator, the CIEO will collaborate with the Provost and partner with faculty in developing a curriculum that fosters inclusive classrooms and pro-motes service learning in the context of a practical, biblical understanding of race and ethnicity as well as gender and class in the kingdom of God.
Wheaton's commitment to biblical justice began when abolitionist Jonathan Blanchard reshaped the Illinois Institute, which had been formed on anti-slavery principles by Wesleyan Methodists in 1853. At the College's founding in 1860, one year before the outbreak of the American Civil War, President Blanchard was concerned for the education of African Americans, some of whom lodged in his home.
As an evangelical community rooted in the Protestant Reformation, Wheaton College believes that God is building his church into "a great multitude from every nation, from all tribes and peoples and languages" (Revelation 7:9).
In recent decades, the College has increased substantially its scholarships for qualified students from under-represented groups through capital campaigns and has increased its efforts to recruit and retain faculty of color. In 2012 President Ryken articulated "Deepen Ethnic Diversity" as one of the College's Strategic Priorities, aiming for transformational change. Since then—under the leadership of inaugural CIEO Dr. Sheila Caldwell—the College has published a "Christ-Centered Diversity Commitment" and a "Vision Statement for Gender Equity" in alignment with its Statement of Faith, completed a campus-wide Diversity Strategic Plan, conducted a Diversity Audit, and developed a Bias Incident Policy and reporting process.
The College confesses that at many points in its 160-year history it has failed to pursue justice, realize a biblical vision of unity within diversity, or prepare its students fully for a multi-cultural world. We are leaning into the challenge of improving in all of these areas. To continue to grow a sustainable campus culture guided by Scripture and characterized by best practices, Wheaton seeks its next cabinet-level Chief Intercultural Engagement Officer.
Responsibilities
Provide leadership for defining and meeting campus-wide goals in deepening ethnic diversity, promoting racial reconciliation, enhancing gender equity, and advancing intercultural understanding and inclusion.
Serve as a member of the Senior Administrative Cabinet (SAC); report to the Provost and the President.
Collaborate with campus leaders to design, implement, and assess curricular and
co-curricular initiatives that embody Wheaton's "Christ-centered Diversity Commitment" and advance the College's strategic priorities of deepening ethnic diversity and globalizing a Wheaton education.
Oversee a campus-wide Diversity Council with representation from all divisions to monitor and nurture a healthy climate around ethnic diversity, racial unity, and gender equity.
Develop faculty by coordinating professional development, fostering inclusive classrooms, and identifying future administrators in the context of a biblical understanding of race, ethnicity, and the kingdom of God in Christ.
Responsible for implementing and assessing Wheaton's comprehensive Diversity Strategic Plan.
Offer guidance in recruiting, developing, mentoring, and retaining staff and faculty of color.
Collaborate with Student Development and the Chaplain's Office to help all students, including graduate and international, celebrate ethnic diversity and practice unity in the body of Christ.
Grow relationships with church and community leaders in Chicago and beyond by representing the College and facilitating missional connections for the President and other campus leaders.
Advise campus leaders on how to present the College in culturally sensitive ways and communicate our progress in meeting our strategic goals with internal and external audiences.
Serve as a resource in justly and charitably addressing incidents and challenges related to race, ethnicity, class, and gender.
Represent the Provost on the Faculty Development and Faculty Diversity Committees.
Engage with the Board of Trustees and its committees, including the Commitments and Culture Committee.
Qualifications
Ph.D., Ed.D., or Th.D. in a field relevant to the duties of this position
Strong communication and presentation skills for diverse audiences
Teaching experience in the context of higher education, with expertise in classroom pedagogy
At least five years of experience in a role of administrative leadership requiring racial and cultural sensitivity
At least five years of experience in a role that effectively promoted unity in diversity, preferably in Christian higher education
Leadership Qualities
Wise, strategic, creative, and collaborative thinker
Understands and applies gospel principles and practical techniques for resolving conflicts and reconciling broken relationships, such as conflict mediation
Proven track record of initiating and managing institutional change
Able to analyze organizational policies and structures and understand campus climate to identify and address systemic issues
Vision for leadership shaped in part by friends, colleagues, and mentors from varied racial and ethnic backgrounds
Demonstrated courage and fortitude and the capacity to speak out on controversial and challenging issues
A change agent with the capacity to hear varied perspectives, build consensus, and move the community forward
Christian Character
Mature, growing servant-leader who finds secure personal and communal identity in Jesus Christ
Values the dignity of each person created in the image of God
Hospitable to people with diverse experiences and expectations from a broad range of backgrounds
Resilient, able to persevere through difficult challenges anchored by trust in the ongoing work of the Holy Spirit in a Christ-centered community
Personal Competencies
Deep biblical and theological understanding of Christian unity and kingdom diversity
Thought leader who understands race, ethnicity, gender, sexuality, disability, and culture in higher education and is able to frame issues from the perspective of evangelical theology
Active listener and questioner who is able to facilitate communication and foster understanding across cultural boundaries
Grace-filled motivator for recognizing and justly addressing racism and other forms of prejudice, both personal and structural
Life experiences that engender compassion for people who are marginalized or historically have been under-represented in higher education
Regarded as an authentic, credible advocate across all ethnic communities, both global and domestic
Commands respect and engenders trust of faculty, staff, students, and alumni
Applications & Nominations
To apply, please email the following items to WheatonCIEO2022@agbsearch.com:
a letter of interest that addresses the responsibilities outlined in the search profile and describes your conversion to faith in Christ, your ongoing walk with Jesus, and the way you express your faith in the life of the church
a current resume/curriculum vitae
contact information for five professional references.
For full consideration, applications must be received by February 11, 2022.
All inquiries, nominations, and applications will be held in strictest confidence, and references will not be contacted without the applicant's expressed permission. Inquiries and nominations may also be emailed to WheatonCIEO2022@agbsearch.com.
This search is being supported by AGB Search – inquiries and nominations are welcomed by:
Dr. Kim Bobby
Principal
AGB Search
Senior Advisor
Justice, Diversity, Equity & Inclusion
AGB
Kim.bobby@agbsearch.com
(253) 861-7738